This instant pot medium-boiled eggs recipe is tried and tested and will work every time without fail.
If you've tried different recipes for medium-boiled eggs and still can't seem to avoid the issue of the shell sticking to the egg white, you are in luck!
When it comes to making a medium-boiled egg, I like to have the egg yolk slightly runny, but mostly cooked. Or as they're also referred to as, "jammy" eggs. I've tried recipes from Housekeeping, Martha Stewart, and more, and every time the shell would still stick to the egg white.
So, I set out to find a solution that wouldn't leave me frustrated and with small pieces of eggshell to pick through, and today I'm sharing it with you!
Soft-Boiled vs. Medium-Boiled vs. Hard-Boiled
First, what is the difference between how eggs are boiled? The egg white is always fully cooked, but the egg yolk is different textures.
A soft-boiled egg will have a slightly runny egg yolk and will have a slightly darker color yolk.
A medium-boiled egg will be "jammy" or soft but nearly cooked through, with a medium yellow/orange yolk.
A hard-boiled egg will be light yellow throughout and will have a crumbly yolk.
Eggs Nutrition
Eggs are a low-cost high-quality protein option that I highly recommend keeping on hand for your week. They take minimal time to cook (especially with this recipe), and provide important nutrients such as:
Protein
Selenium
B vitamins
Choline
As a bonus, they also contain lutein and zeaxanthin, two nutrients great for eye health.
Eggs for Weight Loss
With about 6g of protein per egg, eggs are an easy protein source to include as a snack or as part of your meals. Protein is one of the most important components of a weight loss plan. And getting protein from a variety of foods can increase the variety of nutrients you get as your body is adapting to a lower calorie intake.
The fat content combined with the protein content can also help you feel full for longer, and help control hunger to reach your weight goals.
How to Make Perfect Medium-Boiled Instant Pot Eggs
The best part about this recipe is that the eggs come out the EXACT same every time. Plus, you can use this same recipe no matter how many you make. I recommend 6-12 eggs so that you can enjoy some now and save a few for the next several days.
If you like your yolk a little harder, adjust your cooking time to be slightly longer. For Instant Pot soft-boiled eggs, decrease your time slightly. Experiment with 30 seconds at a time until you find the perfect amount!
How to Cut Your Egg In Half
There is also a trick to cutting your medium-boiled egg in half without ruining the egg white or yolk. Make sure you have a good, sharp knife. Get both sides of it wet, then make your cut.

Perfect Instant Pot Soft-Boiled Eggs
This instant pot soft-boiled eggs recipe is tried and tested, and will work every time without fail. No more shell sticking to the egg white.
Print Recipe
Pin Recipe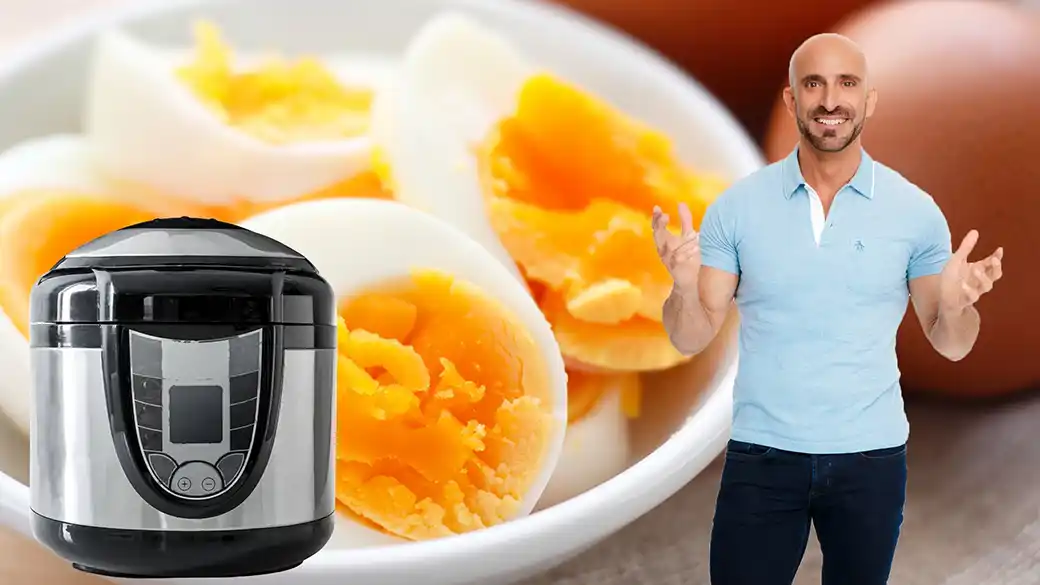 Equipment
Instant Pot or other pressure cooker
Instructions
Fill the bottom of the instant pot with 6-12 eggs (no egg holders).

Add 1 cup of water to the pot.

Cook on high pressure for 3 minutes.

When it's cooking, prepare a bowl of water with ice.

Let it release naturally for 1 minute, then press release.

Immediately add your eggs to the bowl of water and let them sit until cool, about 5-10 minutes.

Peel and enjoy, or refrigerate and peel when ready to eat.
What to Make With Instant Pot Medium-Boiled Eggs
Looking for inspiration for healthy meals and snacks with your eggs? Try one of these three ideas:
Make an easy egg salad with celery, tomatoes, mayo, greek yogurt, and make into an egg salad sandwich
Cut two hard-boiled eggs in half and eat with slices of avocado and a piece of whole-grain toast
Eat 1-2 eggs as a snack with fruit
Explore More Recipes with Eggs