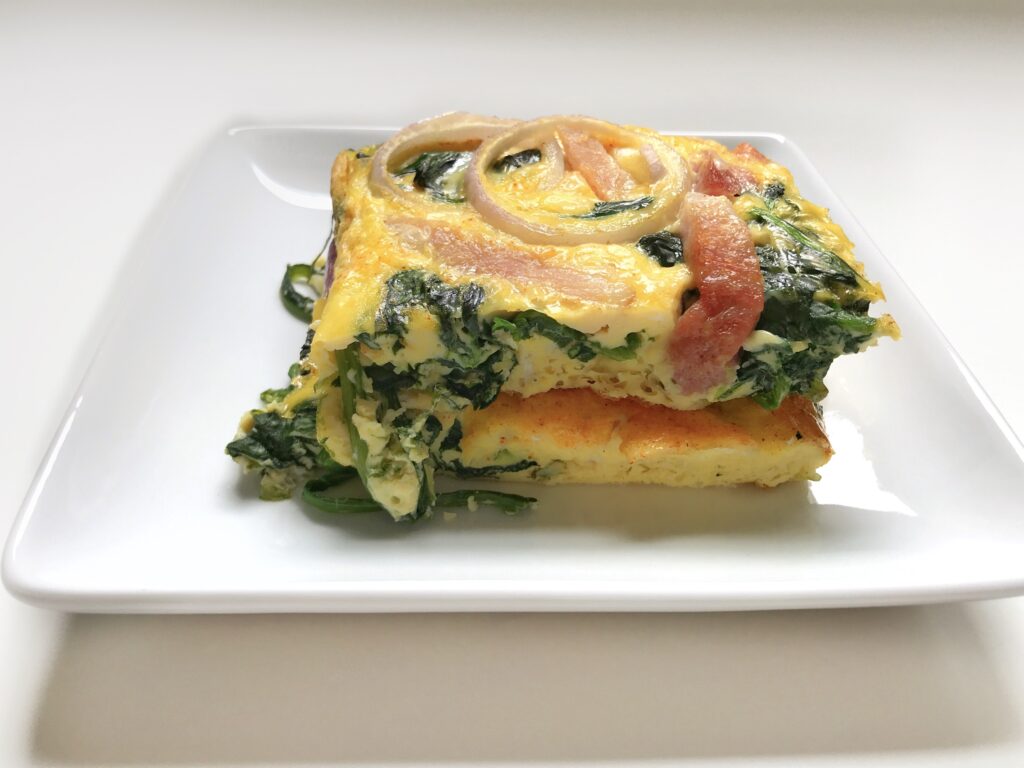 Whether it's Easter morning or any other morning, this ham and egg recipe will sure delight your taste buds!
I like this recipe because I can cook it on Sundays and save some portions for the rest of the week.
Servings: 8
Serving Size: 4 ounces
Ingredients: 
8 ounces spinach
10 eggs, large
4 tablespoon milk
1 ounce cheese, shredded
3 ounce ham, low-sodium, shredded
1/2 teaspoon salt
1/2 teaspoon paprika
1/2 ounces onion, sliced into rings
Directions: 
1. Wash spinach and blanch in boiling water with a dash of salt. Drain and pat dry. Chop the spinach.
2. Preheat oven to 350 degrees Fahrenheit.
3. In a large bowl, whisk together: eggs, milk, cheese, ham, salt and paprika.
4. Line a 13×8 baking pan with parchment paper. Place the chopped spinach evenly on the parchment paper. Pour the egg mixture on top of spinach. Top with onions.
5. Place inside oven and baked for 40-45 minutes.
6. Cut into 8 squares and serve!
Chef's Note: 
Try using smoked ham that is low in sodium. Saltier hams may offset the flavors of this egg dish.