From September 15 – October 15th all Latinos and Hispanics are celebrating our heritage here in the USA. What better time to talk about one of my favorite combinations – rice and beans! Learn how to cook rice and beans with dairy with these delicious recipes.
I have partnered with National Dairy Council to celebrate National Latino and Hispanic Heritage Month with rice and beans and the different ways you can eat them with dairy.
What is National Latino and Hispanic Heritage Month?
National Latino and Hispanic Heritage Month celebrates the contributions of Latino and Hispanic men and women in American society. If there's one common denominator among Latino countries and culture, it's the food. And many if not all Latino countries eat rice and beans!
What Cultures Eat Rice and Beans? What Do They Call Them?
The combination of rice and beans is comfort food to me, and I am sure for many Latinos and Hispanics. There are several different cultures around the world that enjoy this delicious pairing.
Did you know that the phrase "Rice and beans" has a different name depending on the country? The type of beans used can also differ with these cultures – red beans, black beans, pinto beans, you name it!
Let's take a quick look around the world to learn common phrases for rice and beans:
Honduran rice and beans: "casamiento" which means marriage
Mexican rice and beans: Pispiote
Peruvian rice and beans: Tacu-Tacu from the Andean language Quechua word taka-taka which means "well pounded"
Colombian rice and beans: "Calentado" which means warmed
Panama and Costa Rican rice and beans: "Gallo Pinto"
Benefits of Adding Dairy to Meals & Snacks
Dairy foods can help make plant-packed snacks or plates even better by adding nutrients, flavor, texture, and satisfaction. This is one of the main reasons why I use dairy to accompany my rice and beans.
Dairy's nutrients from milk, cheese, and yogurt such as high-quality protein, calcium, and vitamin B12 can help enhance your plant-based diet. The calcium is often absorbed better compared to non-dairy sources like spinach. Plus, the protein is high-quality and contains all essential amino acids. Vitamin B12 can only be found in animal products like in dairy.
How to Cook Rice and Beans
How to cook rice and beans depends on the culture, the other flavorings desired, and the type of meal the rice and beans are included in.
You can use plain rice and beans in your recipes, but in the recipes below, I've provided other flavorful ideas if you want to spice things up.
Now, are you ready for my ideas on how to eat rice and bean with dairy in the USA?
Avocado Greek Yogurt Dressing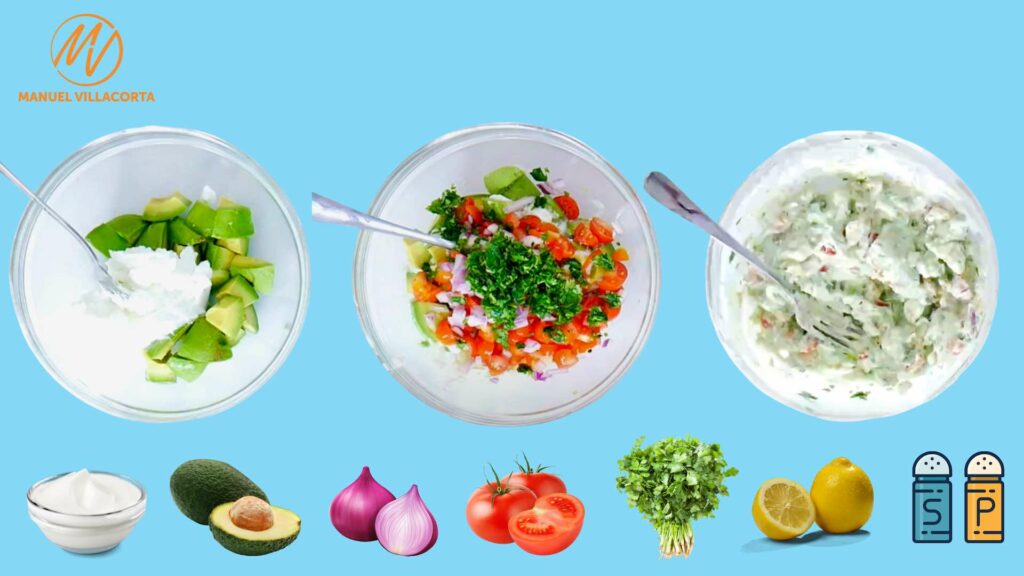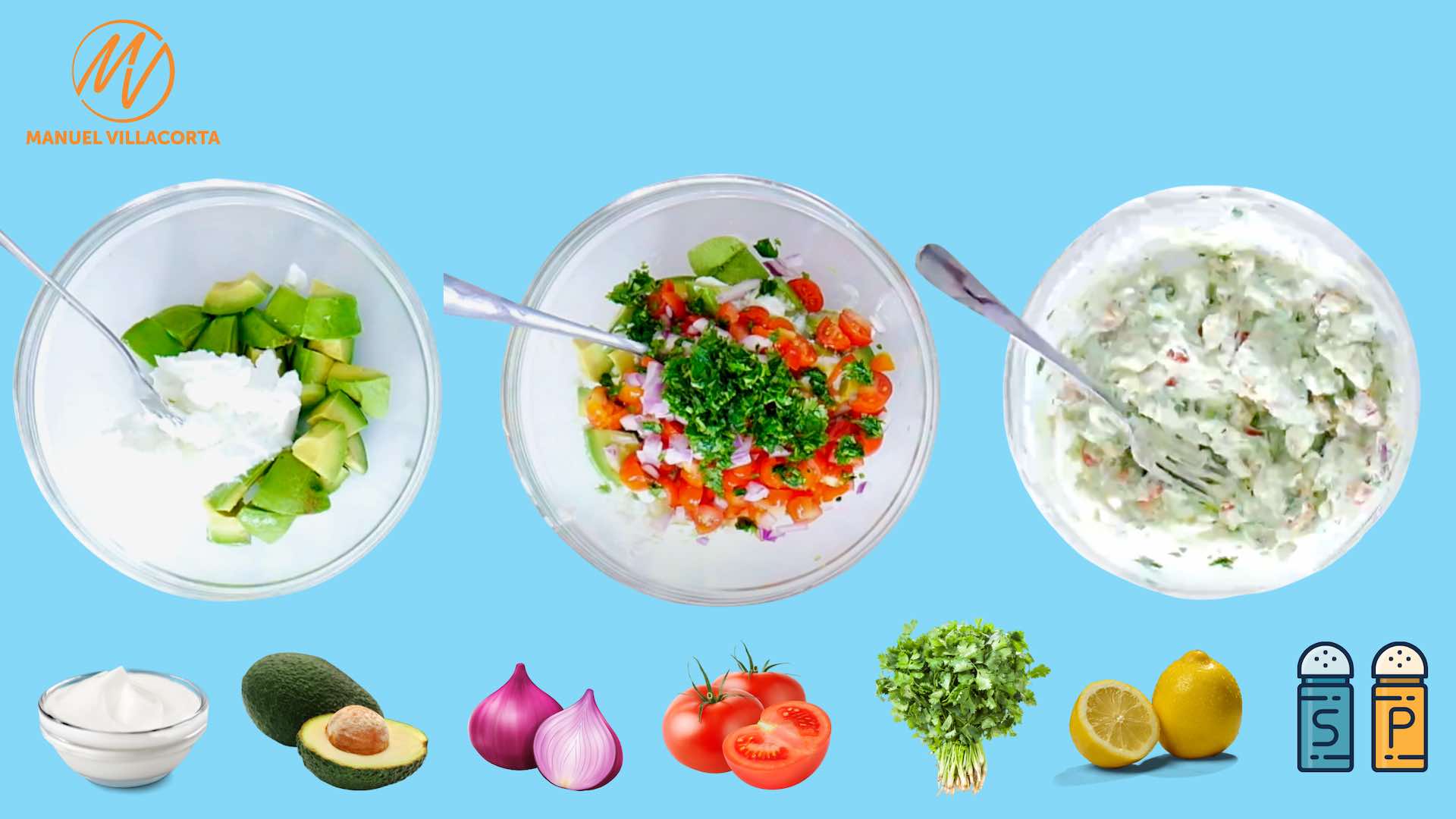 Prep time: 10 minutes
Cook time: N/A
Serves: 4
Serving size: ½ cup
Ingredients:
1 medium ripe avocado, seeded and cubed
1 tablespoon fresh lime juice
½ cup plain 2% Greek yogurt
1/8 cup chopped red onion
1/2 cup chopped tomatoes
1 tablespoon chopped cilantro
Sea salt and black pepper to taste
Instructions:
Add avocado into a medium bowl.
Add the lime juice to the bowl then use a fork to mash up the avocado until it reaches your desired consistency.
Stir in the Greek yogurt, red onion, tomatoes, and cilantro and mix well.
Taste and season with salt and pepper.
Nutrition facts per serving: 86 calories, Fat: 6 grams, Total Carbohydrate:6 grams, Dietary Fiber: 3 grams, Protein: 4 grams
Sofrito Rice and Beans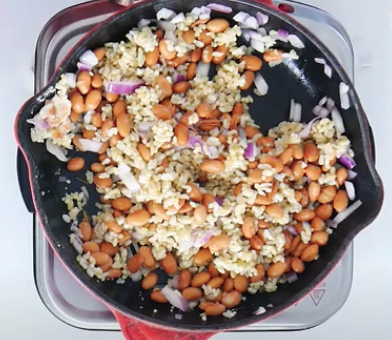 Prep time: 5 minutes
Cook time: 5 minutes
Serves: 4
Serving size: ½ cup
Ingredients:
1 teaspoon extra virgin olive oil
½ cup chopped yellow onion
1 teaspoon crushed garlic
1 cup cooked brown rice
1 cup cooked beans (pinto or black, canned beans)
Instructions:
In a large pan heat up the oil for about 1 minute.
Put the oil, onions, and garlic in the pan and cook for about 3 minutes or until the onions are translucent.
Add the rice and beans and combine well.
Cook for another 3-5 minutes, stirring frequently and mashing some of the beans so the rice and beans stick together.
Plate your rice and bean mixture in a bowl and enjoy.
Nutrition facts per serving: 139 calories, Fat: 2 grams, Total Carbohydrate: 26 grams, Dietary Fiber: 4 grams, Protein: 5 grams
Rice, Bean, and Cheese Quesadilla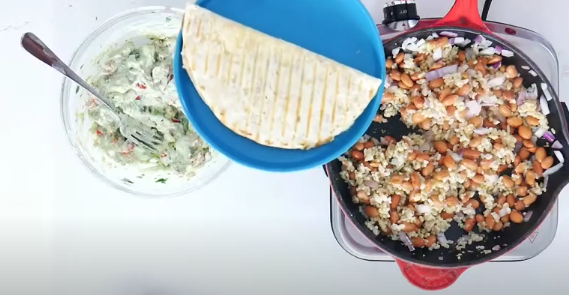 Prep time: 5 minutes
Cook time: 5 minutes
Serves: 4
Serving size: ½ cup
Ingredients:
1 low-carb tortilla
½ cup of Sofrito Rice and Beans
1.5-ounce shredded mozzarella
Instructions:
Make the sofrito rice and beans according to the previous recipe.
Add the tortilla to skillet and top half of the tortilla with rice, beans and cheese.
Fold the other half of the tortilla over and cook, flipping once, until golden, 3 minutes per side.
Nutrition facts per serving: 317 calories, Fat: 11 grams, Total Carbohydrate:42 grams, Dietary Fiber: 14 grams, Protein: 21 grams
Pair your Sofrito Rice and Beans with your favorite piece of meat and top with a sprinkle of cheese and dollop with Greek yogurt dressing.
Wishing you a great National Latino and Hispanic Heritage Month. Now it's your turn to make your rice and beans pairings with dairy!
For additional information and more about how to use dairy in your recipes go to USDairy.com.
Plus, you can explore some of my other dairy-containing recipes: