Following a meal plan can have its hurdles, so use these simple tips for what to do when meal planning goes wrong, with three quick high protein meals you can fall back on.
Do you ever start the week excited to follow a meal plan that you know will keep you on track, only to later realize that the days are passing by, and you simply didn't have time to make the meals on the list? Here's where having a Plan B or Plan C comes to the rescue!
There are ways to use affordable and convenient, but nutritious foods that are easy to find. This allows you to spend less time in the kitchen, and use minimal meal prep.
So, here are some insights on how to shop for these meals that are not only quick, but also delicious. I also share 3 of my favorite high protein meals to prepare in less than 10-15 minutes, literally! You will become a master meal assembler rather than feel all the pressure to be a master chef.
Common Hurdles with Meal Planning
I know you have all the great intentions to meal plan and to cook your own meals using fresh ingredients each week, but sometimes life gets in the way. Common hurdles include:
Super busy work weeks
Unexpected gatherings on the weekend that didn't let you go food shopping
No desire to cook
Feelings of overwhelm related to everything else on your to-do list
Wanting to get take-out or go to a restaurant instead
Choosing meals that help you reach your goals doesn't always mean following everything to a "T". Sometimes, it means having 1, 2, 3, or even 4 fallback options so that you don't feel like you're thrown off track when life throws you curveballs. Here are some easy solutions.
Meal Planning 101 & Quick Tips
I have been meal assembling for years and I share these ideas with all my clients. I call meal assembly my plan B since plan A cooking will not be possible that day or for a few days.
Plus, there's no point in being hard on yourself when things don't go as planned. Instead, take a little time to regroup, and see if any of the following help:
Look at what you already have in the kitchen/pantry. Are there any canned goods or items in the freezer you can use instead?
Do you have 3 out of 4 items needed for the meal, and you can quickly run to the grocery store to make a meal that will be ready in less than 10 minutes?
Forget the idea of making a 30–45-minute meal. What can you find that's precooked that you can heat up in the microwave or on the stove top that will be ready in minutes?
Sometimes the best skills to fall back on are ones that allow you to be flexible and to problem solve. You'll likely surprise yourself with the solutions you can come up with when you restructure your thinking about what making a meal should look like.
Quick High Protein Meals to the Rescue!
These simple meal assembly ideas are easy solutions for when meal planning goes wrong, and you just want a simple, yet quick and delicious high protein meal. Let's talk about some key ways to keep yourself on track, and how to make the following three delicious meals with pantry staples or a quick run to the grocery store.
Comfort Food Tuesday – Grilled Cheese Sandwich with Tomato Vegetable Soup
Latino Wednesday – Salsa Verde Chicken, Rice, and Beans
Italian Thursday – Simple Pasta with Meatballs
Watch me put together these meals in my YouTube video above.

Grilled Cheese Sandwich with Tomato Vegetable Soup
Print Recipe
Pin Recipe
Ingredients
Carton of creamy tomato soup

Frozen mixed vegetables

Slice

of cheese

Whole-grain bread
Instructions
Heat up your tomato soup and frozen mixed vegetables in a skillet on low-medium heat.

Stir occasionally and heat until the soup is warm.

Heat up another skillet. Add your bread to the skillet, top with your cheese, and add the other slice of bread.

Turn over a few times to prevent burning.
Video

Salsa Verde Chicken, Rice, and Beans
Print Recipe
Pin Recipe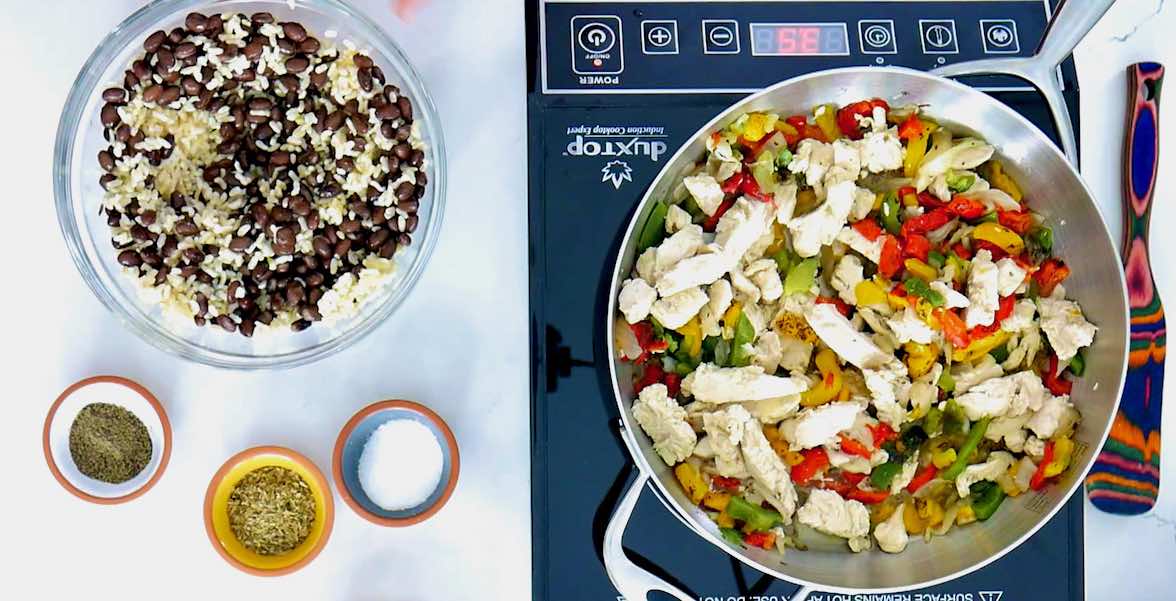 Ingredients
Frozen chicken strips or store-bought rotisserie chicken

Frozen brown rice

Frozen bell peppers and onions

Can black beans

Salsa verde

Optional: Fresh cilantro
Instructions
Add oil to your pan.

Add the frozen bell peppers and onions to the pan and stir occasionally.

Add the precooked chicken. Continue to stir the peppers, onions, and chicken.

In a separate bowl, add canned beans and frozen brown rice, and mix it well.

Season the rice and beans with pepper and salt.

Add the rice and beans to the microwave to heat up.

Add the salsa and cilantro to your skillet with the chicken and vegetables.

Plate your rice and beans, add the chicken and vegetable mixture to the top, and add extra cilantro if desired.
Video

Simple Pasta with Meatballs
Print Recipe
Pin Recipe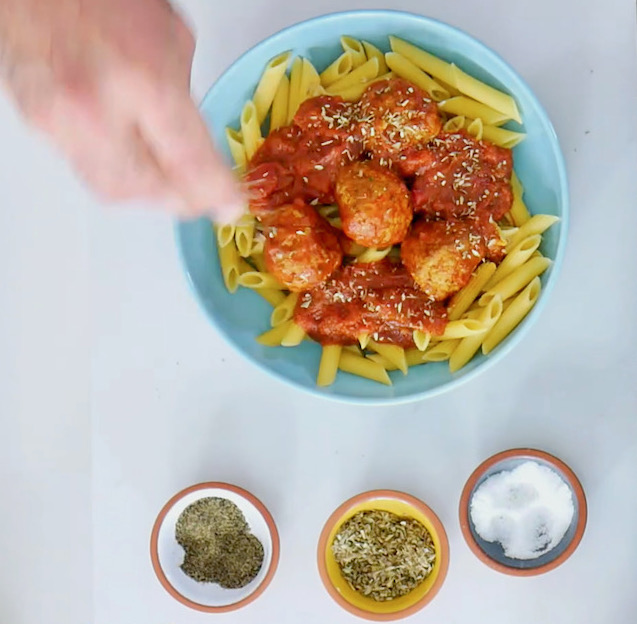 Ingredients
Turkey meatballs

or chicken or beef

Pasta

Marinara sauce

Optional: parmesan cheese, dried oregano
Instructions
Heat up your precooked meatballs in the microwave.

Add precooked pasta to your plate, add the meatballs, and top with warmed marinara sauce, cheese and oregano.
Video
Other High Protein Meals
Don't stop there with the simple ideas for quick high protein meals! Here are other options for when you're short on time but don't want to be thrown off track with your goals: