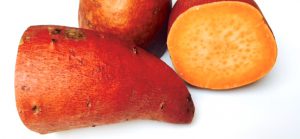 Sweet potatoes have been around for centuries and can be traced back 5,000 years ago in Peru. Drawings of sweet potatoes in ceramics have been found in ancient tombs in Peru, signaling their importance in early civilization. Sweet potatoes are often baked and eaten on its own, but in Peruvian cuisine they are used in a vast array of dishes. They can be used to make stews, baked fries, mousses, steamed accompaniments, ceviche, stuffed sweet potatoes, gnocchi, and picarones.
Sweet potatoes' high content of beta-carotene provides many of its health benefits. It is also high in calcium, iron, vitamin C, and vitamin A. These nutrients help the body fight against cancer, support eye health, boosts the immune system, and helps keep the heart healthy. Beta-carotene is a powerful antioxidant that has been shown to prevent oxidative damage, which can prevent both cancer and cardiovascular disease. Specifically, it can help fight against oral, pharynx, and larynx cancers, but also lowers the risk of heart attack in men.
Additionally, consuming large amounts of beta-carotene reduces the risk of cataracts and macular degeneration. Vitamin C also plays an important role in preventing cancer and reduces the risk of cardiovascular disease. Sweet potatoes are packed with vitamin C, which helps prevent lung cancer in smokers and helps decrease the mortality rate of those with lung cancer. Vitamin C has strongly been linked to decreased risk of other cancers, including oral, esophageal, stomach, pancreatic, cervical, and rectal. It also supports immune system health, inhibits tumor spread and metastases, and decreases the risk of coronary heart disease.
Furthermore, sweet potatoes are potent free radical scavengers that prevent DNA damage at the cellular level, helping to prevent disease and slow aging. They have properties that fight wrinkle formation and promote soft, youthful skin.
Recipes Using Sweet Potato:
Roasted Sweet Potatoes
Picarones (Sweet Potato & Pumpkin Doughnuts)
Sweet Potato Hash
Sweet Potato & Purple Potato Chips
Soba Salad with Grilled Sweet Potato, Eggplant & Red Pepper
Sweet & Purple Potato Stew
Andenean Superfood Baked Latkes