Serves: 6 Serving Size: 1 cup
Ingredients
12 ounces purple potatoes, chopped
12 ounces sweet potatoes, chopped
2/3 cup yellow onion, chopped
1 cup bell pepper, chopped
2 cloves garlic, diced
1 cup tomato, diced
2 cups garbanzo beans
1/2 cup coconut milk
2 cups vegetable broth
4 teaspoons olive oil
Cayenne powder, ground cumin, curry powder, ground ginger, salt, and pepper to taste
Directions
1) Chop and boil the potatoes until tender, about 10 minutes. Set aside.
2) While the potatoes are boiling heat the oil in a large pan or pot and sauté the bell pepper, garlic, garbanzo beans, and onions and apply the desired amount of spices until the onions are translucent. Add the vegetable broth, diced tomatoes, coconut milk, the cooked potatoes, and any additional spices that are desired. Cook for 5 – 10 more minutes.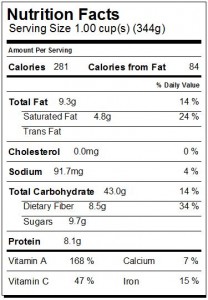 For more recipes using Peruvian superfoods, visit here.