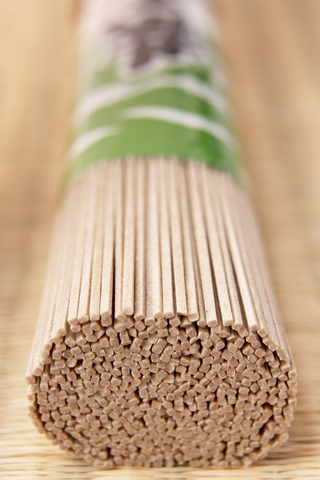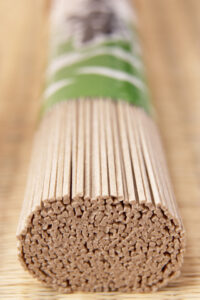 3 c. orange juice
1/2 c. molasses
2 c. vegetable stock
2 TB Dijon mustard
½ c. crushed garlic
½ c. crushed fresh ginger
½ c. cilantro leaves, slightly crushed
1 c. soy sauce
1 c. vegetable stock
1 c. orange juice
½ c.  sherry
½  c. chopped fresh ginger
36 slices of peeled sweet potatoes (about 6 medium)
36 slices of eggplant (about 4 medium)
1 c. thinly sliced green onions
4 c. sliced red peppers
12 cups cooked soba noodles
1/2 c. sesame oil
FREEBIES: 2 G&S, 2 NSV, .5 Fruit, .5 Sugar, 1 Fat  Calories: 322, Fat: 6g, Carb:59g, Fiber:6.5g, Protein: 10g
Instructions:
Blanch sweet potatoes in boiling water for 5-7 minutes or until crisp-tender.  Drain and rinse with cold water.
Combine marinade ingredients, eggplant slices, sweet potatoes and red peppers.  Marinade for 2 hours, turning occasionally.
Drain and grill all vegetables. Reserve marinade, strain out cilantro and reduce by half.
Combine sauce for noodles, bring to a boil, reduce heat and simmer for 10 minutes.
Toss noodles with marinade, then add sesame oil.
To plate:  1 cup noodles, 3 slices eggplant, 3 slices sweet potatoes and bell peppers.  Drizzle reduced marinade over vegetables and
garnish with green onions.