Wintertime is an important time to pay attention to ways to keep our immune systems healthy. So, I'm sharing my Mango Blueberry Ginger Yogurt Immunity Smoothie – the perfect smoothie to help keep your immune system healthy.
I have partnered with National Dairy Council to share ways to support your immune system with an immunity smoothie with dairy.
We often think of tea and supplements when it comes to supporting the immune system, but today I'm going to share with you a smoothie that is just as powerful because it is made with milk and yogurt. Did you know that dairy can support the immune system?
Key Nutrients for a Healthy Immune System
When I put together a meal or snack with a focus on immune health, there are a several key nutrients I'm looking to target:
Vitamin A
Vitamin C
Vitamin D
Zinc
Selenium
Protein
So, why did I choose the foods in this smoothie, and what makes them good for the immune system?
Immune Benefits of Milk & Dairy
A strong immune system helps you feel good no matter what comes your way. Milk and other dairy products are a natural source of immune-boosting nutrients like zinc, selenium, and protein.
Plus, milk specifically offers a unique combination of 13 essential nutrients, including vitamin A, vitamin D, zinc, selenium and protein that are vital to a healthy immune system.
Immune Benefits of Mango
Mango is one of my tropical fruit favorites and one ¾ cup serving contains 50% of your daily vitamin C needs. Mango also contains vitamin A and copper which are good for supporting your immune system.
Immune Benefits of Blueberries
Blueberries are another nutrient powerhouse with 16% of your vitamin C needs in 1 cup. They also contain antioxidant anthocyanins, which can help improve your immune system's defense system and fight off free radicals.
Immune Benefits of Ginger
If you've ever looked for immune-strengthening ingredients to add to your meals and snacks, ginger likely shows up again and again. That's because its powerful phytonutrients have anti-inflammatory and antioxidant properties.
Key Tips to Making a Nutrient-Rich Smoothie
When choosing ingredients for a smoothie, here are a few key things to think about.
You should have a protein source like Greek yogurt, milk, or kefir,
a few different colors of plant foods for the fiber and phytonutrients, and
a healthy fat like avocado, ground flaxseeds, chia seeds, or nut butter.
Keep it simple, too! Choose ingredients you can easily get from the grocery store. Who needs a fancy green powder when you can get the nutrients from simple, whole foods?
So, I am going to share how to make this delicious smoothie that can be enjoyed for breakfast, lunch, or a pick-me-up snack!

Mango Blueberry Ginger Yogurt Immunity Smoothie
This smoothie is complete with protein, fiber, and fat, which makes it a great option to help with weight management too. Support the immune system AND stay on track with goals? Sign me up!
Print Recipe
Pin Recipe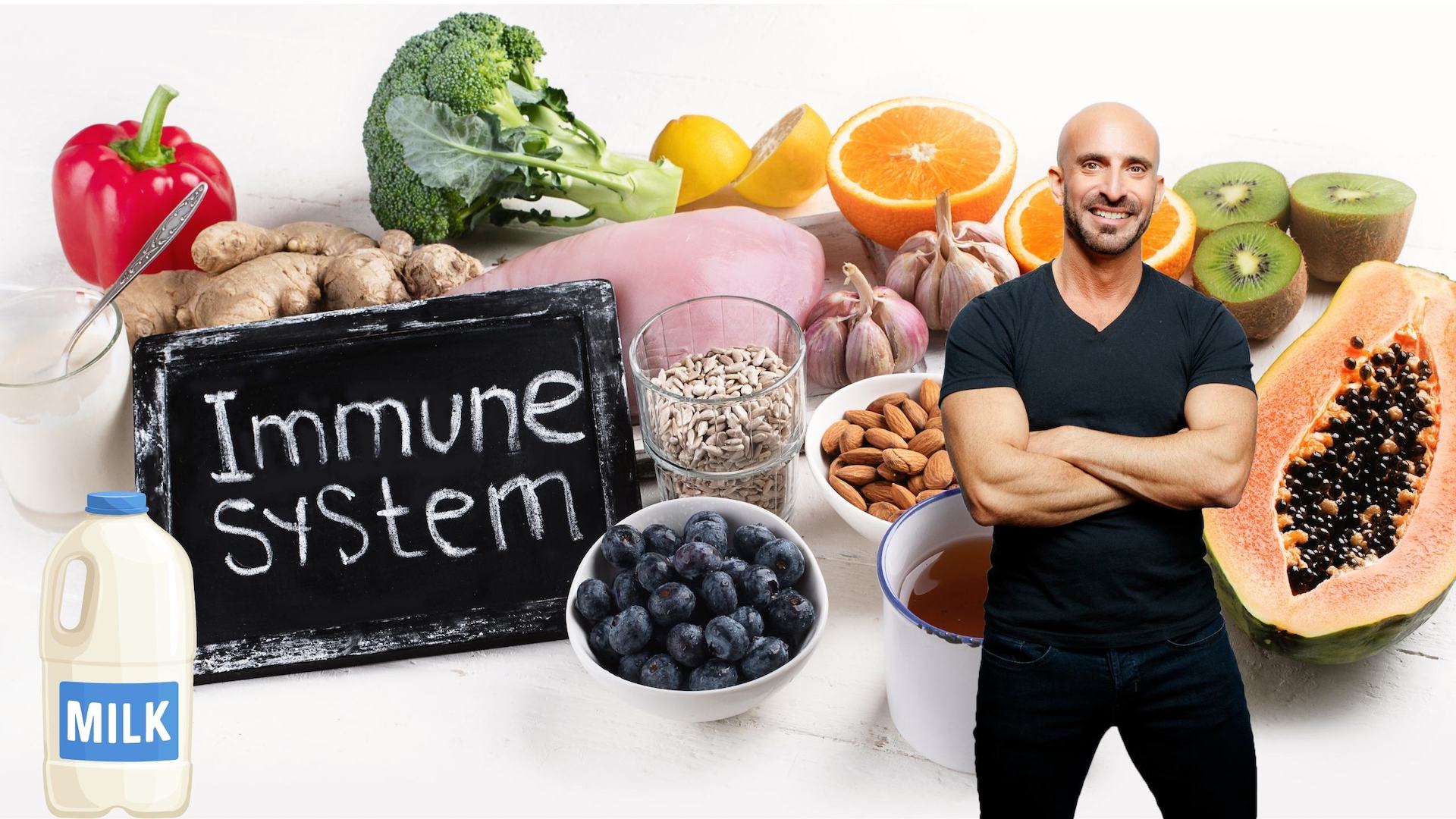 Ingredients
1

cup

2% milk*

or fat level of choice

½ to 1

cup

depending on how thick you like it 2% plain Greek yogurt (or fat level of choice)

1

cup

blueberries

¾

cup

mango

Ginger

to taste

Flaxseeds

ground (to taste)
Instructions
Add all ingredients to a blender.

Blend until smooth.

Enjoy!
Notes
*Since I am lactose intolerant, I am using lactose-free milk, it is real milk that provides 13 essential nutrients in an 8 fluid ounce serving.
For additional information and more about how to use dairy in your recipes go to USDairy.com.
Other Smoothie Ideas