These two recipes are healthy options to help prevent overeating during the holidays, and to keep you on track with balanced meals and snacks.
If you're looking to navigate the holiday season without overeating, here are two simple recipes that can become your new go-tos. Start your day with a Warm Cinnamon Applesauce Protein Smoothie for a good balance of carbs and protein. Then, when you're feeling hunger start to creep in between meals in the afternoon, remember that snacking can save the day! This simple Mini Berry Yogurt Parfait can control hunger and help you avoid indulging in all of the tempting treats around you.
Benefits of this Applesauce Smoothie
This applesauce smoothie has a great combination of carbohydrates, protein, and fat, the three macronutrients you want to target for balanced meals and snacks.
Applesauce
While the exact nutrient composition in applesauce can vary depending on whether or not the skin was left on and the processing methods, applesauce can contain phytonutrients, fiber, Vitamin C, and other nutrients. These can help reduce inflammation among other benefits.
Oats
Oats are a quality carbohydrate with fiber and beta-glucan. Fiber can help promote satiety and help control hunger after the meal. Beta-glucan promotes heart health with its cholesterol-lowering effect.
Protein Powder and Milk
The protein powder and milk provide protein, which is an important component of a weight loss plan, and promotes a feeling of fullness to help control hunger.
Cinnamon
Cinnamon is a powerful antioxidant with many health benefits. Even adding just a little bit enhances the flavor of the smoothie. Plus, did you know that cinnamon can make things taste sweeter?
How to Choose an Applesauce
Applesauce is a nutritious and portable snack that is also a great item to keep in your kitchen to add to recipes. Always make sure to take a look at the ingredients – many brands add sugar and other unnecessary ingredients. A good applesauce really only needs apples (and cinnamon if you like a little extra flavor) since apples naturally contain sugar.
For example, 1/2 cup of unsweetened applesauce has 12 grams of sugar. That is why I love adding applesauce to this recipe! No added sugar is needed!

Warm Cinnamon Applesauce Protein Smoothie
Print Recipe
Pin Recipe
Ingredients
1

cup

1% milk

½

cooked oats

½

cup

unsweetened apple sauce

¼

teaspoon

ground cinnamon

1

scoop vanilla protein powder

whey, soy, pea, or rice
Instructions
Pour the milk into a glass and warm in the microwave for 1 minute.

Pour the milk into a high-speed blender then add the remaining ingredients to the blender.

Blend until smooth, pour into the same glass used to heat the milk, and enjoy.
Notes
*Note: To provide 20 grams of protein

Mini Berry Yogurt Parfait
This is the perfect 3 or 4 p.m. pick-me-up snack because it contains healthy carbohydrates for energy to get you through the afternoon and protein to keep you satiated between lunch and dinner. When it comes to weight loss, an afternoon snack can save you from overeating at dinner time. 
Print Recipe
Pin Recipe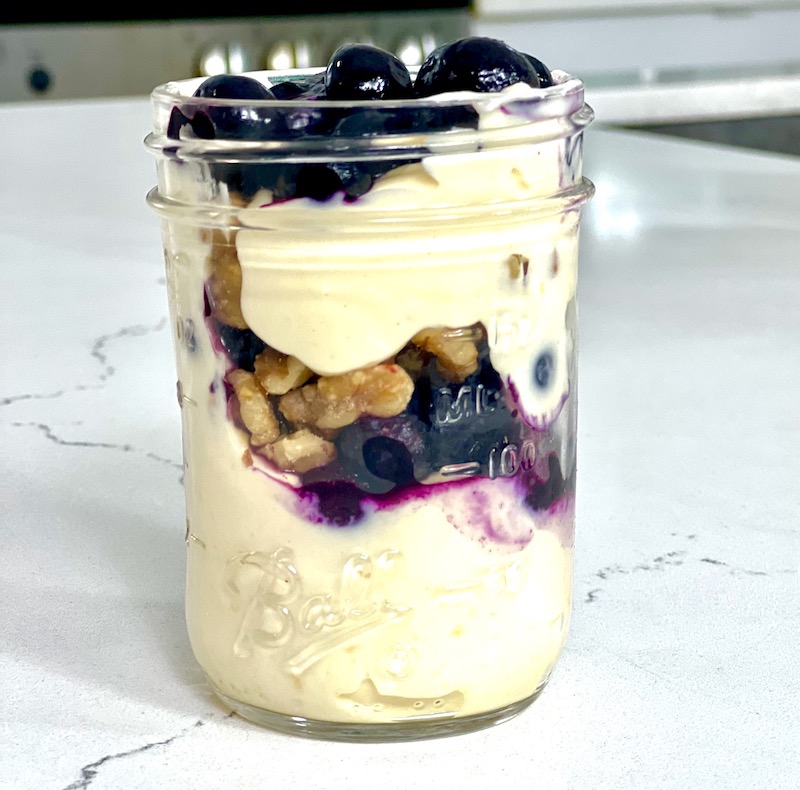 Ingredients
½

cup

2% fat plain Greek yogurt

1

scoop

vanilla protein powder

whey, soy, pea, or rice*

¾

cup

berries of choice

1

tablespoon

chopped walnuts
Instructions
In a small glass container, mix the yogurt with protein powder.

Layer the berries on top of the yogurt, and top with the walnuts before enjoying.
Notes
*Note: To provide 20 grams of protein
Additional Smoothie Recipes
If you enjoy the simplicity and ease of a smoothie for one of your meals, try some of these other recipes: