It's time to fill the kitchen with the sweet and nostalgic smell of cinnamon with these Baked Cinnamon Apples with Pineapple and learn about the cinnamon benefits.
Cinnamon is used all year long, but especially more during the holidays. We already know that cinnamon ranks as one of the top three spices that contain antioxidants. But did you know that cinnamon can aid with weight loss too? It can reduce sweet cravings, and can also reduce blood sugar – two factors that play a role in weight loss and management. If you're looking for a simple way to incorporate this mighty spice into some meals, this fruit bake is it! Plus, it can be served at any holiday in the coming months as a low added sugar healthy dessert or a side dish.
Baked Cinnamon Apples for Weight Loss
When it comes to weight loss and desserts, many people have a hard time finding a balance with portion sizes or a healthy balance of foods that will keep them on track. One of the things that has worked the best for my clients is to find healthier dessert and snack alternatives that can still satisfy your sweet tooth, but that also have added health benefits, keep you fuller for longer, and are simple to make.
This Baked Cinnamon Apples with Pineapples dish does just that. The natural sweetness from the apples and pineapples blend with the cinnamon and other spices for a completely satisfying and delicious dessert that will make you second guess any of the higher added sugar dessert options.
Types of Cinnamon: Ceylon vs. Cassia vs. Saigon
There are three main types of cinnamon you likely see at the store:
Cassia cinnamon
Ceylon cinnamon
Saigon cinnamon
Cassie Cinnamon
Cassia Cinnamon is the most common in North America, and is from the inner bark of an evergreen tree grown in Southeast Asia. Cassia cinnamon also contains higher amounts of coumarin, a chemical compound often used in drugs for blood thinning for heart health.
Ceylon Cinnamon
Ceylon cinnamon is from the bark of a tropical evergreen tree primarily grown in Sri Lanka. Ceylon cinnamon is usually a bit spicier than cassia cinnamon.
Saigon Cinnamon
Saigon is also from the bark of a tropical evergreen, but one that is grown in Vietnam.
Each type of cinnamon has similar benefits, so it is really up to your taste buds for which one to use. I used Cassia cinnamon in this recipe!
Cinnamon Sticks vs. Ground Cinnamon
Ground cinnamon is made by finely grinding cinnamon sticks. Cinnamon sticks are often added to dishes to bake with the rest of the ingredients and bring out a more mild cinnamon flavor. They also make a great decoration with any dish with ground cinnamon!
Cinnamon Reduces Sugar Cravings
Research suggests cinnamon mimics sweetness on your tongue to get you thinking you're eating something sweet, but you're not. You can add more cinnamon in desserts, or dishes that require sugar. The less sugar, the lower the calories, which can hep with controlling your food intake for weight loss. So remember, if you're having a sweet craving, opt for fruit with sprinkling of cinnamon instead.
Cinnamon Regulates Blood Sugar
Cinnamon may decrease the amount of glucose that enters the bloodstream after a meal by increasing insulin sensitivity, resulting in lower blood sugar spikes & more sustained energy. As covered in my insulin resistance post, high blood sugar levels can lead to increased storage of fat by the body. So, by consuming cinnamon, you can help regulate your blood sugar levels to help prevent insulin resistance or accumulation of fat.
Cinnamon and Fat Accumulation
While more human studies are needed, it is speculated that cinnamon can also prevent accumulation of white adipose tissue, also referred to as white fat cells.

Baked Cinnamon Apples with Pineapple (+ Cinnamon Benefits)
These Baked Cinnamon Apples with Pineapple are a great healthy dessert option for weight loss or to treat a sweet tooth.
Print Recipe
Pin Recipe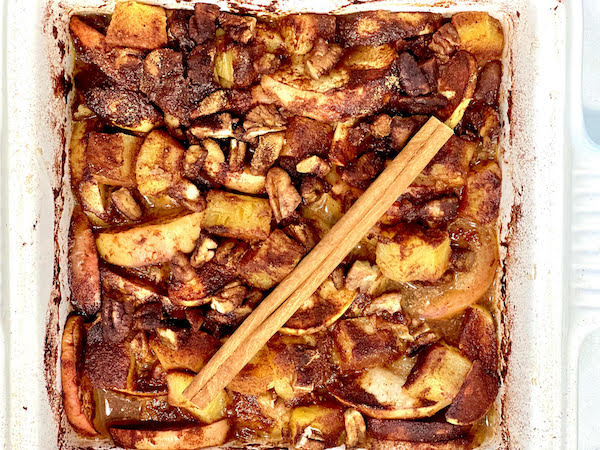 Equipment
Oven

2 small bowls

11×8-inch baking dish
Ingredients
½

tablespoon

vanilla extract

¼

cup

light butter

melted

3

tablespoons

Monk fruit sweetener

1

tablespoon

cinnamon powder

½

teaspoon

nutmeg powder

⅛

teaspoon

sea salt

Nonstick oil-spray

1

pound

sliced Honey Crisp apples

1

cup

can pineapple chunks in 100% pineapple juice

drained

½

cup

pecans

quartered
Instructions
In a small bowl mix the butter and vanilla extract.

In another bowl mix the monk fruit, cinnamon, nutmeg and sea salt.

Spray nonstick spray on an 11 x 8 inch baking dish and start placing the fruit in layers in no particular order. Mix the fruit.

Sprinkle the pecans all over the fruit.

Pour all over the fruit the wet ingredients.

Sprinkle the dry ingredients over the fruit.

Baked uncovered for 35 minutes.
Video
Nutrition
Nutrition Facts
Baked Cinnamon Apples with Pineapple (+ Cinnamon Benefits)
Amount per Serving
% Daily Value*
* Percent Daily Values are based on a 2000 calorie diet.