A client recently asked me if I was a savvy food shopper and that question really got me thinking. So, I'm here to share 7 of my top tips for savvy grocery shopping.
I said it before, and I will say it again. Eating healthy and nutritious doesn't have to be expensive at all. I will share with you some shopping tips that will allow you to perhaps buy those shoes you have been eyeing for a while.
What Does it Mean to be a Savvy Shopper?
As a registered dietitian, I define a savvy grocery shopper as someone who not only thinks about buying fresh foods, locally grown foods, or knows how to read the nutrition label, but also someone that watches their money when buying food.
7 Key Tips to Master Savvy Grocery Shopping
Here are my top tips for savvy shopping while also making delicious and healthy foods.
Review what's in your kitchen and pantry before heading to the store
Count the number of people you'll be cooking for, make a list of 3-5 meals, and make your shopping list for those recipes
Buy seasonal, frozen, or canned fruits and vegetables
Buy the store brands
Shop at multiple stores rather than getting all of your food in one place
Seek out digital coupons
Buy in bulk when possible
Savvy Grocery Shopping Tip 1: Examine Your Kitchen Before Going to the Store
Before going food shopping, take some time and look at what you already have in your cupboards and fridge. This will help you avoid buying extra food that you don't need at the moment, and ultimately save money.
It's also good to follow the first in, first out (FIFO) method. Make sure that all of your oldest food is at the front of your shelves so that it doesn't get lost in the shadows. This can also help to prevent food waste.
Savvy Grocery Shopping Tip 2: Decide on Your Week's Meals Ahead of Time
Plan for one week of meals (3-5 recipes) for the number of people in your family. Create a shopping list based on that number of people, and the ingredients you'll need for the recipes.
And don't forget to factor in leftovers, which are a great way to reduce waste and often can be turned into another meal.
Savvy Grocery Shopping Tip 3: Be Strategic with Your Fruits & Veggies
To save money, consider buying fruits and vegetables in season or buy frozen or canned fruits and vegetables. They are as nutritious as fresh and safe to eat. Not sure what's in season? Check out this helpful seasonal food resource.
Foods that are out of season have to be brought in from other areas, which can increase the cost, as well as the footprint on the environment.
Savvy Grocery Shopping Tip 4: Buy Store Brand Food
Buy the store brands which tend to be less expensive, or look for products that are on sale. These foods have the same nutritional value, but are typically less expensive because they aren't brought in from other retailers. As always, make sure to look at the nutrition label to make sure there aren't any added unnecessary ingredients.
Savvy Grocery Shopping Tip 5: Shop at Multiple Stores
Look to buy food from different stores, like your main supermarkets and wholesale stores. If you live in big cities, visit neighborhoods that have Latino or Asian stores because they offer produce at great prices. I personally go to three different stores based on what I need.
Savvy Grocery Shopping Tip 6: Find Coupons
Nowadays, many supermarkets offer apps with digital coupons. You can also sign up for e-newsletters that include coupons. And of course, while it may seem old school, don't forget that your local newspaper likely still has coupons too! I am all into mighty coupons!
Savvy Grocery Shopping Tip 7: Buy in Bulk
Depending on the item, buying in bulk is sometimes the savvier friendly option. Items like breads, grains, nuts, and meats are a good place to start. You can always freeze food if you don't eat it soon enough.
Peruvian-Style Chicken Vegetable Stew with Tomatoes & Mini Potatoes (Savvy Shopper Recipe)
Also, I am excited to share a delicious savvy shopper-friendly recipe, Peruvian-Style Chicken Vegetable Stew with Tomatoes & Mini Potatoes. This delicious stew cost less than $12.00, so each meal is ~$2.00. Are you ready for my delicious Stew?

Peruvian-Style Chicken Vegetable Stew with Tomatoes & Mini Potatoes
Print Recipe
Pin Recipe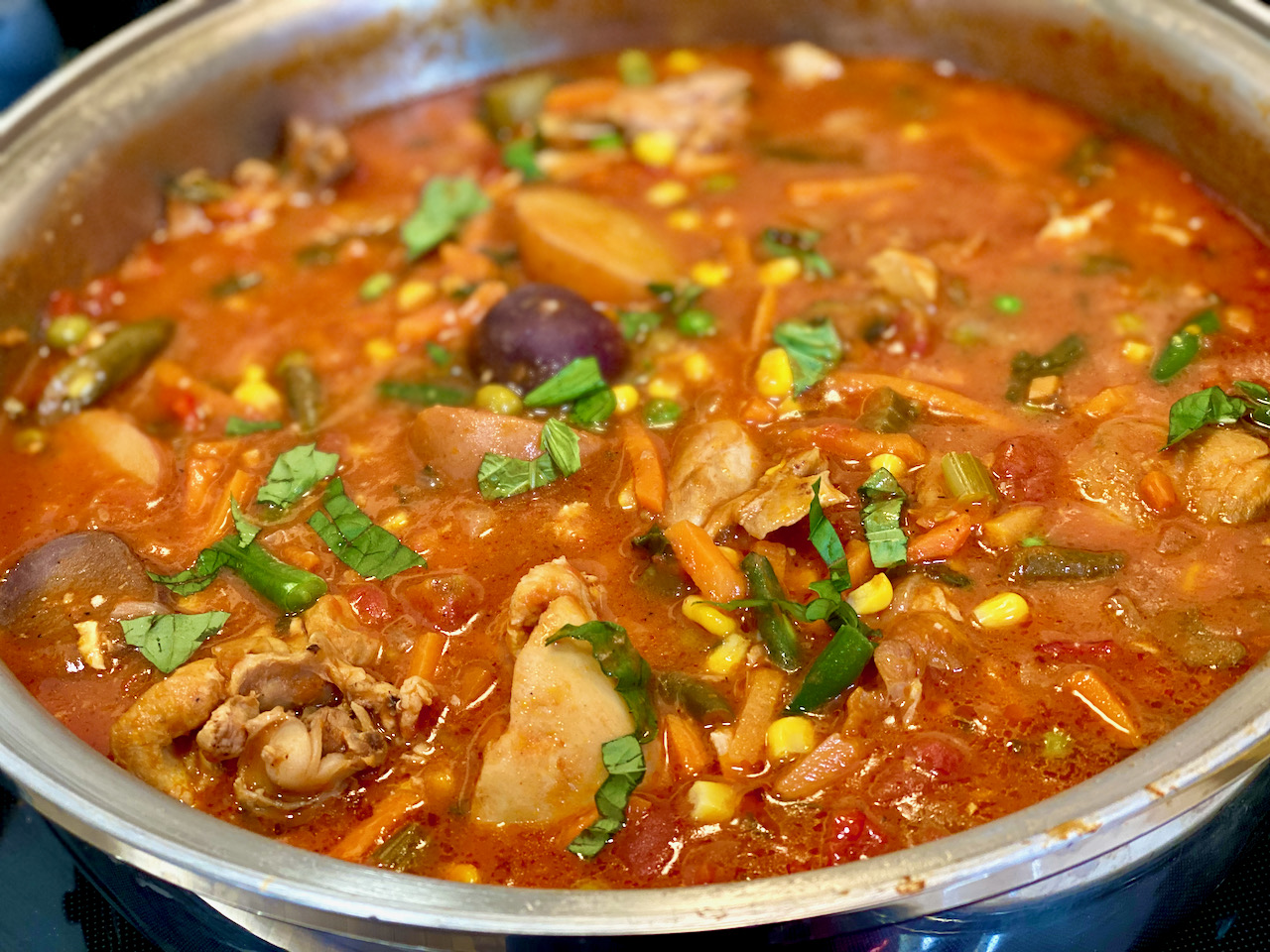 Ingredients
1

Tablespoon

extra-virgin olive oil

$0.30

1

whole chicken

skin removed and cut into 6 pieces, $6

1

large yellow onion

diced, $0.10

2

12-inch celery stalks, sliced, $0.50

1

large red bell pepper

diced, $0.20

1

Tablespoon

chopped garlic

$0.10

2

cups

chicken broth

$1.0

½

teaspoon

ground black pepper

$0.10

2

teaspoon

sea salt

$0.10

1

6-ounce can tomato paste, $0.69

1

14 ½-ounce can diced tomato, $1.40

3

cups

frozen mixed vegetables

$0.18

1-

pound-colored mini potatoes

$0.80

½

cup

fresh basil leaves

chopped, $0.10
Instructions
Remove the skin from the whole chicken. Make sure to cut the chicken breast in half. In total, you should have six pieces which include two drumsticks, two thighs and four chicken breasts. Wings are optional to keep.

Using an Air-fryer, fry at 400F for 10 minutes then remove the rack and turn the chicken to the other side and fry for another 10minutes. Remove chicken and set aside.

Heat up a large skillet, add the oil for 1 minute then add the onion, celery, bell pepper, garlic and cook for 3 minutes.

Add the broth, salt, pepper, tomatoes, paste, frozen vegetables, potatoes, and basil. Stir, bring to a boil, and reduce to medium temperature. Add the chicken back into the skillet and cover. Cook for 30-40 minutes or until the potatoes are soft.
Video
Notes
Yield is 12 cups with chicken meat (I took all the meat from the bone to measure the true yield)
Chef's note: If you don't own an air-fryer then heat up a large, high sided skillet on medium-high heat. Add 1 tablespoon of olive oil and heat it up for about one minute. Add the chicken and cook for about 5-7 minutes on each side, or until it begins to get a good sear. Remove chicken and set aside.
Nutrition
Nutrition Facts
Peruvian-Style Chicken Vegetable Stew with Tomatoes & Mini Potatoes
Amount per Serving
% Daily Value*
* Percent Daily Values are based on a 2000 calorie diet.
Now that is a savvy nutritious recipe!
Now it's your turn to get cooking! Interested in more tips that can help you make the most out of your groceries, while also aligning with your health goals? Check out these other posts: