This one pot high protein pasta with pumpkin puree is a fantastic meal to add to your fall recipe list. It's nutritious, flavorful, and balanced!
Fall is in full swing so pumpkin spice lattes, pumpkin bread, and pumpkin muffins appear everywhere we turn! While I love a good slice of pumpkin bread, I wanted to share a way to switch up this mighty fall staple in a savory way that's just as delicious and full of healthy nutrients.
The pumpkin puree pasta sauce is extra creamy, and is an elevated version of mac and cheese. I use a high protein and high fiber pasta, which is perfect for a weight loss plan without sacrificing flavor.
Pumpkin Puree Pasta Sauce
This homemade pumpkin puree pasta sauce is packed with good-for-you nutrients and elevates the flavor profile of your usual pasta dish. The sauce also tastes great with vegetables like broccoli and cauliflower and can be a new essential recipe for Fall in your household.
Is Pasta High Protein
Traditional pasta is made out of flour and eggs. This does provide some protein – about 5g per serving. However, there are other pasta options that have become more popular in the recent years that can have double that amount.
High Protein Pasta Options
For the longest time, one of the best pasta options you could buy at the store was whole wheat pasta. The whole wheat versions are preferable over white because this means that the three parts of the whole grain are still intact.
Over time we have been fortunate to gain access to even more fantastic healthy pasta options. Nowadays, you can find pasta made out of legumes such as lentils, beans, and chickpeas. These pastas are naturally higher in protein since they are made out of plant-protein packed legumes, rather than whole grains which typically have slightly less protein per serving.
Next time you're at the grocery store, keep your eyes peeled for this unique pasta section – you can likely find them at all of your usual grocery stores nearby. You'll be amazed at all of the options you can find!
How to Cook High Protein Pasta
Different types of high protein pasta require different cooking times, so it is best to follow the directions on the pasta box. Some may require slightly longer cooking times due to the key ingredients in the pasta. However, typically legume-based pasta cooks quickly, and you don't want to overcook it as the texture can change quickly.
Nutrition Benefits of Pumpkin
Pumpkin contains the antioxidant beta carotene (a nutrient your body turns into Vitamin A) and Vitamin C that can help protect your cells from damage. These can also help strengthen your immune system to prepare your body for any winter cold that may want to come your way!
Plus, the gut health-promoting fiber can help with bowel regularity and your microbiome.
Now it's time for this delicious recipe that the whole family can enjoy!

High Protein Pasta with a Creamy Pumpkin Puree Pasta Sauce
This one pot high protein pasta with pumpkin puree is a fantastic meal to add to your fall recipe list.
Print Recipe
Pin Recipe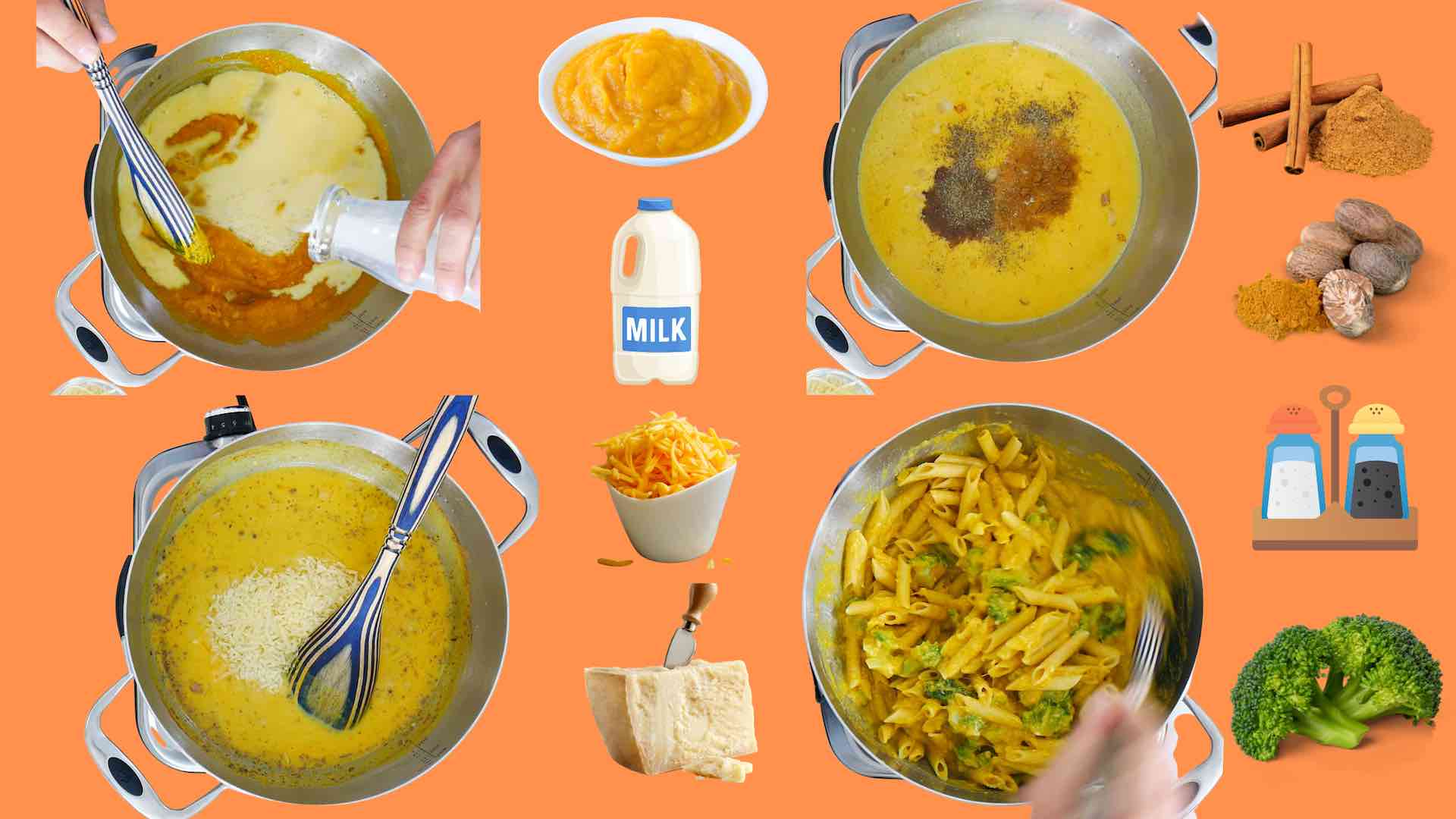 Ingredients
1

tablespoon

olive oil

1

teaspoon

minced garlic

2

cups

2% milk

1

15 ounce can pumpkin puree

1

cup

sharp shredded cheddar cheese

½

cup

parmesan cheese

1

teaspoon

kosher salt

¼

teaspoon

black pepper

⅛

teaspoon

ground cinnamon

⅛

teaspoon

ground nutmeg

2

cups

frozen Broccoli Florets

~6

servings

cooked high protein pasta of choice
Instructions
Sauté garlic and onion with olive oil.

Pour canned pumpkin puree into pan.

Add milk and stir well.

Add cinnamon, all spice or nutmeg, sea salt, and black pepper to taste.

Stir well.

Add cheddar and parmesan cheese.

Heat the sauce for a few minutes to melt the cheese and let it simmer.

Add cooked broccoli.

Add the cooked high protein high fiber pasta.
Video
Nutrition
Nutrition Facts
High Protein Pasta with a Creamy Pumpkin Puree Pasta Sauce
Amount per Serving
% Daily Value*
* Percent Daily Values are based on a 2000 calorie diet.
Other High Protein Pasta Options