Here are two healthy Greek yogurt dessert recipes to try when you're in need of a nutritious and delicious cool treat.
​​I have partnered with National Dairy Council to show you two new recipes with Greek yogurt that can be a cooling dessert this summer!
These two yogurt desserts can be go-to options to fall back on time and again – especially during the warmer summer months when you want an easy treat to cool you down! They're made with Greek yogurt for the high-quality protein and are naturally sweetened with fruit. Cool down this summer with my delicious homemade frozen yogurt and frozen yogurt bark!
Healthy Yogurt Dessert Recipes
I have created a homemade 5 ingredient frozen yogurt, and a frozen yogurt bark. Sounds easy and it is! My two featured recipes are:
Banana Blueberry Frozen Greek Yogurt
Kiwi Frozen Yogurt Bark
But first, let's take a look at what actually makes these recipes nutritious dessert options.
Nutrients in Greek Yogurt
Greek yogurt is packed with good-for-you nutrients, including:
Calcium
High-quality protein
Phosphorus
B Vitamins
Zinc
Greek yogurt is higher in protein than regular yogurt – about 15g per serving versus around 8g in regular yogurt. This makes it a great choice for healthy dessert recipes like these when you want a natural protein boost!
Greek Yogurt for Gut Health
Plus, did you know that yogurt is also considered a naturally fermented food? This is why you've likely heard that yogurt can help with gut health!
Yogurt is fermented from milk, and during this process, the lactic acid-producing bacteria grow on the sugars and other nutrients in milk. As they continue to multiply, that's how they can alter the flavor, texture, and nutrients.
Fermented dairy foods can also lead to more positive health outcomes. Taste good, feel good. I'd say that's a win win!
Lactose in Dairy
When it comes to dairy, you may be lactose intolerant – like myself! Or, maybe you are just sensitive to lactose in dairy foods. The great thing is that not all dairy has the same lactose content. Greek yogurt is naturally lower in lactose due to the straining process, plus yogurt's active cultures help digest the lactose, which makes the two recipes I'm going to show you great options to try!
Frozen Yogurt Dessert Recipe #1
This homemade frozen yogurt contains high-quality protein from the Greek yogurt and milk. The bananas and blueberries naturally sweeten this treat, so it's an alternative to many other desserts.

Banana Blueberry Frozen Greek Yogurt
Print Recipe
Pin Recipe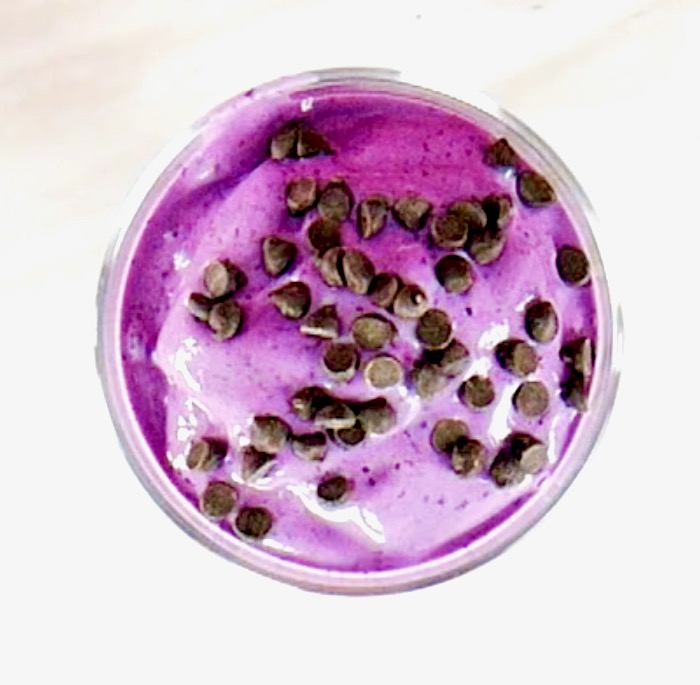 Equipment
Blender

Freezer-safe containers
Ingredients
½

cup

Frozen bananas

½

cup

Frozen blueberries

¾

cup

2% Plain Greek yogurt

⅛

cup

Milk

Dark chocolate chips

to garnish; optional
Instructions
Add the bananas, blueberries, Greek yogurt, and milk to the blender.

Top with chocolate chips.

Add to individual freezer safe containers.

Put in freezer to freeze.

Serve when ready to eat!
Frozen Yogurt Dessert Recipe #2
Once you try this recipe you will want to experiment with other fruits and nuts. It's that good!

Kiwi Frozen Yogurt Bark
Print Recipe
Pin Recipe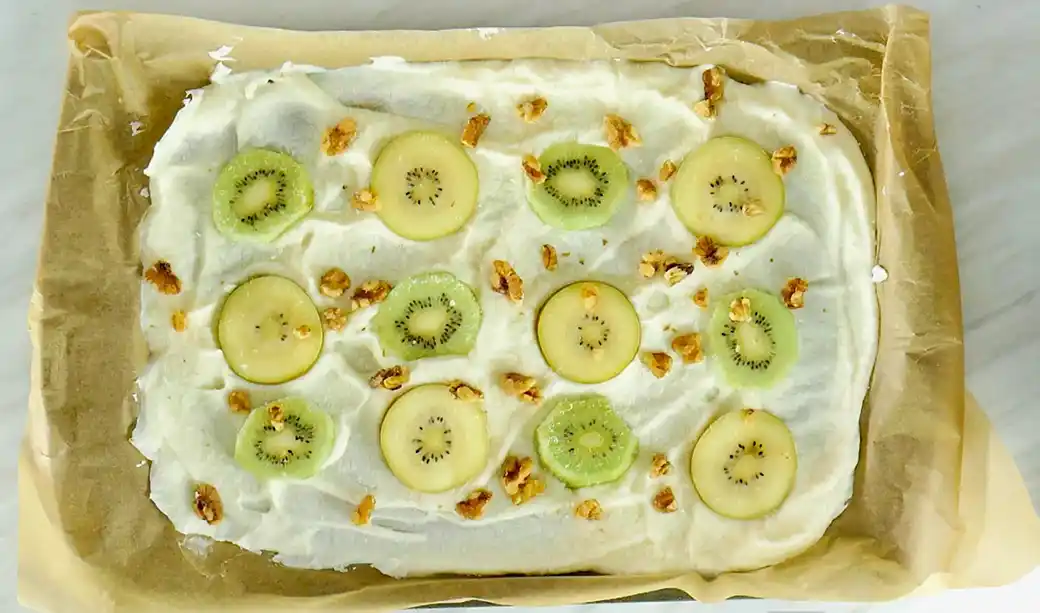 Equipment
Cookie sheet

Parchment paper

Freezer-safe container
Ingredients
2

Kiwis

sliced

2

cups

Greek yogurt

1

Tbsp

Honey

¼

cup*Nuts or seeds
Instructions
Mix together the honey and Greek yogurt.

Cover a cookie sheet with parchment paper

Spread the yogurt-honey mixture out evenly across the covered sheet, about 1-2" thick.

Add thin slices of kiwi and the **nuts or seeds** evenly around the yogurt-honey layer.

Put in the freezer for at least 6 hours, or until it has hardened.

Remove from the freezer and break into small pieces.

Place in a freezer safe container and take out pieces as you want to enjoy them!
Both of these desserts taste refreshing and delicious! I can't even decide which one I like more! Now it's your turn to try these fun and simple healthy yogurt dessert recipes.
More Yogurt Recipes to Try
For additional information and more about how to use dairy in your recipes go to US Dairy.