Celebrate National Apple Month with this nutritious 6-ingredient healthy apple crisp!
Enjoy the flavors of fall while benefiting from the featured ingredients: Honeycrisp and Jazz apples, oats, walnuts, applesauce, cinnamon, and coconut sugar. Applesauce provides a natural extra sweetness to the oat crumble topping. Honeycrisp and Jazz apples are used for their crispness and delightful taste.
Plus, learn the secrets of baking the perfect, golden-brown apple crisp in an Air Fryer. Let's make this National Apple Month special together!
I've partnered with Have a Plant to share this dish as the perfect way to celebrate the delightful flavors of fall with a nutrient boost.
Health Benefits of Apples
Apples are the star of the show, and for good reason. They are a nutritional powerhouse, rich in fiber, vitamins, and antioxidants. They promote digestion and are a nutritious way to add natural sweetness to a dish.
I'm using a combination of Honeycrisp apples and Jazz apples because I love their crispness and natural sweetness, but you can use whatever you have on hand. Have fun apple picking this fall, or explore your local farmer's market to see what's local to you.
Substitute Applesauce for Sugar
The applesauce adds extra flavor while also reducing the added sugar in comparison to a typical apple crisp.
How to Make a Healthy Apple Crisp
First, you'll preheat your air fryer. Combine the sliced apples, unsweetened applesauce, cinnamon powder, a pinch of sea salt if desired, and chopped walnuts.
Now, transfer this apple mixture into your baking dish and cover it, either with a lid or aluminum foil. Pop it into the air fryer and let it work its magic.
While that's cooking, it's time to prepare the oatmeal crumbles. In a small bowl, combine the rolled oats, unsweetened applesauce, and coconut sugar. Mix until it forms a delightful crumbly texture.
After 10 minutes, take out the apple mixture from the air fryer. Give it a good mix before adding the oatmeal crumbles on top. Carefully spread the crumbles so that every inch of the apples is covered with this deliciousness.
Now, back into the air fryer it goes! Cook for an additional 6 minutes, allowing those oats to crisp up and the flavors to intensify.

6-Ingredient Healthy Apple Crisp
Print Recipe
Pin Recipe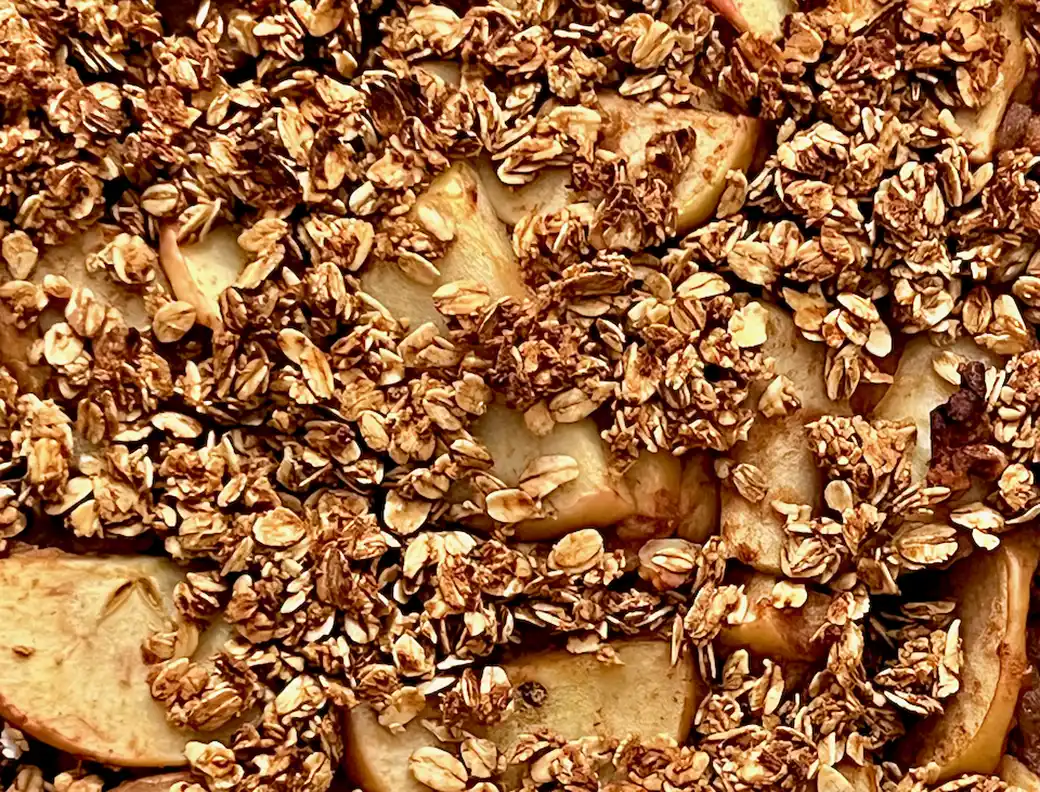 Equipment
Air Fryer

Medium bowl

Baking dish
Ingredients
8

small apples

sliced (Honey crisp and Jazz)

1

cup

and 2 tablespoons unsweetened apple sauce

divided

1/2

tablespoons

cinnamon powder

Pinch

of sea salt

optional

1

cup

chopped walnuts

1

cup

rolled oats

2

tablespoons

coconut sugar
Instructions
Pre-heat air fryer to 380 degrees F.

In a medium bowl combine apples, apple sauce, cinnamon, sea salt and walnuts. Mix well.

Transfer the apple mixture into a baking dish and air fry covered for 10 minutes (if your baking dish doesn't have a cover, use aluminum foil).

In the meantime, in a small bowl combine the oats, apple sauce, and coconut sugar.

Take out of the air fryer, mix the ingredients, and air fry again covered for 10 minutes.

Take out of the air fryer and pour the oatmeal crumbles on top.

Put back in the air fryer and cook for 6 minutes.
Video
How to Enjoy this Healthy Apple Crisp
And there you have it – a delightful, golden-brown, and healthy apple crisp ready to be enjoyed. Pair with plain Greek yogurt for added protein and nutrients.
This dessert embodies the essence of National Apple Month. Now it's your turn to make this delicious treat. Happy Air Frying!
More Apple Recipes
Looking for more inspiration and ideas to use your apples this Fall? Try one of these recipes.