Dive into a world of flavors with this protein-packed creamy roasted zucchini soup! Roasted zucchini sets the flavor stage, while milk and cottage cheese add high-quality protein and a desirable creaminess.
It's officially soup season! Today I'm going to show you how to make a creamy, protein-packed, hearty soup that's not only lower in sodium but also incredibly satisfying.
I've partnered with National Dairy Council to share this delicious Creamy Roasted Zucchini Soup and all of the benefits it offers.
Benefits of This Creamy Zucchini Soup
To start, let's talk about what makes this soup creamy – the milk and cottage cheese base.
Milk contains 13 essential nutrients, including high-quality protein. These nutrients help support a healthy immune system and maintain strong bones.
Cottage cheese, which has become very popular recently, is the perfect ingredient to thicken the soup while also adding additional protein.
How to Make Creamy Roasted Zucchini Soup
First, roast the zucchini. Preheat the oven and roast until the zucchini is tender and golden brown.
While the zucchini is roasting, sauté the minced garlic and finely chopped onion until they're beautifully fragrant and golden brown. This aromatic duo will infuse our soup with fantastic flavors.
Now it's time to blend the zucchini, garlic, onion, milk, and cottage cheese. This provides the creamy, dreamy base of our soup.
Can You Substitute Lactose-Free Milk
You can also substitute the milk with lactose-free dairy milk for all the same nutrients and benefits. Since I am lactose intolerant, I love that I can still get the same benefits without the lactose, but all the same flavor.
Benefits of Adding Cannellini Beans
Now, let's add our whole cannellini beans (drained and rinsed). These little powerhouses are not only great sources of protein and fiber but they also add a delightful texture to our soup. It's all about balance and variety, my friends!

Creamy Roasted Zucchini Soup
Print Recipe
Pin Recipe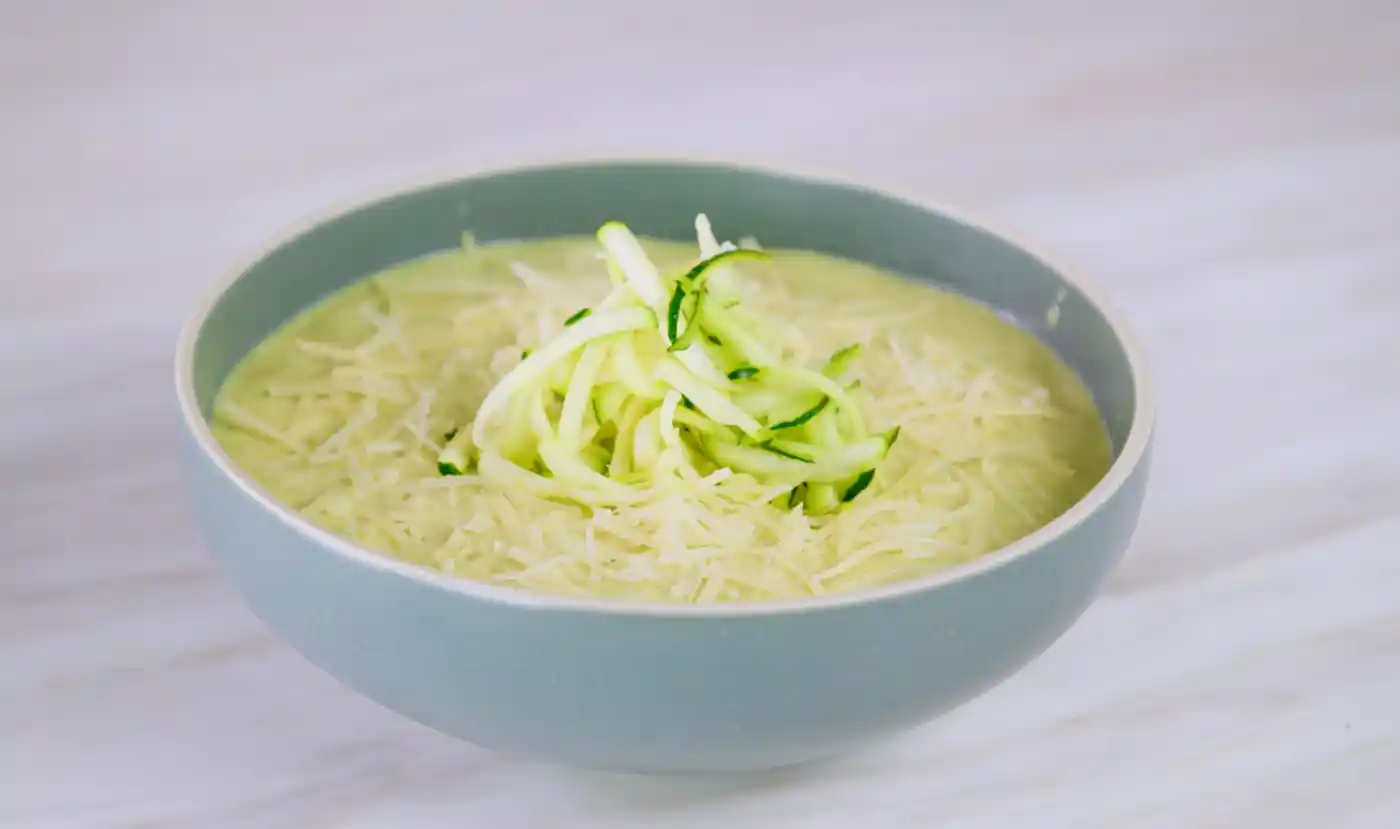 Ingredients
4, 6

" roasted zucchini

thick slices

3

garlic cloves

1

medium yellow onion

quartered

1

tablespoon

extra-virgin olive oil

3

cups

2% milk

or lactose-free dairy milk

1

cup

low-fat cottage cheese

2

ounces

white cheddar

chunks or sliced

1

can garbanzo beans

rinsed

1

cup

parmesan
Instructions
Preheat oven to 400.

In a large bowl add the zucchini, onion, and garlic. Pour the olive oil, sea salt, and black pepper and mix well.

Roast the vegetables in the oven for about 20 min or until zucchini is tender.

Add the roasted zucchini, garlic, onion, milk, and cottage cheese to the blender.

Pour the soup into a pot and add the cheddar cheese. Bring to a boil and lower the heat to low and simmer for 15 minutes.

Add the garbanzo beans and mix well.

Serve into individual soup bowls, and top each one with parmesan.
What to Pair with This Soup
To top it all off, sprinkle each bowl with grated parmesan cheese. The result? An extra layer of cheesy creaminess that will make your taste buds dance with joy.
And there you have it! Our protein-packed, creamy soup is ready to be served. Enjoy as a meal that can be paired with whole-grain bread, crackers, or whole-grain rice.
Make this once and you'll want to keep enjoying it all fall. For more dairy recipe ideas and facts visit US Dairy.
Explore More Protein-Packed Recipes