This wild rice with roasted and sautéed vegetable medley is a perfect addition to any holiday or gathering with friends and family. Plus, it is a simple dish you can make to enjoy during the week when things get busy.
It's that time again – the holidays are here! Thanksgiving can be a tricky holiday for some people to navigate with the mix of unhealthy food choices. So, this side dish for Thanksgiving that uses all kinds of vegetables – dried, canned, fresh, you name it – with a few other star ingredients. You can even use this dish as a stuffing for your turkey.
This Wild Rice with a Roasted & Sautéed Vegetable Medley uses a different cooking methods to bring out the maximum flavor. From simply cooking the wild rice, to roasting the veggies, to sautéing the remaining ingredients, the flavors will fill your house with an irresistible aroma and impress any of your visitors. Plus, it's a vegetarian and vegan dish that can complement any main meal.
Wild Rice Nutrition and Benefits
Wild rice is high fiber, and high protein. One cup of cooked wild rice has:
166 calories
35g carbohydrates
3g fiber
7g protein
13% of your daily magnesium needs
10% of your daily Vitamin B6 needs
In this recipe, the rice is mixed with vegetables, fruits, and nuts, which combined with the wild rice provide a healthy mix of protein, carbohydrates (including fiber), protein, and other valuable nutrients.
Is Wild Rice Gluten-Free & How to Cook Wild Rice
Yes! Wild rice is actually a grass, though the word "rice" in its name makes people think that it is a rice.
I cook my wild rice in chicken broth for more flavor. You just cook it like pasta! Boil for about 1/2 hour to 45 minutes. If you have an Instant Pot, you can cook it in about 20 minutes.
Main Veggies for this Sautéed Vegetable Medley
This sautéed vegetable medley uses Brussels sprouts, corn, red bell pepper, and onion. They provide a colorful mix with a range of flavors. The beauty of this dish is that you can really swap in any of your favorite veggies, or add them to this already delicious medley!
Wild Rice with a Roasted & Sautéed Vegetable Medley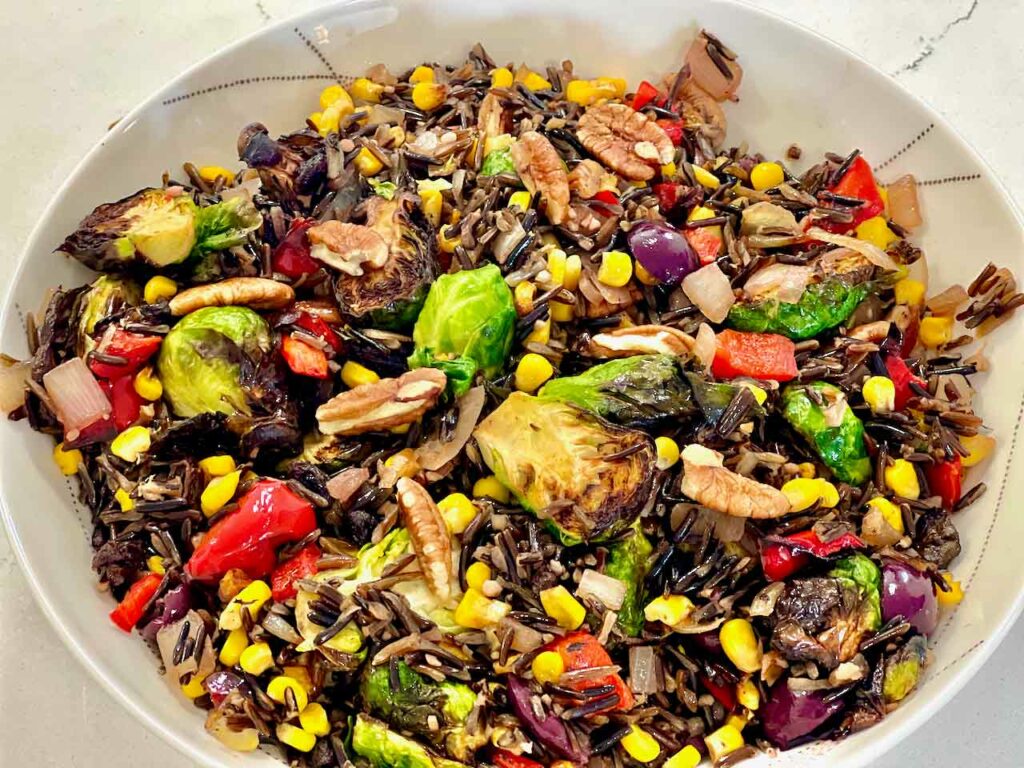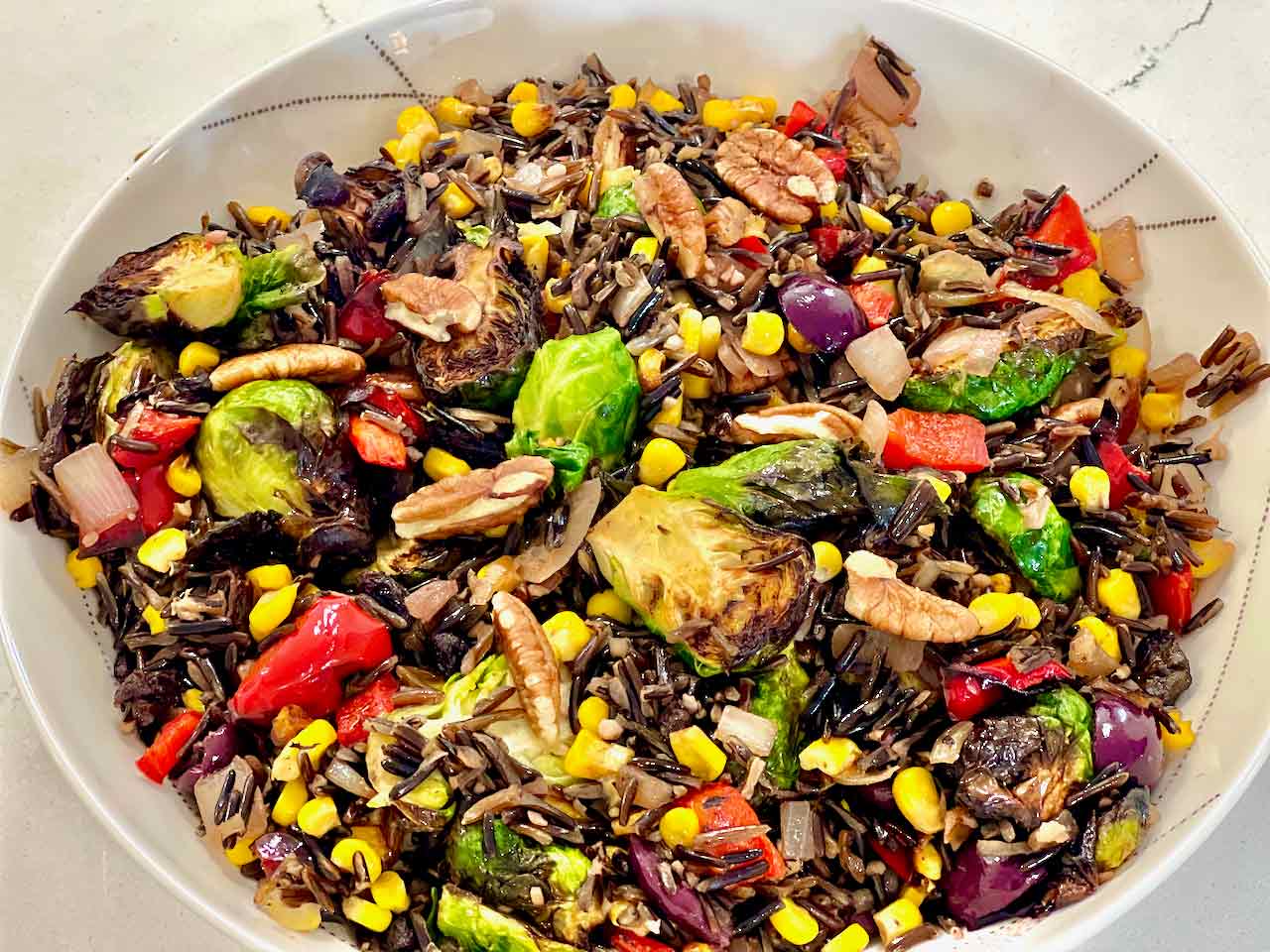 Prep time: 10 minutes 
Cook time: 30 min
Serves: 6
Ingredients:
1 cup dry wild rice
1 1/2 tablespoon extra virgin olive oil, divided
12 ounces Brussels sprouts, halved
1 medium red bell pepper, diced
1 can (15 ounces) no salt added whole corn kernels, drained
1 1/2 teaspoons sea salt divided
1/4 teaspoon black pepper
1 medium yellow onion, diced
1 teaspoon crushed garlic
1 cup pecans, halved
1/2 cup golden raisins
1 cup kalamata olives, pitted, halved
Instructions:
Follow instructions on how to cook wild rice from the package. Set aside.
In a large bowl add Brussel sprouts, bell peppers and corn. Add half of the salt and 1/2 tablespoon of oil. Mix all the ingredients well.
Using your Air-fryer, roast the vegetables at 400 F for 20 minutes. Shake the rack during the mid point to make sure all vegetables get lightly browned. Set aside.
In a deep large skillet heat up the remaining the oil for about 1 minute. Sauté the onions and garlic for about 3 minutes over medium heat.
Add to the skillet the pecans, golden raisins, olives, the reaming of the salt and the black pepper. Cook for another 2 minutes.
Add to the skillet the roasted vegetable and the cooked wild rice and mix all ingredients well. Cook for another 1 minute stirring to make sure you get all the flavors well distributed.
Enjoy!
Note: You can roast your vegetables in the oven at 450 F for 25 minutes. This wild rice dish can be used to stuff the turkey for Thanksgiving.

Per serving (1 cup): Calories: 378; Fat: 19g; Carbohydrates: 51g; Fiber: 8g; Protein: 10g
Other Veggie-Packed Options for the Holidays
If you're looking for some other recipes to try for Thanksgiving or the rest of the holidays, experiment with some of these.