Looking for a quick side dish for your meal planning next week? Trying my simple Roasted Brussels Sprouts with Caramelized Red Onions will not only fill the stomachs of your family, but this dynamic duo presents an array of rich nutrients that are both good tasting and good for your health! Paired with lemon chicken and brown rice will create a well-balanced and delicious meal in minutes!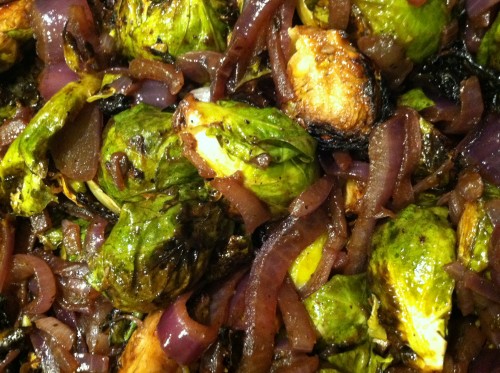 Health benefits:
The cruciferous vegetable is an excellent source of vitamin C and vitamin K. Just one cup of cooked Brussels sprouts offer 243% Vitamin K and 130% Vitamin C of your DRI based on a 2,000 caloric intake. They are also an excellent source of folate, and a good source of manganese, vitamin B6, dietary fiber, copper, vitamin B1, potassium, phosphorus, and omega-3 fatty acids. Talk about a tasty multi-vitamin and mineral food!
The onion, much like the garlic clove, is apart of the Allium family. These members have an abundance of sulfur-containing compounds that are responsible for that pungent fragrant and for many of their health-promoting effects.
Serves: 4
Ingredients:
1 lb. Brussels sprouts
1 clove garlic, crushed
1 large red onion
2 Tbsp olive oil
Salt and pepper to taste
Directions:
Preheat oven to 450°F. Place Brussels sprouts, garlic, 1 Tbsp olive oil in a medium roasting pan. Season with salt and pepper to preferred taste. Toss to coat. Roast in the oven for 20 minutes until golden brown and cooked throughout.
While the Brussels sprouts are cooking, prepare the caramelized onions.
For directions in caramelizing onions, visit here!
When the Brussels sprouts and onions are done, combine and serve!