This delicious roasted eggplant & butternut squash beef stew is the perfect recipe to kickstart this fall season, and a great way to enjoy two seasonal vegetables – eggplant and butternut squash.
The weather is changing, the leaves are turning, and it's time for those long-awaited cozy Fall recipes! Plus, this is a great recipe to add to your meal planning list to easily prepare for the week ahead. This butternut squash beef stew with eggplant is inspired by my mother, so I'm sure it'll be a hit with your family as well!
Iron and Vitamin C Food Combinations
One of the great benefits of the combination of these ingredients is that they contain Vitamin C and iron. Why does that pairing matter? Vitamin C enhances iron absorption, which means your body will be able to process more of the iron you're eating because of the Vitamin C that is in the meal too.
The butternut squash and eggplant contain Vitamin C, and the beef contains heme iron (animal-based). If you're looking to increase your iron intake or want to make sure you're meeting your daily needs, this is a great recipe to add to your recipe arsenal!
Benefits of Roasting Butternut Squash and Eggplant
Roasting vegetables breaks down the starches and gives them a slightly sweeter, richer taste without compromising the nutrient profile. It also changes the texture of them so that they're softer and delicious to mix into stews.
I always suggest this method as an option for making vegetables when following a weight loss plan because you can bring out a lot of flavor without using a lot of extra oil or fat.
How to Roast Vegetables
In this recipe I do not add oil to roast the eggplant and butternut squash, but you can choose to do so for a little extra crispiness and flavor. Use olive oil or avocado oil (which is better for temperatures above 425 degrees F as it has a higher smoke point).
Then, place in the oven at 400 degrees for about 25 minutes. This will cook the inside while also making a nice crispy outside texture.
Roasted Eggplant & Butternut Squash Beef Stew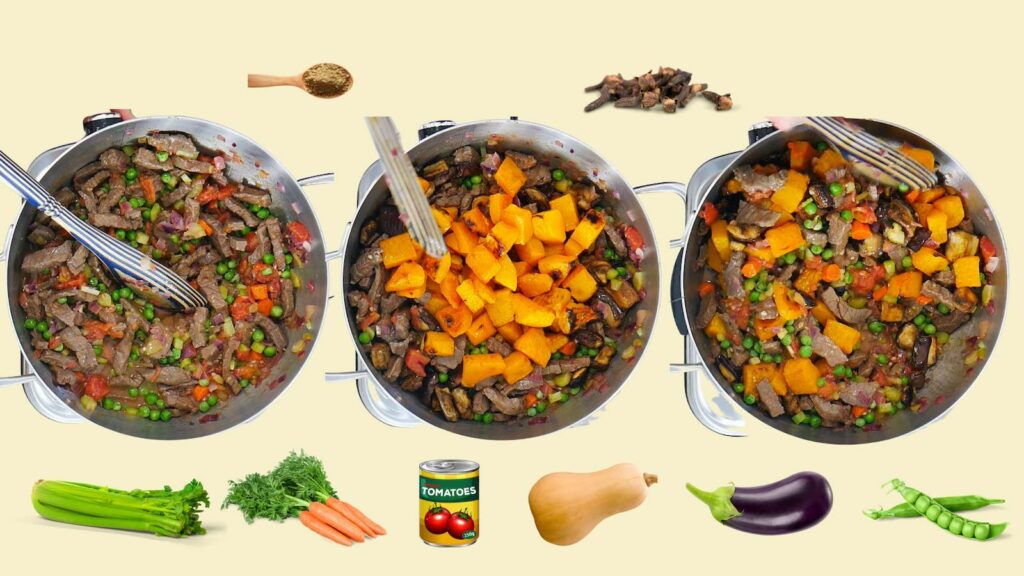 Prep time: 10 min
Cook time: 25 min
Serves: 6
Serving size: 1.5 cups
Ingredients:
1 tablespoon extra-virgin olive oil, divided
1 medium red onion, diced
1 tablespoon chopped garlic
2 (12-inch) celery sticks, diced
2 (6-inch) carrots, sliced
1 (14.5 ounces) can diced tomatoes
1/2 cup beef or chicken broth
1/8 teaspoon clove powder
1 teaspoon ground cumin powder
1.5 teaspoon sea salt
1/2 teaspoon ground black pepper
2 pounds strips top sirloin steak
1 cup frozen peas
Non-stick oil spray
3 cups eggplant, 1-inch cubed
3 cups butternut squash, 1-inch cubed
Instructions:
Pre-heat oven to 400F.
Place eggplant and butternut squash in a pan sheet, single layered and roast for about 25 minutes or golden brown.
In the meantime, heat up the oil in a 4-quart pan and sauté the onions and garlic for about 2 minutes.
Add the celery, carrots, tomatoes, broth, clove, cumin, salt, and black pepper, mixed well, and cook for another 10 minutes.
Add the meat and cook for another 10 minutes.
Add the peas and roasted eggplant and butternut squash, mix gently without mashing the butternut squash and simmer for about 3 minutes.
Nutrition facts per serving: Calories: 436, Fat: 24 grams, Total Carbohydrate: 23 grams, Dietary Fiber: 6 grams, Protein: 34 grams
Looking for more Fall recipes?
For more fun in the kitchen on those cozy Fall days, try some of the recipes below: