It's pumpkin season, so what better way to celebrate than with a tasty recipe that is packed with protein, fiber, and all the fall flavors we love. This High Protein Pumpkin Chia Seed Pudding provides that and more.
I have partnered with National Dairy Council to share this delicious snack that is quick and easy, portable, nutritious, delicious and can help you control your hunger. So, what makes this such a great option to grab during the day? Let's explore some of this mighty pudding's benefits.
Benefits of Including Dairy in Recipes
Dairy foods can help make plant-packed snacks or plates even better by adding nutrients, flavor, texture, and satisfaction. Milk, yogurt, and cheese contain high-quality protein, so paring dairy with plants which contain fiber like fruit and vegetables is winner combination!
This version of chia seed pudding includes pumpkin and Greek yogurt – the true stars of the show. They add extra nutrients that can help control hunger, assist with your weight loss efforts, and give that boost of protein for sustained energy during the day.
Protein in Greek Yogurt & Milk
Two of my favorite ingredients to add to recipes to give them a boost of high-quality protein is Greek yogurt and milk. Choosing fat free or low-fat options decreases the saturated fat content.
Milk contains casein, in addition to whey protein. Greek yogurt naturally contains casein (most of the whey is removed in the development process). Casein has all of the essential amino acids: methionine, lysine, isoleucine, histidine, valine, tryptophan, threonine, phenylalanine and leucine. They are considered "essential" because our bodies cannot produce all of them– they need to be consumed with the foods that you eat.
One amino acid in particular that is worth noting is leucine, which is known to stimulate muscle protein synthesis – an important part of maintaining and building muscle when trying to lose weight.
Chia Seed Pudding Benefits
To take that high protein train even further, chia seeds are one of the few plant-based foods that contain all of the essential amino acids. A balanced and well-rounded diet includes adequate amounts of all of these amino acids.
Another thing that I love about this pumpkin chia seed pudding is that in addition to the high-quality protein, it also contains fiber and Vitamins A and C from the pumpkin. Plus, cinnamon provides additional antioxidants to keep your cells happy and fight off disease.
Protein and Fiber for Hunger Control
Keep in mind that protein + fiber are your best friends when it comes to hunger control. These two nutrients can help keep you feel fuller for longer, and therefore control your hunger levels. This is why I recommend combining the two during your mealtimes.
Based on my years of experience and after helping thousands of people with their nutrition, I must say that an afternoon snack around 3-5pm is a key time to eat to help control your hunger. It can also help you not overeat at nighttime.
Is Chia Pudding Healthy?
As you can guess, chia pudding can be a very healthy snack– especially this pumpkin chia seed pudding with Greek yogurt. While there is minimal added sugar to this recipe, one thing to keep an eye on if you're looking to purchase chia seed pudding at a store is added sugar. Many brands will add sugar to make the product more appealing to certain peoples taste buds, and while we can enjoy everything in moderation, it's likely that some chia puddings are more of a dessert than a snack.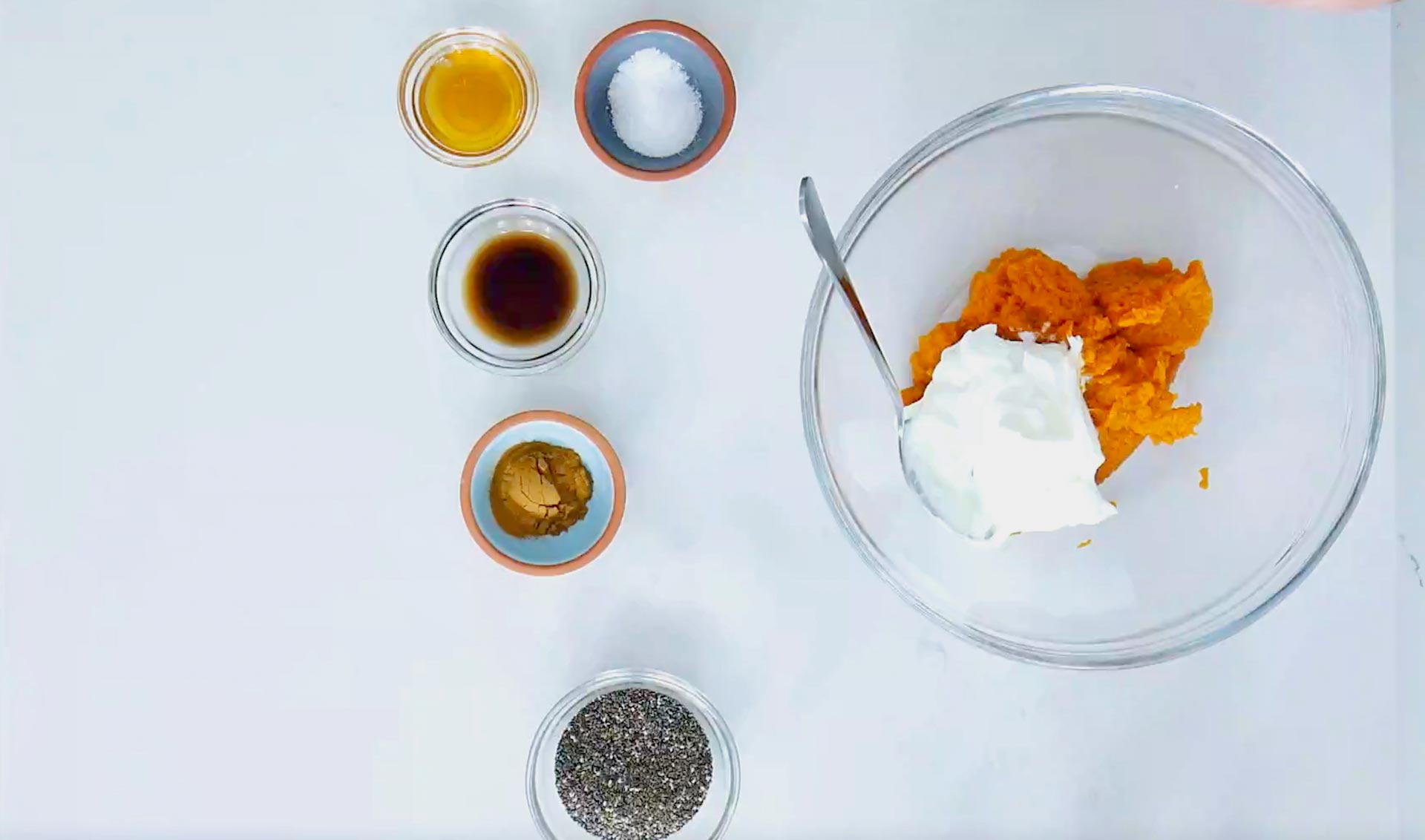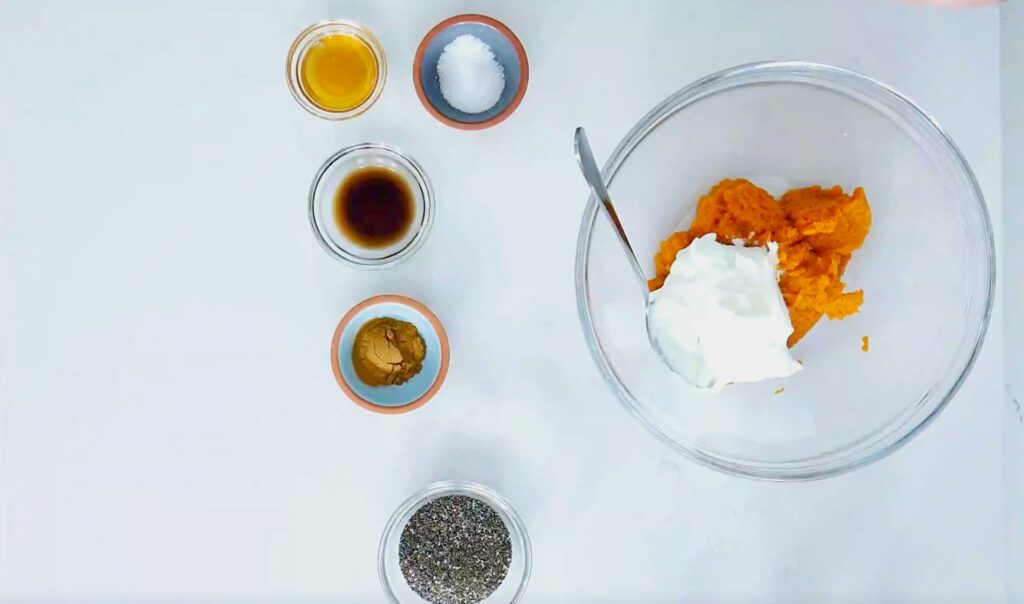 How Long Does Chia Pudding Last?
If you keep this pumpkin chia pudding in an airtight container in your fridge, it should last 4-5 days. The longer it sits in the fridge, the more the chia seeds will absorb the liquids from the other ingredients, making it an even more "pudding-like" consistency. I don't recommend freezing this recipe. And after you try it, you won't even want to because you'll want to finish it all!
How Should You Store Pumpkin Chia Pudding?
To make the snack portable I will make the pudding in 4 different 12-ounce mason jars so that you can grab-and-go when need them.
So now it's time to share my yummy protein chia pudding snack that can be used as your afternoon snack or even breakfast! Are you ready for my chia seed pudding recipe?
Since I am lactose intolerant, I am using lactose free milk, it is real milk that provides 13 essential nutrients in a 8 fluid ounce serving. Now it is your turn to make my High Protein Pumpkin Chia Pudding!

High Protein Pumpkin Chia Seed Pudding
This High Protein Pumpkin Chia Seed Pudding is packed with protein, fiber, and all the fall flavors we love. 
Print Recipe
Pin Recipe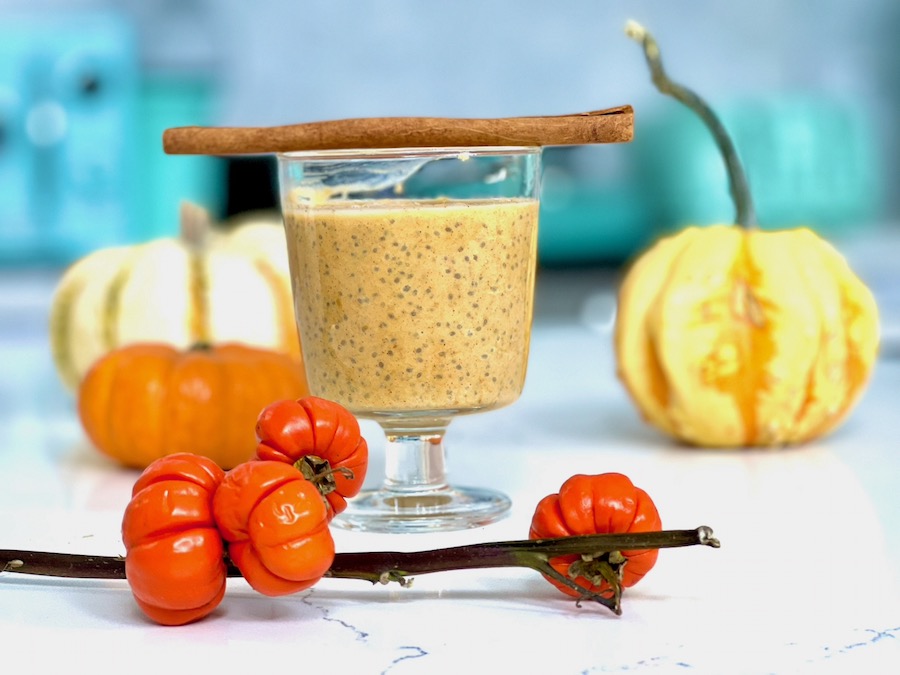 Ingredients
1

cup

2% milk

½

cup

2% plain Greek yogurt

1

cup

pumpkin puree

3

tablespoons

chia seeds

½

tablespoon

cinnamon

1

tablespoon

vanilla extract

1

Teaspoon

honey

Pinch

of sea salt
Instructions
Pour all ingredients in a container.

Mix well and refrigerate for at least 4 hours or overnight.
Video
Nutrition
Nutrition Facts
High Protein Pumpkin Chia Seed Pudding
Amount per Serving
% Daily Value*
* Percent Daily Values are based on a 2000 calorie diet.
For additional information and more about how to use dairy in your recipes go to USDairy.com
Looking for additional high protein recipe inspiration?
These recipes provide a boost of protein and a lot of valuable nutrients: