This delicious recipe for Broccoli, Red Bell Pepper & Black Rice Egg Muffins is a perfect fallback recipe for when you want to cook something simple and nutritious to have throughout the week.
I have partnered with Have a Plant to share with you today's delicious and nutritious broccoli egg muffins that can transform your meal planning for the week.
When it comes to making food choices, there are some key things I always recommend. The New Year is a great time to talk about setting realistic intentions for the months to come – especially targeting healthy eating and working in more fruits and vegetables.
Setting Intentions for the New Year – "Plant-entions"
With the New Year, many people choose to follow a diet to get on track with their health. But today, I want to introduce a new idea – "Plant-entions." What I mean by this, is instead of focusing on some crazy diet that will likely only last until March (if we're being honest with ourselves), it's time to focus on setting the intention to include more fruits and vegetables in our meals. Because we all know, plant foods benefit overall health, and most Americans aren't meeting the recommended amounts of either.
How to Create Good Habits
One of the best ways to meet these "Plant-entions" is to take small steps to create resolutions that turn into habits. Rather than deciding on a one-off diet and unfortunately not being happy with the results, you can find realistic changes that progress you forward for the long term.
By choosing fruits and vegetables as the stars of your breakfast, lunch, and dinner shows, you're decreasing the need for quick-fix resolutions.
This recipe is a simple way to fit in more veggies to your meals to meet those "Plant-entions" with my delicious Broccoli, Red Bell Pepper and Black Rice Egg Muffins.
Customizing Your Egg Muffins
I love these egg muffins because they are an artboard for adding veggies to your meal. Here I chose a mix of fresh and frozen veggies, with a cooked whole grain. If you don't like one of the veggies I chose, it's easy to swap them for one you do like.
Key Ways to Eat More Fruits & Veggies
This recipe makes forming a good habit of eating vegetables a little bit simpler! There are three key things to remember when setting resolutions and intentions:
Create a habit
Make it easy
Cultivate enjoyment
The more you include fruits and veggies and make it a habit, the more automatic it will become. Keeping frozen varieties in the freezer makes it easy to include veggies even on the busiest days when you're in desperate need of going to the grocery store. And to top it off, making fun foods that can be used for many meals of the week can cultivate enjoyment.
Foods to Pair with These Broccoli Egg Muffins
These muffins don't have to be boring!
Pair 1 with a cup of berries
Pair 1 with a sliced apple
Have 2 egg muffins with a potato and more broccoli for a more filling meal.
Pair 1 egg muffin with slices of avocado and a piece of whole-grain toast
The options are endless!

Broccoli, Red Bell Pepper & Black Rice Egg Muffins
Print Recipe
Pin Recipe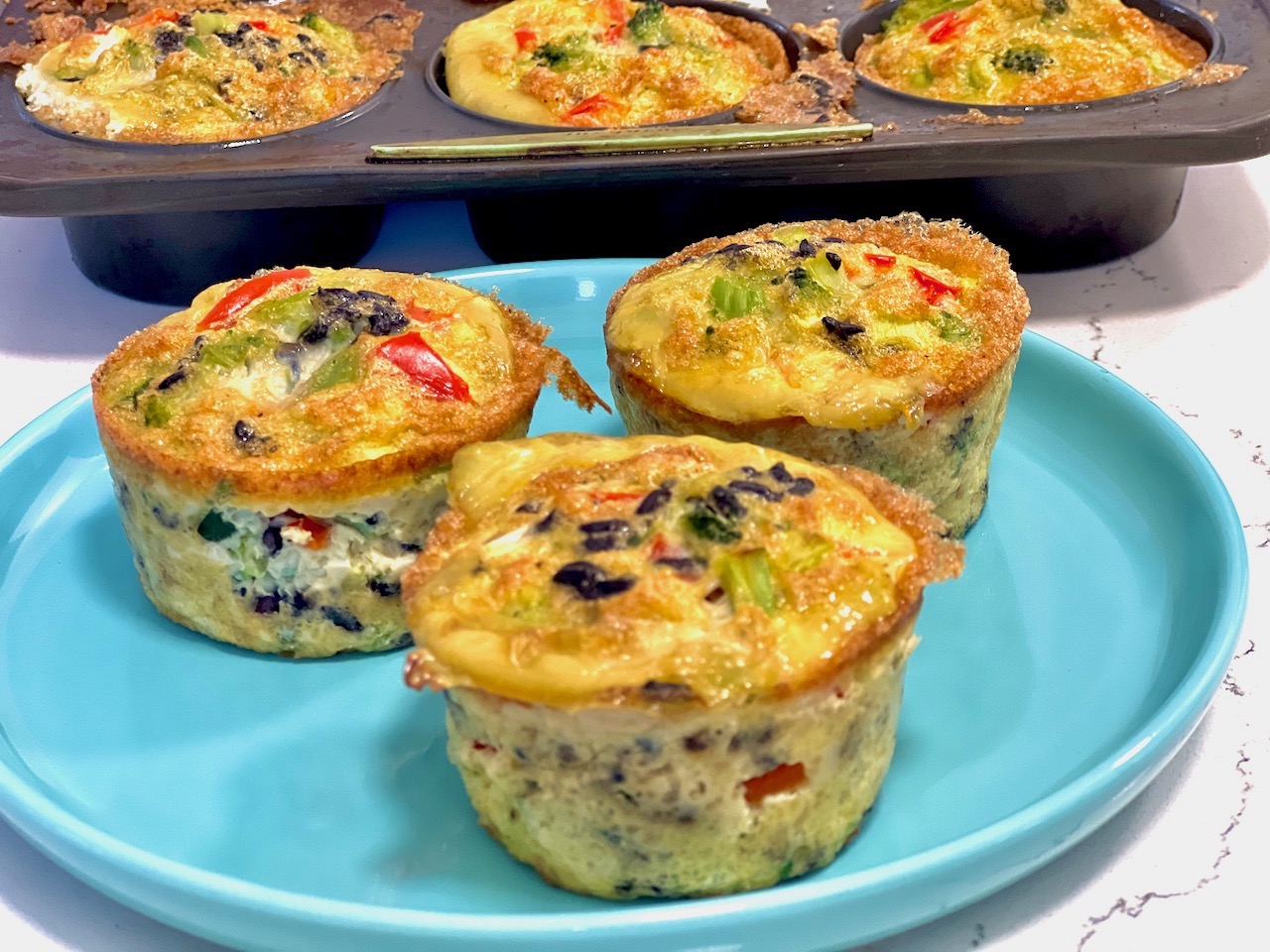 Ingredients
Nonstick cooking spray

12

large whole eggs

3

cups

chopped frozen broccoli

1

medium red bell pepper

diced

1

cup

cooked black rice or forbidden rice

4

green onions

sliced

2

teaspoons

sea salt

¼

teaspoon

ground black pepper
Instructions
Crack the eggs into a large bowl and add all the remaining ingredients.

Mix all the ingredients well.

Spoon the mixture evenly into the 12 cups of the muffin tin. Bake for 30 to 35 minutes, or until puffed and lightly browned.

Enjoy
Video
Notes
Tip: If you want to cook in bulk, this muffins can be stored in the refrigerator for up to 5 days in an airtight container.
Nutrition
Nutrition Facts
Broccoli, Red Bell Pepper & Black Rice Egg Muffins
Amount per Serving
% Daily Value*
* Percent Daily Values are based on a 2000 calorie diet.
Other Egg Muffin Recipe
Like the idea of this veggie egg muffin and want to have another option for variety? Try my Quinoa Spinach Egg Muffins!