This delicious Parmesan Crusted Potatoes recipe elevates potatoes to a new level with nutritious ingredients.
Potatoes, potatoes, potatoes. My life would not be the same without them. And did you know that August 19 is National Potato Day? This might be one of my new favorite days of the year! Learn the benefits of different colored potatoes and the best ways to cook them.
I've partnered with Have a Plant to bring you this Parmesan Crusted Potatoes recipe to show you how versatile and delicious potatoes can be.
Varieties of Potatoes in Peru
Peru, my ancestral home, is famous for its incredible potato diversity. Did you know that there are over 4,000 varieties of potatoes grown there? So if you make yellow potatoes on repeat, it's time to expand your horizons!
Different Colors of Potatoes
Potatoes aren't just yellow. They are also red, orange, and purple. And did you know that the anthocyanins that give colorful potatoes their vibrant color can help with glucose regulation? Mixing and matching these varieties not only adds a pop of color to your plate but also a variety of nutrients.
If you're wondering if they can have a place in your weight loss efforts, I wrote a whole post about that.
How to Cook Potatoes
In this recipe, I first boiled the potatoes, then used the Air Fryer for the final steps. Boiling the potatoes beforehand makes it easier to change their shape. Just as there are many different types of potatoes, you can also cook them so many different ways.
Each of these methods offers a unique texture and flavor profile to your potatoes, so you can choose the one that best suits the dish you're preparing and your personal preferences.
1. Boil
Boiling is a common method of cooking potatoes where they are submerged in boiling water until they become tender.
2. Bake
Baking potatoes involves cooking them in an oven. You can optionally rub the potatoes with oil and seasonings for added flavor. The skin will become crispy and the inside soft and fluffy.
3. Roast
Roasting potatoes is similar to baking but often involves cutting the potatoes into smaller pieces before cooking. The potatoes are coated with oil, herbs, and seasonings to enhance their flavor. This results in a slightly crisp exterior and a creamy interior.
4. Air Fry
Air frying is a more recent cooking method that mimics the effects of deep frying but uses significantly less oil. The potatoes are placed in an air fryer basket and cooked at a high temperature, circulating hot air around them. This method produces crispy results with less oil.
5. Sauté
Sautéing involves cooking potatoes in a pan with a small amount of oil or butter over medium to high heat. You would typically cut the potatoes into small pieces or thin slices for faster cooking. Sautéing results in potatoes that are golden brown on the outside and soft on the inside.
How to Make Parmesan Crusted Potatoes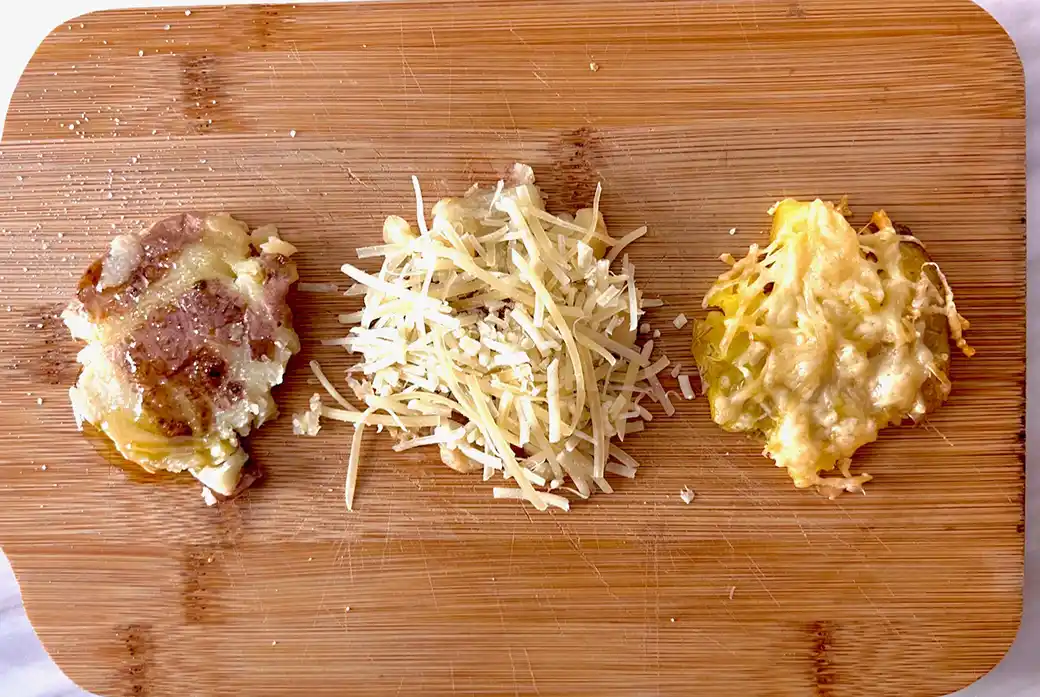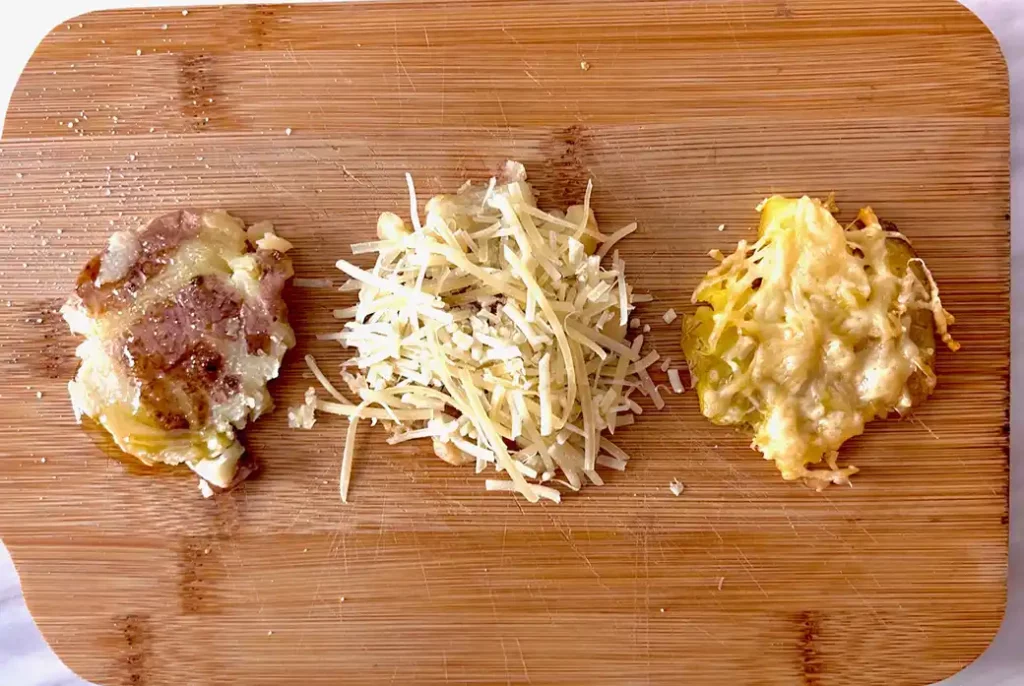 I used a mix of small red and yellow potatoes for these parmesan crusted potatoes. Start by boiling the potatoes. This will make them soft and easier to flatten for the parmesan addition. Once you crush each boiled potato and top with the dried oregano, olive oil, salt, and parmesan, they're ready for the Air Fryer. Then top with a fresh oregano leaf and a sun dried tomato.

Parmesan Crusted Potatoes
Print Recipe
Pin Recipe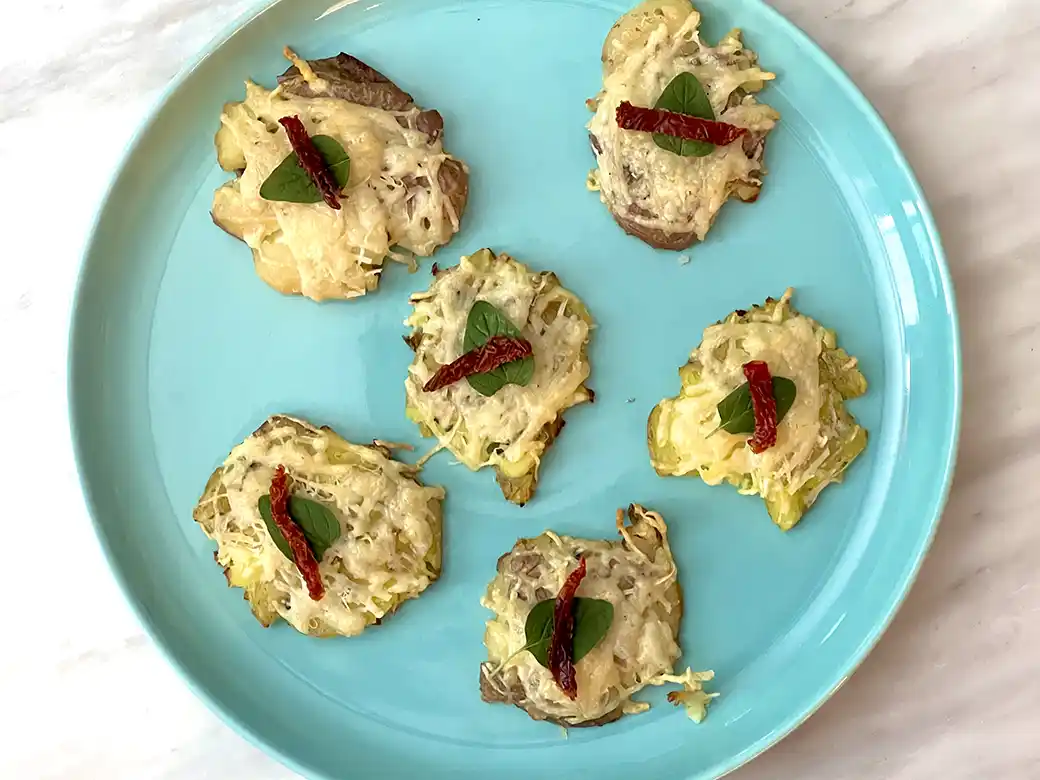 Equipment
Stove top

Sauce pan

Air Fryer
Ingredients
16

Small potatoes red and yellow

bite side creamers

8

teaspoons

olive oil

Sprinkle of dried oregano

Sea salt to taste

1

cup

shredded parmesan

Optional: Fresh oregano leaf and sun dried tomato
Instructions
Boil the potatoes for 12 minutes. Let them cool.

Using a mason jar or another similar item, crush each potato to flatten them.

Add 1/2 teaspoon of oil and a sprinkle of dried oregano and sea salt to the top of each crushed potato.

Add 1 tablespoon of parmesan cheese to each potato.

Air fry for 8 min at 400 F.

Optional: Top with an oregano leaf and a sun dried tomato.
These Parmesan Crusted Potatoes steal the show. Now it's your turn to try this delicious recipe. Thank you for joining me in celebrating National Potato Day in style.
Want to experiment more with the Air Fryer? Try these Yellow Air Fryer Smashed Potatoes.