These 3 healthy mocktails are low calorie, low sugar, and full of superfoods.
I love these healthy mocktails as substitutes for the usual holiday drinking without the added calories from alcohol and sugar, and with plenty of delicious flavors.
They also make for a fantastic drink option for guests – let them choose to go full mocktail or add their liquor of choice. While these mocktails can be enjoyed during the holidays and winter months, don't hesitate to shake them up during the rest of the year too!
What is Allulose Sugar?
Allulose is a natural sweeteners that you can find at the supermarket. Allulose is a rare sugar that is considered a monosaccharide (like table sugar, or sucrose) but is minimally metabolized. It comes from figs and raisins. Your liver can process a little bit of it, but the rest will be excreted. Plus, it has fewer side effects of bloating in comparison to sugar alcohols.
What is Monk Fruit?
Monk fruit is found in the monk fruit, and is a sugar alcohol. It is a natural sweetener and has zero calories.
Benefits of Blueberries in Your Mocktail
One of these healthy mocktails, the Blueberry Mojito, has some extra nutrient power. Blueberries have anthocyanins which are the most potent and anti-inflammatory phytonutrient. Recent research has shown that eating one cup of blueberries could help reduce the backside effects of a high calorie high fat meal. It does this by impacting the insulin and glucose response.
3 Superfood HealthyMocktails
Blueberry Mojito Mocktail
Mango Colada Mocktail
Apple Cider and Ginger Mocktail

Blueberry Mojito Mocktail
Print Recipe
Pin Recipe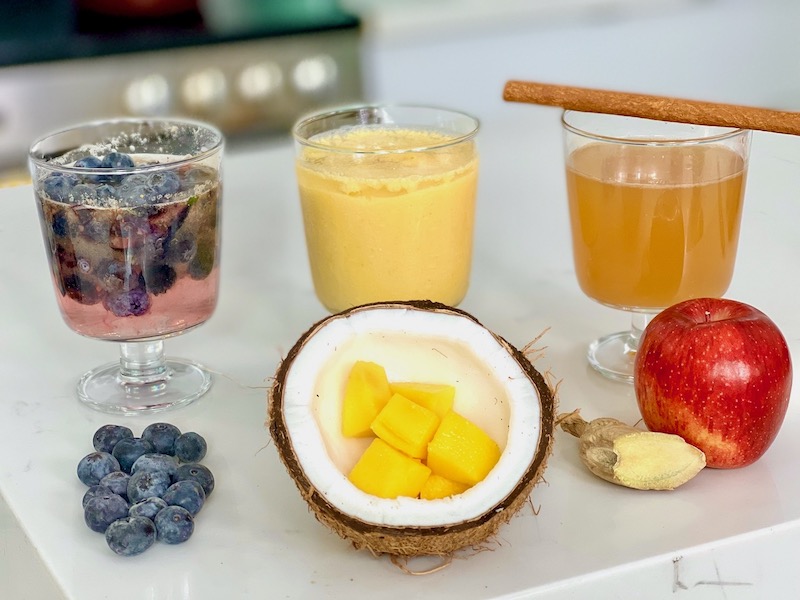 Ingredients
3

mint leaves

2

tablespoons

monk fruit

or allulose sugar

1

cup

blueberries

1

cup

sparkling water
Instructions
In a large glass, lightly muddle the mint, monk fruit and 1/4 cup of the blueberries.

Add the crushed blueberry mix into a serving glass.

Pour the sparkling water and the remaining blueberries.

Mango Colada Mocktail
Print Recipe
Pin Recipe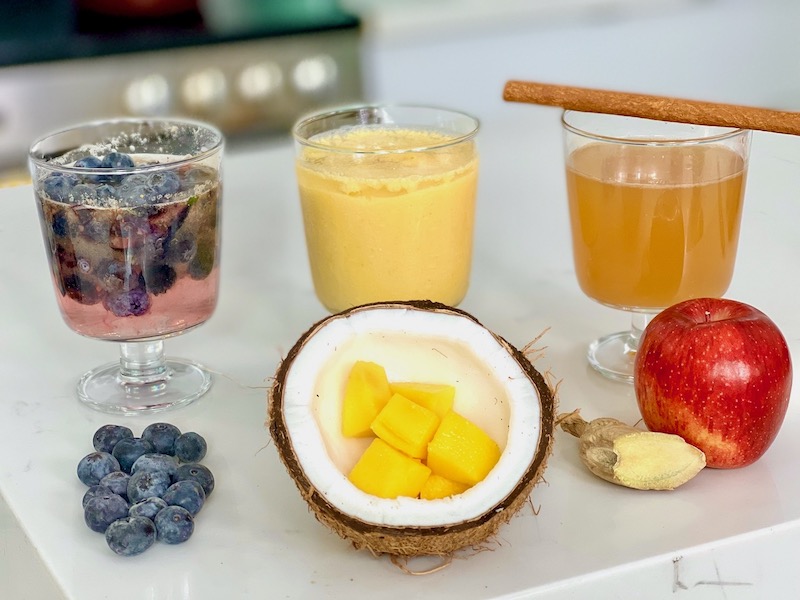 Ingredients
1

cup

frozen mango

¼

cup

reduced fat coconut milk

2

tablespoons

monk fruit

or allulose sugar

¼

cup

coconut water

¼

cup

sparkling water
Instructions
Place all ingredients in a blender and blend until smooth.

Put the colada into a glass and add the sparkling water on top and mix well.

Apple Cider and Ginger Mocktail
Print Recipe
Pin Recipe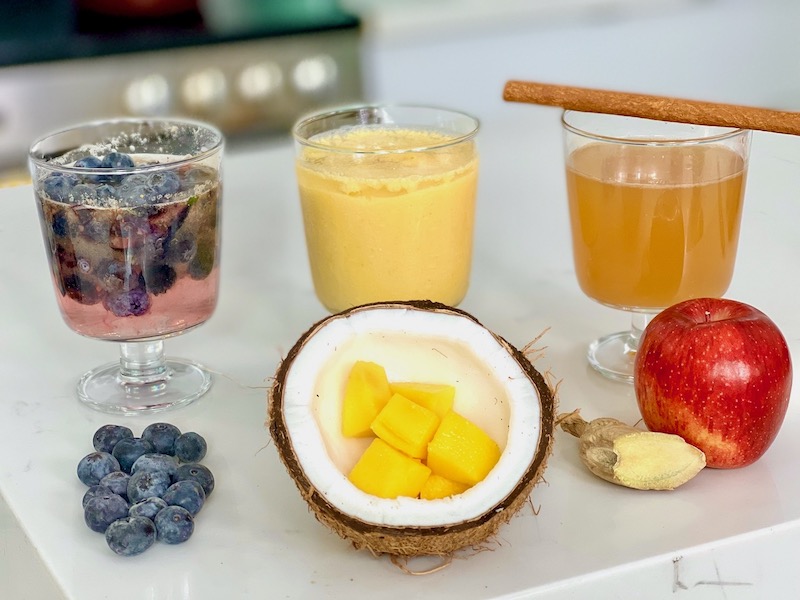 Ingredients
3

cups

Apple cider

100% juice

2

cups

sparkling water

1

Cinnamon stick

2

whole cloves

2

2x¼" slices

fresh ginger
Instructions
Add all the ingredients except for the sparkling water in a sauce pan and simmer at moderate to low heat for 15 min.

Add the sparkling water to the glass to decrease the sugar content and lighten up the drink.
Explore Other Drinks like These Healthy Mocktails