Disclosure: This post is sponsored by Zespri Kiwifruit. As always, all opinions are my own.
I want to introduce you to a new fruit today: Zespri™ SunGold™ Kiwifruit. I have partnered with Zespri to share with you almost everything you want to know about this juicy, sweet and nutritious SunGold Kiwifruit. I am also excited to show you some ways to enjoy SunGold Kiwifruit. I created three delicious recipes that are perfect for the summer weather: a Zespri SunGold Kiwifruit Chicken Wrap, a Zespri SunGold Kiwifruit Pasta Salad and Zespri SunGold Kiwifruit Gazpacho.
Before you read on, you should know that I have a coupon for a free pack of Zespri SunGold for you! Claim your free pack here so you can have your own sweet and juicy Zespri SunGold Kiwifruit taste experience and use these delicious fruits in the recipes I demonstrate in my video.
So, what is this juicy fruit? It is a kiwifruit, but the Zespri SunGold Kiwifruit is sweeter than green kiwi. It tastes like a cross between a mango and a strawberry, and has smooth hairless skin. This makes it easy to simply cut it in half and scoop it or bite into it just like an apple.
Zespri SunGold Kiwifruit is a cross between gold varieties of kiwifruit. Zespri spent ten years developing the SunGold Kiwifruit variety through natural crossbreeding methods. So, SunGold Kiwifruit is unlike any other kiwifruit and is non-GMO. Zespri has developed a comprehensive quality system for every stage in the production process so that the fruit is the same high quality no matter where it's grown.  In the US, Zespri SunGold Kiwifruit comes from New Zealand from May through November and from Italy November through February.
So what about the nutrition? A serving of Zespri SunGold Kiwifruit (2 kiwifruit) is an excellent source of vitamin C, providing 290% of the recommended daily value of vitamin C. SunGold Kiwifruit also has highest vitamin C content among commonly eaten fruits, even more than in one medium orange. In just one fruit, you get 100% of your recommended daily vitamin C needs. It's also nutrient dense with over 20 vitamins and minerals, like fiber, potassium, folate, vitamin E and antioxidants.
As a registered dietitian and a Fruit and Vegetable Ambassador in Action For the Produce For Better Health Foundation, I recommend to everyone to add more plants in their diet and to try a new fruit or vegetable. So, you must try Zespri SunGold Kiwifruit because it will allow your taste to wander into an experience that's new and unexpected, and spice up your routine as it did for me. Plus, it'll give you a healthy dose of good nutrition with your snack.
As a reminder, I have a coupon for a free pack of Zespri SunGold Kiwifruit for you. Go to Zespri so you can have your own sweet and juicy Zespri SunGold Kiwifruit taste experience.
Zespri™ SunGold™ Kiwifruit Gazpacho
For entire recipe go here LINK TO ZESPRI WEBSITE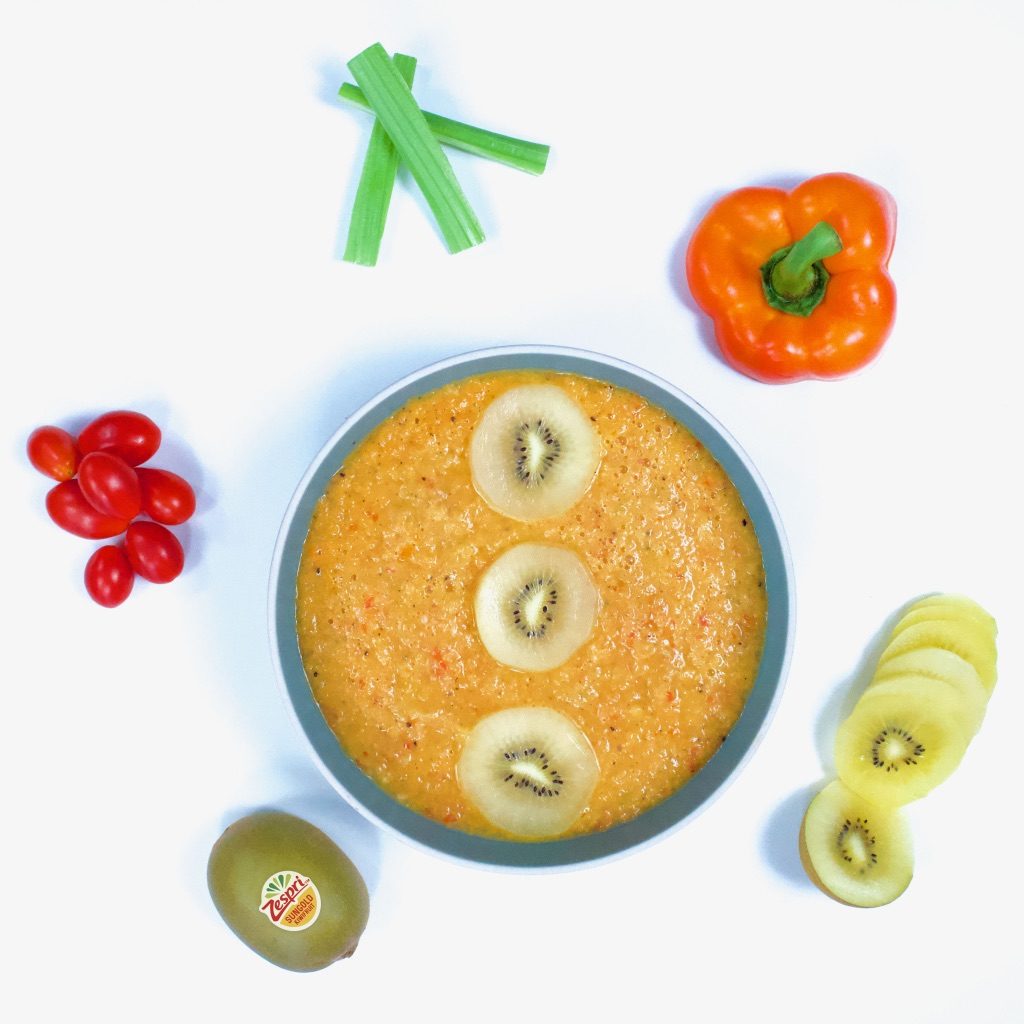 Zespri™ SunGold™ Kiwifruit Rotini Pasta Salad 
For entire recipe go here LINK TO ZESPRI WEBSITE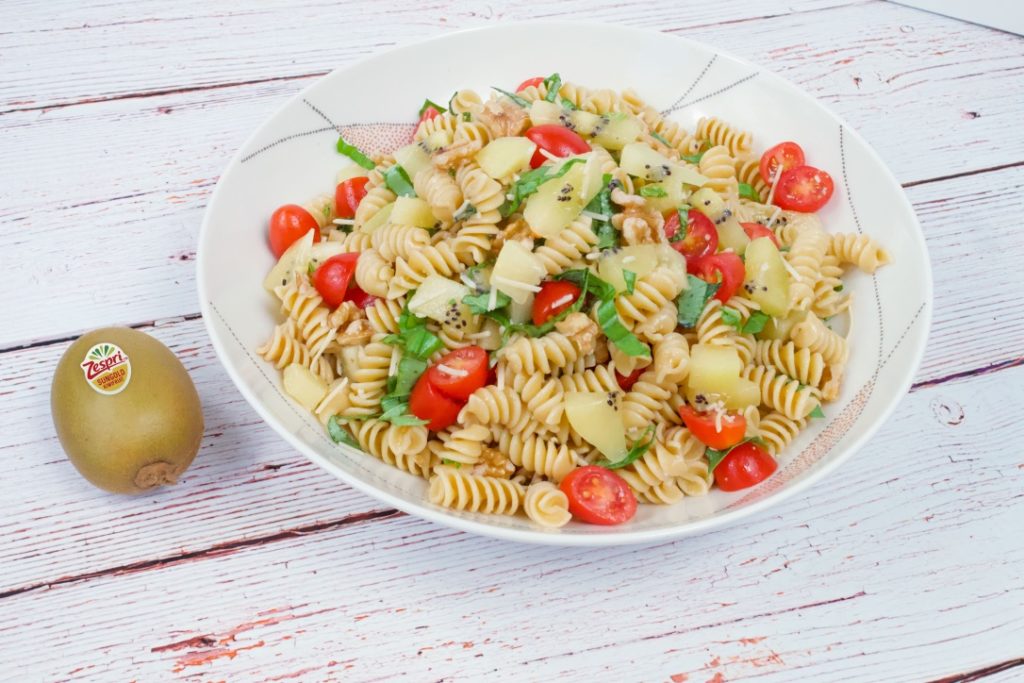 Zespri™ SunGold™ Kiwifruit Chicken Wrap
For entire recipe go here LINK TO ZESPRI WEBSITE