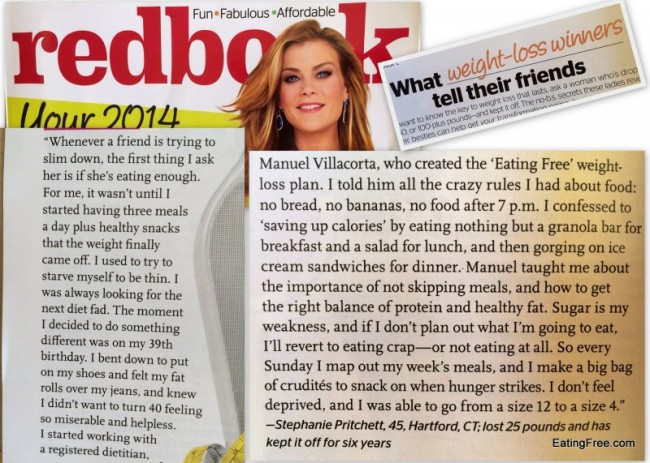 What a way to start off the New Year! I am excited to announce that one of my "super clients," Stephanie Pritchett, age 45, was just interview by Redbook magazine for their January 2014 issue. Please read her story, "You need to eat to lose weight" in the article, "What Weight-loss-winners tell their friends."
When Stephanie first came to me 6 years ago, she had a list full of diet myths. I knew my work was cut out for me, but low and behold, we broke every one of them (as you will see)! And now Stephanie is Eating Free and has kept the weight off for 6 years and counting!
In the past 10 years, I have helped over 2,000 people reach their goals with an amazing record—84% of my clients have not only met their weight goals, but also have kept the weight off for over a year!
I am so proud of Stephanie and this amazing accomplishment. As it is a new year, I have decided to share my excitement by offering ONE LUCK WINNER a chance, just like Stephanie, to work with me to meet their weight and health goals, absolutely FREE! Want to learn more?
ENTER my facebook drawing for a chance to WIN an Eating Free Weight Loss and Lifestyle Program. This premium package is a 2-3 month program guided by me, Manuel Villacorta, a registered dietitian to help you reach your goals, in a sustainable way using a lifestyle approach
Please share this amazing opportunity excessively!
All you have to do is follow these simple steps:
"like" my FACEBOOK page
Respond to the post by telling me why you should be chosen as the winner of this special gift.  I will read all comments, choose most meaningful replies and may even interview the final contestants.