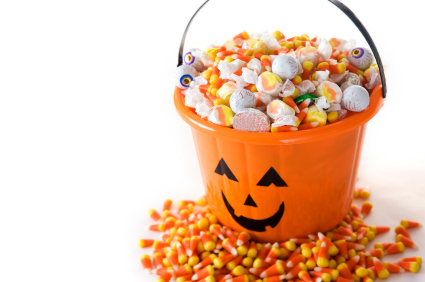 Haunting season is here again. That means tons of candy, costume parties, and social events. Food, sweet, and drink temptations are everywhere. Here are some quick tips to minimize those Halloween Trick-Or-Treat Temptations:
Buy Halloween candy to give out to trick-or-treaters that you don't enjoy eating so that the temptation will be reduced during the haunt.
Have a bowl of grapes or other type of fruit during the trick-or-treat event (especially if you are the one passing out the candy) so that you have something else to grab and munch on.
Your kids got all the candy? Mmmmmmm…temptation is calling! Keep that candy in a cupboard so that it is out of sight. When you start to think about it, distract yourself. Drink some water or chew some gum instead to occupy your mouth.
Your kids brought home way too much loot even for them to moderately consume. Have them pick out their favorite pieces which you can divvy out to them over the week. Bring the rest of the candy to work and put it in a bowl (not near your desk) for others to enjoy.
Temptations at work? Make sure to have your healthy snack available so that you stay fueled and full throughout the day. When stress arises and you are hungry, all "will power" flies out the door and those treats will call your name. By having your healthy snack available, you can control your hunger better.
Candy is OK to eat in moderation. Who doesn't love a good trick-or-treat now and again. So record it in your Eating Free food log and you can truly balance eating the foods you love in the right portions for you.
Sarah Koszyk, MA, RD, is a nutrition coach at Eating Free who cooks with love and loves to eat.