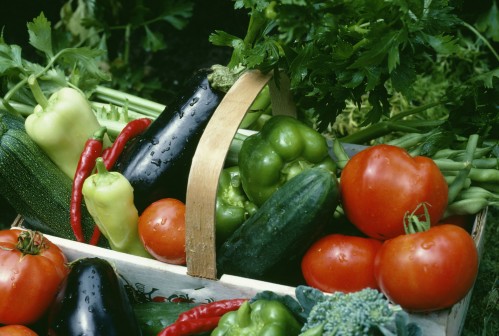 Last month, the USDA released the New 2010 Dietary Guidelines for Americans. Four main sections were discussed and all four sections follow the Eating Free philosophy. Check out section #1 & #2 in this blog. Section #3 & #4 will be discussed next week:
#1. Balance Calories with Food & Beverages to Manage Weight.
The Dietary Guidelines explained that people can control weight by controlling total calorie intake. For those who want to lose weight, they must consume at least 500 daily calories less than needed in order to drop about a pound of weight per week. In addition, one's total daily calories should have a balance of carbohydrates, protein, and fats, with an increased consumption of whole grains, fruits, and vegetables. People should monitor their food intake to regulate this. The guidelines even mentioned that reducing alcohol intake could result in reducing total calories consumed. Last of all, the importance of physical activity, which increases one's overall total calories burned, was emphasized.
Eating Free provides our clients with well-balanced, customized meal plans to reach one's goals. The Eating Free plan is based on one's Total Energy Expenditure (TEE). Do you know your TEE? Eating Free helps clients determine their TEE. Once that is determined, based on your personal goals, we provide the meal plans which have the correct portions of carbohydrates, proteins, and fats. The FREEQ incorporates your Energy Expenditure by emphasizing one's TEE and exercising for health. Last of all, with the use of our food tracking tool, you can truly see where your distribution of carbohydrates, proteins, and fats come from and if they are adequately balanced or not.
#2. Foods And Food Components To Reduce
The Dietary Guidelines recommended reducing daily sodium intake to less than 2300mg or 1500mg depending on one's age and health status, consuming less than 10% of one's daily calories from saturated fat, and consuming minimal (or none at all) trans fat, and minimal calories from solid fats, sugars, and refined sugars. Alcohol in moderation is always recommended.
Eating Free truly emphasizes eating whole foods with minimally processed foods most of the time. Minimally processed foods, especially those that do not contain partially hydrogenated oils, will keep those trans fats out. When people consume less packaged items, they can consume less added sodium and sugars. Also, when we cook foods from scratch such as preparing a homemade pasta sauce from actual tomatoes, we will consume less salts and sugars. Just follow the F (which stands for Food) in the FREEQ. The FREEQ reminds us of the importance of consuming a variety of whole grains most days of the week and consuming a rainbow of fruits and vegetables. Take a FREEQ to increase your nutritional knowledge today!
Here's to Eating Free! We're glad that all these recommendations have been made official and even the government is following the Eating Free philosophy!