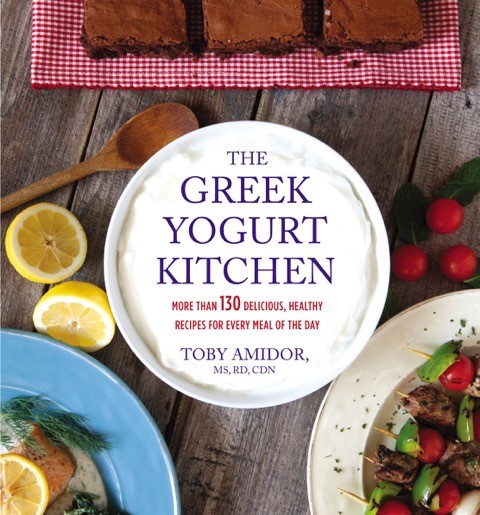 Photo by Hollan Publishing.
Toby Amidor keeps it simple and creative when it comes to this deliciously tangy ingredient in her new book The Greek Yogurt Kitchen. Toby shows you how to incorporate Greek yogurt into your life, and not by just the standard yogurt and fruit. Taking a personal approach, Amidor expresses her journey from discovery to infatuation, as her love for this yogurt grew almost as largely as its popularity. She then shows how Greek yogurt, also known as strained yogurt, has a lot more to it outside of its health benefits, including probiotics and protein. Amidor continues by showcasing the versatility of this super ingredient by using it in over 130 recipes including breakfast items, savory sauces, pasta dishes, and desserts.
This book takes a different approach to a cookbook by using the eye of a fellow registered dietitian and close colleague. She offers exquisite insight on how to use this ingredient to make healthy, delicious meal options. Toby describes the different health benefits of Greek yogurt, starting with its probiotic content, which is known to promote a healthy gut. She also covers its effects on weight loss due to its high protein content, compared to other yogurts. Aside from the health benefits and a multitude of recipes, Toby also includes an easy to follow substitution guide to help you figure out how to replace other ingredients, such as mayonnaise and butter, with Greek yogurt. All while also cutting down on the calories.
I was completely surprised with the different ways to use Greek yogurt and Toby Amidor's creativity really opened my eyes to the possibilities. I was also extremely impressed with the easy to use delicious recipes that she provides throughout her book. Who knew you could to so much with Greek yogurt, let alone write an entire cookbook about it.
Here I would like to feature Toby's Sesame-Ginger Salmon Croquettes, which uses Greek yogurt not just for the sauce, but in the actual croquette itself. Combining it with salmon also adds a boost of omega-3 health.
Sesame-Ginger Salmon Croquettes w/ Sriracha Cream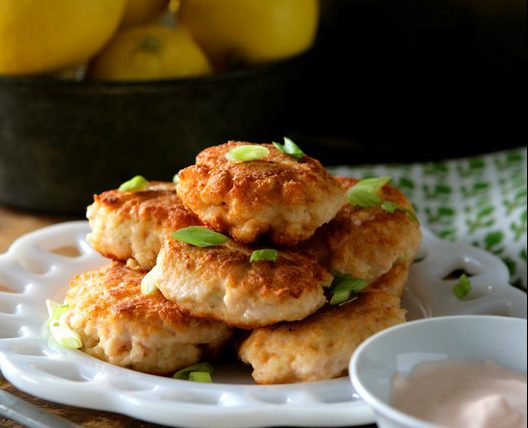 Photo by Hollan Publishing.
Serves: 4 Serving Size: 2 croquettes and 2 tablespoons Sriracha cream
Ingredients
For croquettes
1 scallion
2 tablespoons toasted sesame oil
2 tablespoons nonfat plain Greek yogurt
1 large egg
1 large egg white
2 teaspoons Dijon mustard
1 teaspoon grated fresh ginger
¼ teaspoon salt
¼ teaspoon freshly ground black pepper
1 pound fresh salmon
¾ cup whole wheat panko breadcrumbs
For Sriracha cream sauce
¾ cup nonfat plain Greek yogurt
¼ cup light mayonnaise
1 tablespoon Sriracha sauce
2 tablespoon canola oil
Directions
Chop the scallion, both white and green parts. In a medium bowl, whisk together the sesame oil, yogurt, scallion, egg, egg white, mustard, ginger, salt, and pepper.
Using a sharp knife, remove the skin from the salmon: then dice the flesh into 1-inch cubes. Add the salmon to the yogurt mixture, along with the panko breadcrumbs. Toss gently to coat and combine.
Transfer the fish mixture to a blender or food processor, and pulse 10-12 times, just until the fish is finely minced and the mixture is well combined.
Scoop out 1 tablespoon of the fish mixture, and using clean hands, form it into a patty. Place it on a large plate or a platter, gently pressing down with the palm of your hand to flatten it slightly. Repeat to make 12 small patties. Cover the platter with plastic wrap and refrigerate for at least 20-minutes or up to 1-hour.
Meanwhile, make the Sriracha cream: Stir in the yogurt, mayonnaise, and Sriracha together in a small bowl. Cover with plastic wrap and refrigerate for at least 10 minutes or up to 1-hour.
Cook the croquettes: In a large pan, heat the canola oil over medium heat. When the oil is shimmering, add 6 croquettes, leaving about one inch all around each. Sauté until golden brown, about four minutes per side. Transfer the croquettes to a plate or platter. Cover with aluminum foil to keep warm, and repeat with the remaining patties.
Spoon one tablespoon Sriracha cream over each finished croquette, and serve warm.
Recipe from THE GREEK YOGURT KITCHEN by Toby Amidor. Copyright© 2014 by Toby Amidor. Used with permission by Grand Central Publishing. All rights reserved.