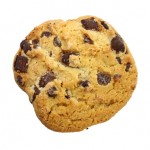 This is NOT a blog about Dr. Siegal's cookie diet from 1975. I'm not selling any products from packages in this blog. In fact, this food doesn't come out of a package, it comes directly out of your oven. Today, we're discussing the concept of eating cookies and losing weight.
The other day, a client came into my office for a follow-up visit. She was ecstatic. Over the weekend she had had a huge craving for something sweet. She decided to make cookies from scratch. No box, no kit, just old fashioned ingredients, such as flour, butter, chocolate chips, and other ingredients a six year old could pronounce. She was excited because she had had a desire to eat something she truly enjoys. Instead of going to the store and buying something that wasn't as good, she cooked the cookies from scratch. Also, she was elated because she ate the food that was truly worth eating. The food she made with love. The food she labored over and took time to prepare. The food that she was able to share with her boyfriend and her family at their Sunday brunch for everyone to enjoy. She only ate 2 cookies. One on Saturday and one on Sunday. She was extremely mindful with her portion control and those cookies satisfied her to the upmost extent.
Many times, we may eat something in place of the food we really want to eat. We may think that we shouldn't eat the sweet because it's a "bad" food. However, instead of eating what we really wanted to eat in the first place, we might binge on other foods that do not satisfy our true desire. This can result in over-eating because our brains are searching for that satisfaction, which increases our dopamine and serotonin, our happy hormones.
Now, my client had her "A-Ha" moment with her food. She had a desire. She thought and thought about it. And she ate the food she loved in the correct portion size for her. True moderation at its finest. And she still lost 2 pounds in one week because she knew how much of the cookies she could eat that would work with her goals.
So moral of this story? Eat the foods you love that matter in moderation and savor those foods. Recommendations: to lose weight no more than 1-2 splurge-type foods per week; to maintain weight is about 3-4 splurge-type foods per week; you know the rest. Eating homemade foods, foods made with love, can truly be rewarding and satisfying to those happy hormones.
Sarah Koszyk, MA, RD, is a nutrition coach who cooks with love and loves to eat.