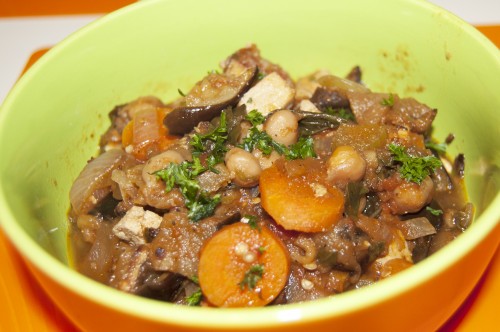 This is the perfect seasonal vegan stew. Enjoy on a cold day for lunch or dinner. The stew keeps well, making for delicious leftovers any day of the week.
Ingredients:
2 eggplants, squared
2 blocks firm tofu, cut into 1-square inch cubes
Cooking spray
1 teaspoon salt
1 Tablespoon olive oil
1 onion, sliced
1 garlic clove, crushed
1 carrot, chopped
2 celery sticks, sliced
1 teaspoon cumin
1 cup red wine
2 cups vegetable broth
1 can (16 oz.) Garbanzo beans
1 handful of basil, chopped
Salt and pepper to taste
Directions:
Pre-heat oven to 450 degrees Fahrenheit
As the oven is preheating, cut eggplant and tofu in squares and spread out onto roasting pan. coat the eggplant and tofu in cooking spray and salt.
Once oven is preheated, roast the eggplant and tofu for 25 minutes.
Meanwhile, heat the oil in a large saucepan over medium heat. When the oil is hot, add the onion and garlic. Sauté for one minute.
Stir in the carrot, celery, and cumin, and cook until soft and fragrant.
Add the red wine, vegetable broth, garbanzo beans, and basil. Season with salt and pepper to taste.
Stir the roasted eggplant and tofu squares into the sauté mix. Reduce the heat to a simmer. Cook uncovered for 30 minutes making sure to stir the pot ever few minutes.
Serve with your favorite whole grain such as brown rice, quinoa, or farro, and enjoy!