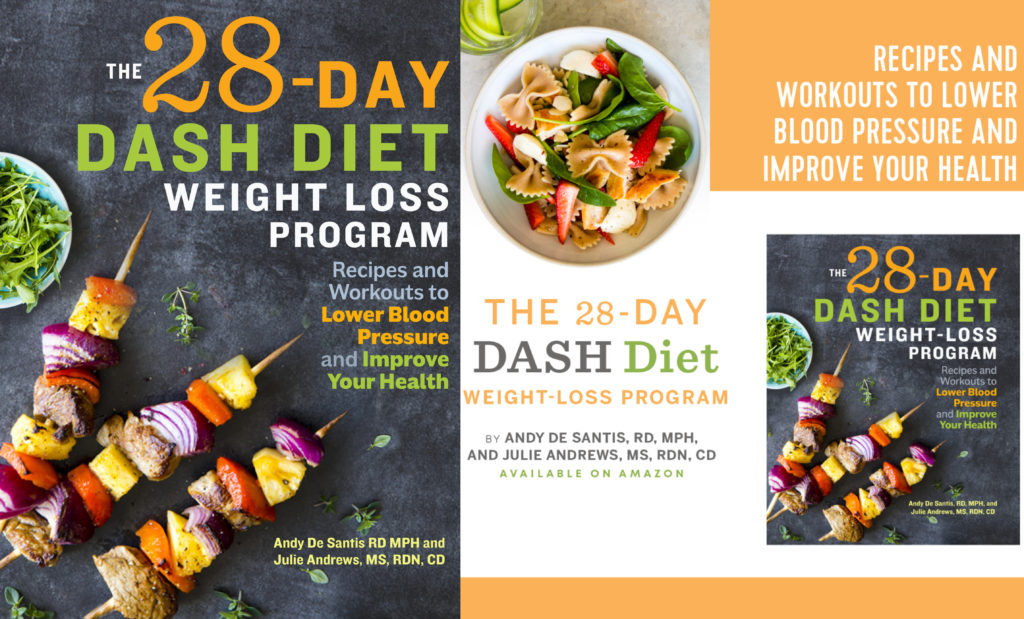 The DASH diet is not another fad diet destined to come and go. The Dietary Approaches to Stop Hypertension (DASH) eating style was ranked as the number one Best Diet for Healthy Eating by the U.S. News & World Reports in 2018 and with good reason, as it is scientifically proven to improve health, especially when it comes to heart health which is a serious concern for Americans today.

Sound intriguing? Luckily, Andy De Santis's new book, The 28-Day DASH Diet Weight Loss Program: Recipes and Workouts to Lower Blood Pressure and Improve Your Health can help you get started on one of the healthiest and easiest to follow diets around — and backed by science!

In the book, authors Andy De Santis and Julie Andrews educate you about the DASH diet, what it consists of and how it can improve health. It gives you the rationale behind why certain foods are promoted and others are limited, while still providing recommendations that are realistic to follow by the everyday person. Educates about the DASH diet, what is consists of and how it can improve health.

Along with health, the book also tackles weight loss and not in the way of watching calories. Subjects that heavily influence weight, but are often ignored, like stress and sleep are also tackled. Most notably, though, the book provides what not many food and nutrition books do — exercise recommendations. Exercise is not only a powerful tool for weight loss, but has a multitude of health benefits, especially when it comes to keeping your heart healthy in conjunction with the DASH diet. My favorite part is the fact that workout routines are provided for you, taking the guesswork and intimidation that exercise often comes along with when starting a new program.

The portion of the book that you're guaranteed to love is the 4 weeks of meal plans. They eliminate the "what's for dinner?" question and allow you to have fun in the kitchen with a variety of recipes that may surprise you from slow cooker beef ragu with creamy polenta to peach crumble muffins. That's right — you get desserts in the DASH diet plan! Along with those, you get a wide range of dishes like smoothies, chili, paninis, tacos and even pasta. With mouthwatering dishes like these that will never make you feel deprived, the meal plans teach you how to make healthy eating a habit and maintain these practices even when the meal plans have come and gone.

Even if you aren't at risk for heart disease and especially if you have a history of it, the DASH diet is a good fit for anyone. Not only does it keep your heart and body healthy, but using this book to guide you through the DASH diet gives you recommendations, advice and recipes to feed your soul. The diet plan laid out in this book is unique in that it doesn't focus on what you can't do, but is all about all of the things you can do.