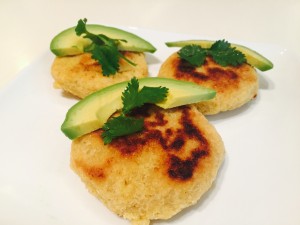 Pupusa is a classic staple from El Salvador, but it can also be seen in other countries such as Honduras and Guatemala. Originally made with corn flour and made into a disk, this dish is usually stuffed with ingredients like cheese or beans. Here, I decided to make the "dough" with a combination of corn flour and cooked quinoa. Quinoa, a "power seed" from Peru & Bolivia, is considered a complete protein because it contains a total of 21 amino acids. Incorporating quinoa give the pupusas extra protein power while also adding texture to this already delicious treat.
Servings: 4 Serving Size: 1 serving
Ingredients:
½ cup cooked quinoa
½ cup yellow corn flour
½ teaspoon salt
½ cup water
4 teaspoons canola oil
Directions:
Place quinoa, corn flour and salt in a medium sized bowl. Using a fork, mix it around to evenly distribute all the ingredients.
Add water and fold in batter with your hand. Make sure you mix all the ingredients. At this point, the masa should be sticky but should form an easy ball when rolled. If not, add water until it is sticky but easy to work with.
Heat up medium sized frying pan on medium heat. Add two teaspoons of the canola oil and let it heat up, about 1 minute.
Take about a ¼ cup of the dough and roll it around to form a ball. Flatten the ball to make a flat disk to desired thickness. Place in the pan with oil. Repeat another ball for two disks in the pan.
Cook for about 8 minutes on each side or until you begin to see charred marks.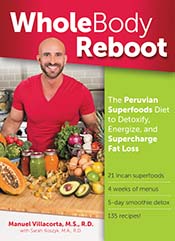 For more recipes using Peruvian superfoods, visit here.