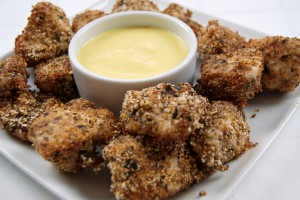 Kiwicha Chicken Nuggets
Serves 6
While we were researching kiwicha and other superfoods in Cusco, we noticed that local restaurants used the grain to "bread" meat. That's when we realized it makes a great gluten-free option for coating chicken as in these kid-friendly nuggets or even a more adult-style baked chicken dish.
Ingredients
3 boneless skinless chicken breasts
1 cup kiwicha, popped
½ cup grated parmesan cheese
1 teaspoon salt
1 teaspoon thyme, dried
1 teaspoon basil, dried
¼ cup olive oil
Directions

Pre-heat oven to 400 degrees F.
Cut chicken into 1½ inch cubes. In a bowl mix together kiwicha, cheese, salt, thyme, and basil.
Dip chicken into olive oil and immediately roll in kiwicha mixture to evenly coat chicken.
Place coated chicken pieces on a lightly greased cookie sheet and bake for 20 minutes, turning chicken over at 10 minute mark.