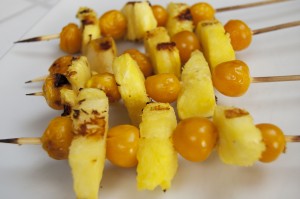 The pichuberry, native to the Andes of Peru, is deliciously sweet when ripe, with a mildly tart finish. In terms of its nutritional and health benefits, the pichuberry is peerless. Just 3/4 cup of pichuberries provides 39% of your daily value of Vitamin D and is also rich in other vitamins and antioxidants. It is high in not only protein, but also heart-healthy fatty acids. The pichuberry also has a remarkably low glycemic index of 25 and just 65 calories per serving, making it a diabetic and weight-loss friendly fruit. Add pichuberries to a summer classic, grilled fruits. Be ready for an explosion of flavors with added nutritional value of vitamin C and vitamin D.
Yield: 10 skewers Serving Size: 1 skewer
Ingredients
¾ cup Pichuberries, whole
3 cups Pineapple, sliced and quartered
Directions
Using wooden skewers, insert and alternate a whole pichuberry and a piece of pineapple.  Cook skewers for about 10 minutes, turning and basting occasionally. Remove from heat, let cool for a few minutes before serving.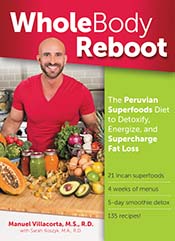 For more recipes using Peruvian superfoods, visit here.