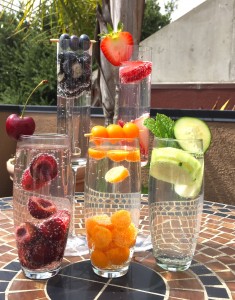 Ah, summer! The time has come that we can take part in outdoor activities like the beach or the pool, with the warm sun hitting our face, the grill feeding us tasty meals and of course, a few enticing concoctions. We all like to enjoy cocktails around the summer time, especially for mid-day brunches and pool parties, I know I do. One thing we must be mindful of is the combination of alcohol and the sun, which can lead to dehydration and a bigger waistline.
To stay hydrated, water is always the best option. It's needed for good health since it helps regulate body temperature and overall body balance. That being said, it doesn't mean water has to be boring. These spritzers are fun options to help keep you hydrated while also being popular alternatives to soft drinks for the kids. Each spritzer is simple and easy to make, and you can alternate them with your cocktails to stay hydrated, moderate your alcohol intake, and help reduce the waistline.
Pichuberry: With a sweet & sour note, adding pichuberries gives you a good dose of vitamin D.
Strawberry: Everyone's favorite summer fruit, strawberry, always adds a certain flare to any item. The best part of strawberries is that it contains vitamin C.
Cherry & Blueberry: Everyone loves these two berries for being sweet & tart. Both have anthocyanin, the same compound that gives them the ruby/blue color, which has been linked to reduce inflammation.
Cucumber & Mint: In my last spritzer, I use a combination of mint and cucumber. The cucumber adds a refreshing flavor, while the mint cools you off with an icy cool sensation.
Ingredients: 
8 ounces sparkling water of choice
3-5 fruits or slices, per glass
Directions:
Combine fruit and water in the glass. Steep for 5-min.
Note: If you are making a pitcher, add a large handful of the fruit and let it steep for 20-min. You can also eat the fruit after you drink the water.
For more recipes using Peruvian superfoods, visit here.For more recipes using Peruvian superfoods, visit here.