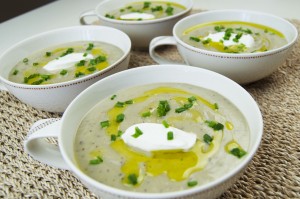 In France, they have a classic cold soup called Vichyssoise, which is a combination of potatoes, leeks, herbs, and dairy. Here, I add a Peruvian twist by using purple potatoes instead of regular white potatoes. Purple potatoes have anthocyanin, a compound which slows the absorption of glucose into your system, making you feel fuller longer. Using purple potatoes in this soup, gives it an extra super boost of nutrition and flavor.
Serves: 8 Serving Size: 1 cup
Ingredients
2 tablespoons olive oil
4 large leeks, slices, then washed
1 1/2 pounds purple potatoes, sliced into 1/2-inch rounds
6 cups low-fat milk
1 teaspoon dried thyme
1/2 teaspoon smoked paprika
3/4 cup grated Parmesan cheese
Salt and pepper
Minced chives and nonfat Greek yogurt for garnish*
Directions
Heat the oil in a large Dutch oven over medium heat. When the oil is hot, add the leeks and saute for 5 minutes or until wilted and slightly caramelized
Add the potatoes, milk, bay leaves, thyme, and paprika. Cove and let simmer on very low heat until the potatoes are soft, for 15 to 20 minutes. stirring every 5 minutes to prevent burning. Let the soup cool for 20 minutes before moving on to the next step.
Remove the bay leaves and puree the soup using a handheld blender. The soup can also be transferred to a counter-top blender and pureed in batches. After the soup is pureed, place it in your refrigerator to completely cool off.
Add the Parmesan cheese and salt and pepper to taste. Garnish with a dollop of nonfat plain Greek yogurt and chives just before serving.