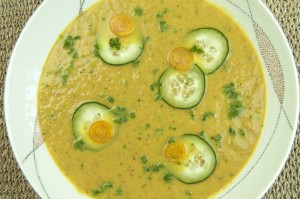 Gazpacho is a traditional Andalusian chilled tomato soup. I infused this gazpacho with Pichuberry, a Peruvian power food, for an extra vitamin C punch.
Serves: 4 Serving Size: 2 cups
Ingredients
1 medium red onion, chopped
1 medium green bell pepper, chopped
1 medium cucumber, chopped
1 medium carrot, chopped
2 medium celery ribs, chopped
2 large Roma tomatoes, chopped
1 clove garlic, crushed
1/2 cup chopped parsley
2 cups pichuberries
3 cups vegetable stock
Juice of 1 lime (about 1-1/2 to 2 tablespoons
2 tablespoons white wine vinegar
2 tablespoons olive oil
Salt and pepper
Directions
Put the onion, bell pepper, cucumber, carrot, celery, tomatoes, garlic, parsley and 1 cup of the pichuberries in a large bowl. Toss to combine.
In a separate bowl, combine the vegetable stock, lime juice, vinegar, and oil.
Put half of the vegetable mixture and half of the liquid in a blender and puree. Repeat with the remaining vegetables and liquid. Add salt and pepper to taste.
Refrigerate for 1 hour before serving to let the flavors marinate. Adjust the salt if necessary.
Slice the remaining cup of pichuberries and add to the gazpacho just before serving.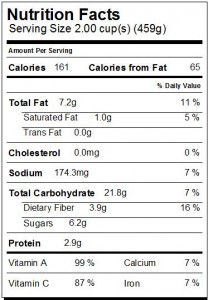 For more recipes using Peruvian superfoods, visit here.