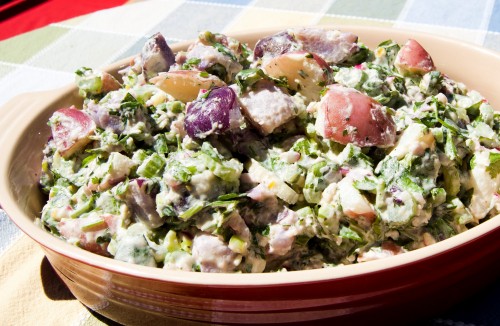 To our misfortune, potatoes have gained an "unhealthy" rep by way of their starch and carbohydrate content. But starch isn't necessarily a bad thing! Resistant starch acts as a type of dietary fiber in our bodies. It is not broken down in small intestine, and rather acts as both insoluble and soluble fiber, helping keep our digestive tracts healthy. Moreover, potatoes are a good source of magnesium, iron, potassium, zinc, vitamin B, and trace elements. They contain varying amounts of different phytochemicals such as carotenoids and natural phenols.
So go ahead, get your starch on with this delicious Peruvian Superfood Salad. While red potatoes are high in vitamin C and carotenoids for immunity and eye health, purple potatoes are a great source of anthocyanins and aid the body in fighting carcinogens, improving blood sugar and lowering cholesterol levels.
Peruvian Potato Salad
Serves 8
Ingredients:
1 lb purple potatoes
1 lb red potatoes
¼ cup red onion, minced
2 cloves garlic, crushed
1 small jalapeno, seeds and ribs removed, minced
2 tablespoons white wine vinegar
4 stalks celery, thinly sliced
4 green scallions, thinly sliced
½ cup flat leaf parsley, chopped
½ cup cilantro, chopped
¾ cup Greek yogurt, 2% plain
¼ cup olive oil
2 tablespoons mustard
Salt and pepper to taste
Equipment:
Large stock pot
Colander
Cutting board
Chef knife
Small bowl
Large mixing bowl
Rubber spatula or wooden spoon
Directions:
Wash and place potatoes in a large stock pot. Add enough water to the pot so that the potatoes are submerged under two inches of water. Bring water to a boil and cook potatoes until tender. When potatoes can be easily pierced with a sharp knife, remove then one-by one and place them in a colander to cool.
In the meantime, place red onion, garlic and jalapeno in a small bowl. Add white vinegar and mix to combine. Set aside.
Place celery, scallions, parsley, cilantro, oil and mustard in a large mixing bowl. Toss to combine.
Once the potatoes are completely cool, cut them into one-inch chunks. Add potatoes to the large mixing bowl along with the vinegar mixture. Toss to combine. Season potato salad with salt and pepper to taste. Refrigerate for 1 hour before serving.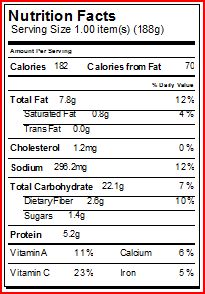 More recipes just like this in Peruvian Power Foods. Order on Amazon.