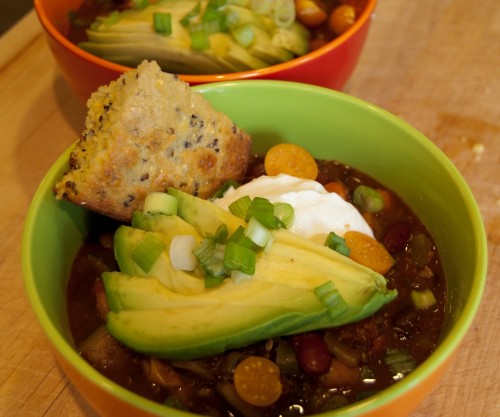 Vegetarian Pichuberry Quinoa Superfood Chili
Serves 8
Ingredients:
½ cup dry quinoa
1 cup water
2 Tbsp olive oil
1 medium yellow onion, chopped ½ inch dice
1 small jalapeno, seeded and minced
2 large carrots, chopped ½ inch dice
2 ribs celery, chopped ½ inch dice
1 green bell pepper, chopped ½ inch dice
1 large zucchini, chopped ½ inch dice
4 cloves garlic, minced
2 cups (16 oz.) pichuberries, halved
1 (15-oz.) can black beans with liquid
1 (15-oz.) can kidney beans with liquid
1 (15-oz.) can canary beans with liquid (or substitute pinto beans)
1 (15-oz) can diced tomatoes
1 Tbsp ground cumin
2 Tbsp chili powder
2 tsp oregano
1 tsp smoked paprika (optional)
Salt and pepper to taste
Optional toppings:
Chopped green onions
Avocado slices
Sour cream or Greek yogurt
Shredded cabbage or lettuce
Tortilla strips
Lime wedges
Chopped pichuberries
Equipment:
2-quart saucepot with lid
Cutting board
Chef knife
12- or 16-quart stock pot or dutch oven with lid
Wooden spoon
Directions:
Bring 1 cup of water to a boil in a 2-quart saucepot. Add quinoa and lower to a simmer. Cook, covered until all of the water is absorbed, about 15-20 minutes. Fluff with fork and set aside.
In a large 12- or 16-oz saucepot, heat the olive oil over medium heat. Add the onion and cook until soft, about 5 minutes. Add jalapeno, carrot, celery, bell pepper, zucchini and garlic to the pot. Cook, stirring often, until the vegetables start to soften, about 10 minutes.
Stir in pichuberries and cook for another 3-5 minutes until they start releasing some of their juices.
Add cooked quinoa, beans along with their juices, canned tomatoes with juice, cumin, chili powder, oregano, smoked paprika and salt and pepper to taste. Stir to combine.
Cover pot and let chili simmer on low heat for 25-30 minutes until fragrant. Serve warm, with your choice of toppings. Our Vegetarian Pichuberry Quinoa Superfood Chile is great accompanied with our Gluten-Free Quinoa Superfood Cornbread (located in our blog).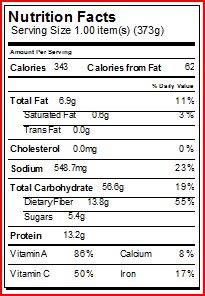 More recipes just like this in Peruvian Power Foods Book. Order on Amazon