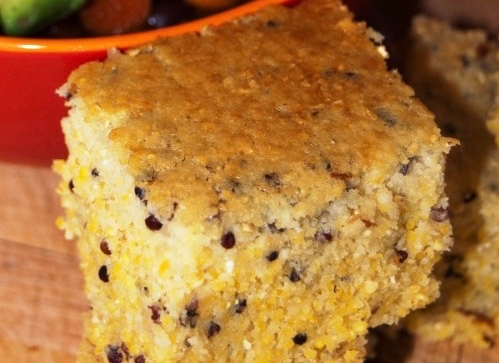 Gluten Free
Serves: 8  Serving Size: 144 grams
Reboot Servings: 2 Grains & Starches, 0.5 Meat & Vegetarian Meat, 2 Fat, 0.5 Sugar
Calories: 300
Ingredients:
½ cup dry quinoa
1 cup water
¼ cup canola oil
1 ½ cups cornmeal (medium-ground)
½ cup quinoa flour
1 ½ tsp baking powder
1 tsp salt
¼ cup granulated sugar
2 eggs
1 ¼ cups milk of choice
Directions:
Bring 1 cup of water to a boil in a 2-quart saucepot.  Add quinoa and lower to a simmer.  Cook, covered until all of the water is absorbed, about 15-20 minutes.  Fluff with fork and set aside to cool.
Preheat oven to 375 degrees.  Place olive oil in 8-inch square baking dish and place inside heating oven.
Combine cornmeal, quinoa flour, baking powder, salt and sugar in a large mixing bowl.  Whisk to combine.  Stir in cooled quinoa.
Combine eggs and milk in a small bowl and whisk to combine.
Add wet ingredients to dry ingredients and whisk to combine.  Carefully remove the baking dish from the oven and quickly pour the oil into the batter.  Immediately whisk oil into the batter.
Transfer batter back to hot baking dish and return to the oven for baking.
Bake for 20-25 minutes until set and golden brown.
Let cool slightly before serving.