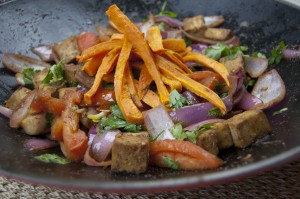 Lomo Saltado is a popular dish in Peru. It is a unique dish in that it carries an Asian influence, common to dishes found in the ubiquitous Chifa (Peruvian-Chinese) restraurants as well as in many home kitchens. While Lomo Saltado is traditionally prepared using beef tri-tip, I thought I'd make a vegetarian version using tofu.
Tofu Cilantro Lomo Saltado
Serves 4
Ingredients:
2 blocks tofu, extra firm, lite
3 Tbsp soy sauce
2 tsp cumin
2 Tbsp olive oil
2 red onions, course chopped
1 clove garlic, minced
1 Tbsp aji sauce
2 Tbsp balsamic vinegar
2 tomatoes, course chopped
Handful fresh cilantro
Tools:
Large shallow bowl
Large sauté pan
Wooden spoon
Directions:
Cut tofu into 1-ince cubes and place in a large shallow bowl. Cover tofu with soy sauce and cumin, and let marinate at room temperature for 1 hour.
Place 1 Tbsp olive oil in a large sauté pan over med-high heat. Add tofu, reserving marinade for later, to the pan and cook until nicely browned.
Add onions, garlic, aji, vinegar and leftover marinade to the pan. Cook for 2-3 minutes and then turn off the heat. Add tomato and cilantro to the pan and stir to combine.