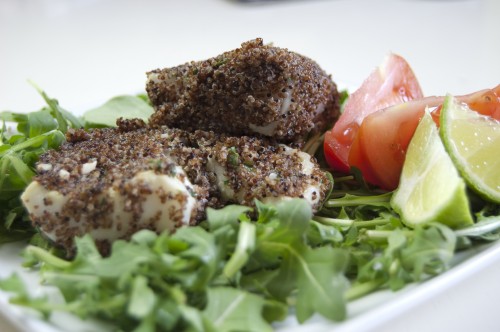 I'm always looking for new, innovative yet healthy ways to prepare fish. My newest preparation uses kaniwa and cod, two foods with incredible health benefits!
Kaniwa, a small seed commonly consumed as a grain, is a good source of plant-based protein and fiber and is high in iron, calcium, and zinc. Cod, on the other hand, is a low calorie protein, rich in omega-3 fatty acids. Omega-3s have blood thinning and triglyceride lowering properties that promote a healthy cardiovascular system. Eating cod can also increase variability in heart rate to reduce the chances of arrhythmias that may lead to heart attacks. Try this healthy recipe! You'll love it!
Kaniwa Crusted Cod
Serves 2
Ingredients:
For the kaniwa:
¼ cup kaniwa, dry
½ cup water
¼ tsp salt
For the cod:
1 Tbsp olive oil
1 clove garlic, crushed
1 Tbsp cilantro, chopped
2 tsp lime juice
Salt and pepper to taste
6 oz. cod
Olive oil spray for cooking
Lime wedges
Directions:
For the kaniwa: Place kaniwa, water and salt in a small saucepot with a lid. Bring to a boil and lower heat to a simmer. Cook covered until all of the water is absorbed, about 15 minutes. When done, fluff with a fork and set aside to cool.
For the cod: Place olive oil, garlic, cilantro and lime juice in a shallow bowl. Add salt and pepper to taste and mix to combine. Place cod fillets in the marinade and let sit for 5 minutes. Rotate and let marinate for another 5 minutes on the other side. Serve with fresh lime wedges.