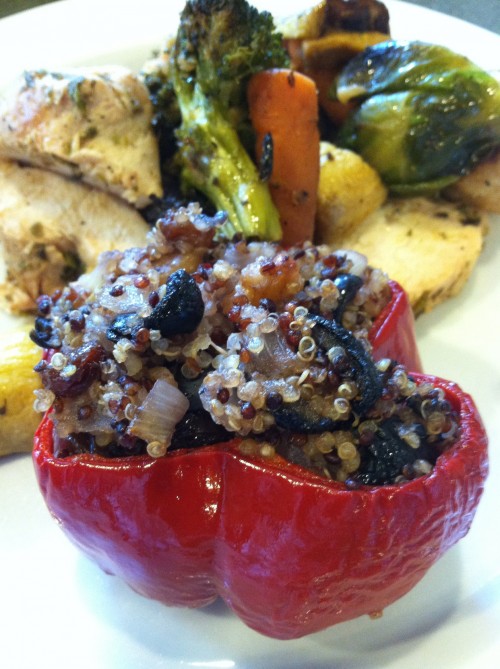 In Peru, we have a dish called Arroz Tapado, traditionally made with rice, ground meat, eggs, olives and raisins. This is a wonderful dish and serves as the inspiration for my stuffed bell peppers, filled with a mixture of quinoa, olives, raisins and walnuts, which is not only vegan, but also equally delicious!
Bell peppers are great for stuffing and offer a sweet burst of flavor that pairs nicely with the nuttiness of the quinoa and walnuts. Try a mix of red, yellow and green peppers for some variety.
Quinoa Stuffed Bell Pepper (Serves 6)
Ingredients:
¾ cup tri-color quinoa, dry
1 ½ cups water
1 Tbsp olive oil
½ onion, chopped fine
3 colves garlic, crushed
1 cup whole olives, sliced
¼ cup raisins
¼ cup walnuts, chopped
Salt and pepper to taste
3 large bell peppers, halved
Equipment:
2-quart saucepan
Large sauté pan
Medium baking dish
Aluminum foil
Instructions:
To cook the quinoa:
Bring ¾ cup dried quinoa and 1 ½ cups of water to a boil in a 2-quart saucepot.
When the water begins to boil, cover pot and reduce heat to low. Cook quinoa until tender and most of the water has been absorbed, 15-20 minutes.
When done, remove from heat and let stand, covered for 10 minutes. Fluff with a fork.
To make the stuffed bell peppers:
Preheat oven to 350 F.
Heat 1 Tbsp olive oil in a large sauté pan over medium heat. When hot, add onion and garlic to pan. Cook for 1-2 minutes.
Add olives, raisins and walnuts. Cook until lightly browned and fragrant.
Combine sautéed mixture with 1 ½ cups cooked quinoa. Flavor with salt and pepper to taste.
Divide quinoa mixture among the 6 bell pepper halves. Place in a well-oiled baking dish and cover with foil.
Bake for 45-60 minutes until bell pepper is tender. Enjoy.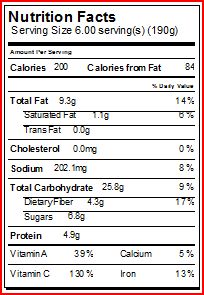 More recipes just like this in Peruvian Power Foods Book. Order on Amazon