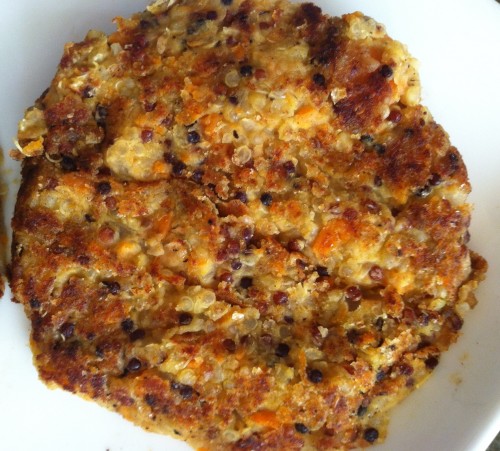 Makes 6 patties
Ingredients
½ cup tri-color quinoa, dry
1 cup water
1 can cannellini beans, well drained
1 Tablespoon olive oil
½ onion, chopped
1 cloves garlic, chopped
1 carrot, chopped
1 tablespoon cumin
Salt and pepper to taste
Equipment:
2-quart saucepot with lid
Food processor
Medium bowl
Medium sauté pan
Spatula or wooden spoon
Instructions:
To cook the quinoa:
Bring ½ cup dried quinoa and 1 cup of water to a boil in a 2-quart saucepot.
When the water begins to boil, cover pot and reduce heat to low. Cook quinoa until tender and most of the water has been absorbed, 15-20 minutes.
When done, remove from heat and let stand, covered for 10 minutes. Fluff with a fork.
To make the burger patties:
Drain 1 can of cannellini beans and place in food processor. Process until very smooth. Remove bean puree and place in a medium bowl with 1 cup cooked quinoa. Set aside.
Place 1 Tablespoon olive oil in a medium sauté pan over medium-low heat. When the oil is hot, add onion, garlic and carrot. Saute until soft, fragrant and lightly browned. Let cool.
Place sautéed vegetable mixture in food processor and process until course. Add vegetable mixture to the bowl with the quinoa and bean puree. Mix to combine.
Flavor mixture with 1 Tablespoon cumin and salt and pepper to taste.
Using lightly oiled hands, form the mixture into 6 burger patties.
Heat a 1 Tablespoon olive oil in a medium sauté pan over medium heat. When oil is hot, pan fry patties, 3 at a time until golden on each side. Enjoy.