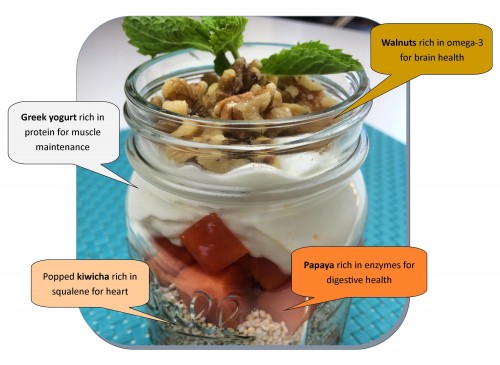 Two of the most brilliant qualities of parfaits is the fact that they are both simple to make and handy for us on-the-goers! Yogurt parfaits are super versatile, meaning you can add just about anything to your favorite container and take it wherever your heart desires. This Power-Packed Incan Parfait is a compilation of some of my favorite foods. I have simply layered popped kiwicha and papaya to a plain Greek yogurt with a sprinkle of walnuts, giving my body the liveliness it deserves in the morning.
Greek yogurt is a popular treat for its rich texture and dense protein content, making it a prime food for muscle maintenance. Chopping up some papaya will not only sweeten up your naturally tart yogurt, but will also fill you up with the appropriate enzymes needed for good digestive health throughout the day. Popped kiwicha is a tasty cereal-like grain that will surely add density to your morning treat. Kiwicha is known for its high amount of squalene, a compound essential for heart health.  A handful of walnuts sprinkled on top give this jam packed meal a surge of omega-3s, the essential fat necessary for optimal brain health. This will allow you to think sharply during the day.
Power Packed Incan Parfait(makes about 2 cups)
Ingredients:
1 cup cubed papaya
¾ cup low-fat Greek yogurt
¾ cup Popped Kiwicha (see recipe below)
2 tablespoons walnut pieces
Directions:
Place ½ cup papaya in a wide-mouth mason jar, followed by 3 tablespoons yogurt and 3 tablespoons popped kiwicha. Repeat layering with remaining papaya, yogurt and kiwicha. Top with walnuts.
Eat as is or top and store in the refrigerator for tomorrow's breakfast!
Popped Kiwicha(makes 1 cup)
Ingredients:
3 tablespoons kiwicha, raw
Directions:
Heat a medium frying pan over high heat until the entire surface of the pan is hot. Add 1 tablespoon of kiwicha to the pan (no oil is needed); shake to distribute evenly across the surface. Cover the pan with a lid. Allow the kiwicha to "pop" and turn white in color, roughly 30 seconds, making sure to shake the pan over the heat to avoid burning. When the kiwicha is popped, pour it into a medium bowl to cool.
Repeat step 1 using the remaining 2 tablespoons of kiwicha. It may take a round or two of trial and error to get the heat, pan movement and timing just right, but you will get the hang of it in no time.
Store cooled popped kiwicha in an airtight container at room temperature for 1 week.
More recipes just like this in Peruvian Power Foods Book available at Amazon.