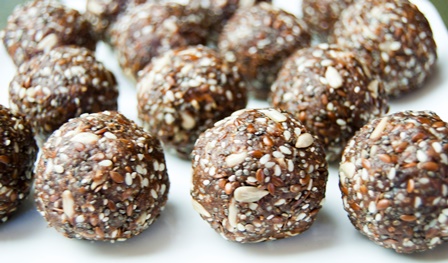 A seed is nothing more than a tiny genetic package with high concentrations of vitamins, minerals, proteins, essential oils and dormant enzymes.  Once germinated, seeds hold all the materials and tools needed to grow into large, flourishing plants, whereby other nutrients are formed such as chlorophylls, carotenes and flavonoids.  However, the non-germinated seed is just as nutritionally valuable to us as is the plant.
Not only are sesame seeds an excellent source of B vitamins, calcium and minerals, but they are also 19% protein, compared with 13% in eggs. Chia seeds are rich in omega-3 fatty acids that contribute to cardiovascular health while flax seeds contain lignans that have anti-viral, anti-bacterial, anti-fungal and anti-cancer properties.  Sunflower seeds are not only high in calcium and phosphorus, but also the calcium to phosphorus ratio makes the calcium readily available for the building of strong bones.
Cacao 4-Seed Superfood Bites
Makes: 20
Ingredients:
¼ cup sesame seeds
¼ cup chia seeds
¼ cup flax seeds
¼ cup sunflower seeds, shelled
¼ cup almond meal
½ cup dates, pitted
½ cup peanut butter, smooth
¼ cup cacao powder
2 tablespoons lucuma powder
¼ cup agave nectar
Pinch of salt
Tools:
Medium bowl
Food processor
Directions:
Place sesame, chia, flax and sunflower seeds in a medium bowl and mix to combine. Set aside.
Place almond meal, dates, peanut butter, cacao powder, lucuma powder, agave nectar and salt in a food processor. Process mixture until well combined and dates are broken down into pieces.
Transfer date mixture to the bowl with the mixed seeds. Using your hands, kneed the seeds into the date mixture to form a "dough."
Divide mixture into 20 portions and roll into 1 ½" balls.
Store in an airtight container at room temperature for up to 1 week or in the refrigerator for 1 month. Enjoy!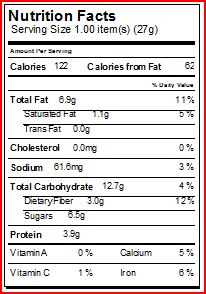 More recipes just like this in Peruvian Power Foods. Order on Amazon.