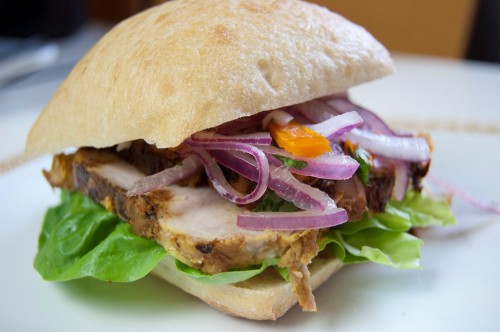 Peruvian cuisine uses local cooking techniques and ingredients, however it also pulls from a variety of gastronomical practices from other cultures including those of Spain, China, Italy, West Africa and Japan. Butifara is one of my favorite sandwiches as it is a Peruvian classic that reflects on the sausage sandwiches of Italy.
Jamon Del Pais
Ingredients:
2-3 pound ham (leg of pork) or loin roast
1 onion
4 cups chicken stock
1 bay leaf
1/4 cup aji panca paste
2 tablespoons vinegar
1 teaspoon cumin
1 teaspoon turmeric
4 cloves garlic, minced
Preparation:
Place the roast in large cooking pot and cover with the chicken stock (adding water if necessary to cover meat).
Cut the onion into quarters and add to the pot, along with the bay leaf.
Bring to a boil and simmer, until meat is cooked through, about 1 1/2 hours depending on the size. When you cut into the meat, the juices should run clear.
Remove the meat from the pot and place in a roasting pan. Reserve 2 cups of the cooking liquid. Preheat oven to 400 degrees.
Mix the aji panca paste, vinegar, minced garlic, and spices together. (If you can't find jarred aji panca paste, you can also use dried aji panca peppers to make your own: soak the dried peppers briefly in very hot water, then process them in a blender or food processor with some vegetable oil to make a paste.)
Spread the aji and garlic mixture onto the pork, turning it to cover all sides. Make several deep slits in the meat to help introduce the seasoning. Add the reserved cooking liquid to the roasting pan.
Roast the meat in the oven until heated through, turning meat over once, for a total time of about 30-40 minutes.
Let cool, slice thinly
Cebollita or Salsa Criolla
Ingredients
:
2 red onions
1 tablespoon salt
2 ají amarillo peppers (substitute jalapenos), deseeded and slivered
¼ cup lime juice
2 tablespoons white vinegar
¼ cup chopped cilantro
Salt and pepper to taste
Preparation:
Peel onions, slice in half, and then very thinly slice each half into half-moons. Place onions in a large bowl with 1 tablespoon of salt. Cover with cold water and let rest for 10 minutes.
Drain onions in a colander and rinse with cold water to remove excess salt. Lightly pat onions with a paper towel to remove water.
Place onions in a bowl with remaining ingredients. Toss to combine.
To assemble the Butifarra
Ingredients:
4 sandwich rolls
1 pound sliced jamón del país
1 cup salsa criolla
Lettuce
Salt and pepper
Preparation:
Split the rolls in half lengthwise.
Divide jamón among 4 rolls.
Add 1/4 cup salsa criolla and lettuce to each roll. Season with salt and pepper to taste.