Fall is upon us and for some people the best part of the season is the gorgeous trees and falling leaves. For others, their favorite part is the aromas of spiced pumpkin and cinnamon everywhere! There are many different ways to make a delicious fall meal with all of the fall flavors we know and love. I have the perfect recipe for you to try with your family this season!
I am very excited to work with Unilever®. My partnership with them has allowed me to bring you a quick meal idea that is delicious, aromatic and can be made in less than 30 minutes, so that you can enjoy the season more. I have found Knorr® One Skillet Meals to be the perfect tool to create a mouthwatering, nutritious and satisfying main meal that your entire family will love.
The recipe below uses Knorr® One Skillet Meals Moroccan Style Chicken with Barley to make Moroccan-style garbanzo beans with barley. Take note, the recipe uses 1 can of garbanzo beans (also called chickpeas), in place of the chicken, in order to make the recipe friendly for those looking for a plant-based option. Animal protein can easily be replaced with plant-based protein options such as garbanzo beans or any other variety of bean. However, if you're looking to add some animal protein, you can definitely add cooked chicken if you like.
This One Skillet Meal recipe will provide a balance of nutritious grains, protein and at least half a cup of vegetables per serving. The mixture of carrots, cauliflower and raisins make it the perfect fall dish that will fill your home with aromas to make your family's mouths water. Knorr® One Skillet Meals are a range of appetizing meal starters featuring ancient grains like barley and quinoa. All you need to do is create a satisfying main dish is to add protein and fresh vegetables.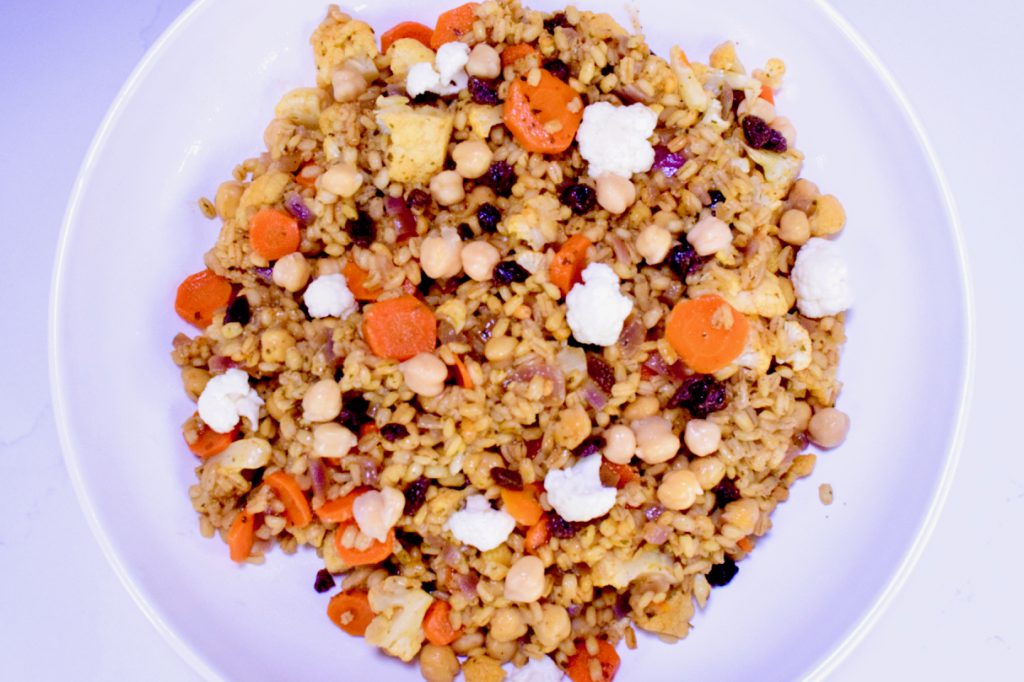 Moroccan Style Garbanzo Beans with Barley 
Ingredients:
1 tablespoon olive oil
1 small red onion, diced
2 cups water
1 cup sliced carrots (1/2 in. thick)
1 package Knorr® One Skillet Meals Moroccan Style Chicken with Barley
2 cups cauliflower florets
1 tbsp raisins
1 can No Salt Added garbanzo beans, rinsed and drained
Directions:
Sauté onions with olive oil in a large nonstick skillet.
2. Combine water, carrots and contents of Knorr® One Skillet Meals Moroccan Style Chicken with Barley and bring to a boil. Turn down the heat to a medium-low and simmer for 13 minutes.
Add cauliflower to skillet; cover and continue cooking for 10 more minutes or until barley is tender. (For perfectly cooked barley, make sure to keep covered.)
Stir in garbanzo beans and raisins. Remove from heat and let stand covered for 2 minutes.