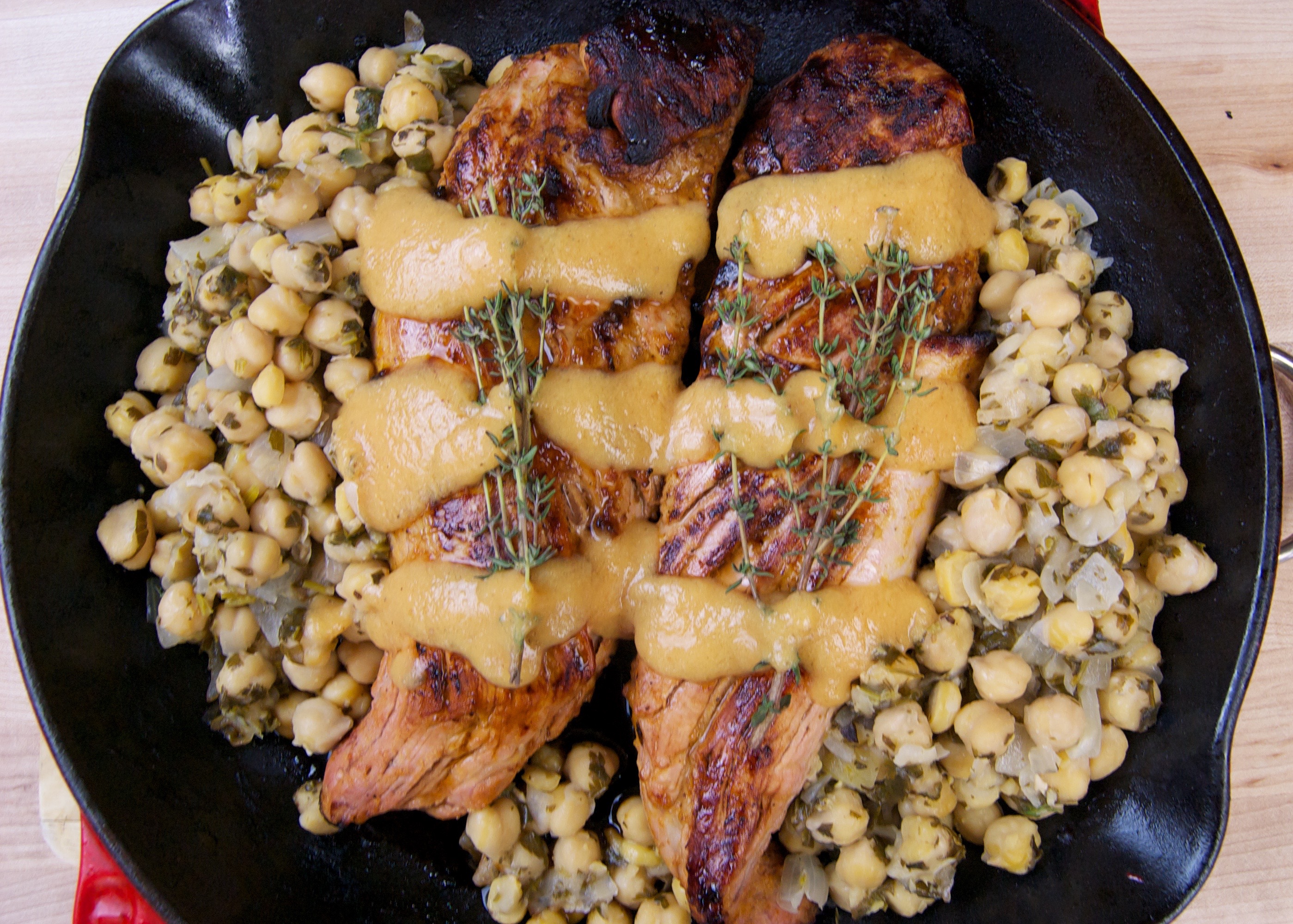 Sabores de Cuba is a diabetes-friendly approach to traditional and new Cuban cuisine. Author and chef, Ronaldo Linares, shares his passion for flavor and health. I met chef Ronaldo a few years ago where we shared our stories and became great friends. I am proud to see his work come to fruition.
Over the weekend I was able to create two recipes from this book. Once I was done, my house was filled with enticing aromas that made me want to eat. Both recipes used traditional Cuban flavors and turned out very delicious.
Mojo-Marinated Pork Tenderloin (Pernil)
Ingredients
2 navel oranges, peeled and cut in half
2 lemons, peeled
1 tsp kosher salt
1/2 tsp cracked black pepper
1/2 tsp ground cumin
1/4 teaspoon garlic powder
2 tbsp distilled vinegar
2 stems fresh thyme, leaves removed from stem
1 (20 oz) pork tenderloin
Nonstick cooking spray
Instructions
Preheat oven to 400 F.
Grab your blender to make the mojo marinade. Add Oranges, lemons, salt, pepper, cumin, garlic powder, vinegar, and fresh thyme leaves into the blender. Pulsate the mixture 4 times, then puree for 1 minute. Set aside 4 oz (1/2 cup) of marinade and add the rest to a resealable plastic bag.
Remove the silver skin from the pork tenderloin. Add the pork tenderloin to the resealable bag with the mojo. Marinate pork for at least 20 minutes in the fridge.
Remove the pork tenderloin from the bag (discarding the marinade in the bag) and pat dry with a paper towel. Preheat an ovenproof saute pan over medium heat, spray with nonstick cooking spray, and wait 10 seconds for oil to come up to temperature. Brown both sides of pork tenderloin in the pan, then place pan in the oven for 15-20 minutes. Internal temperature of cooked pork should read 145 F.
Remove pork from oven and let it rest for a few minutes so juices redistribute. Drizzle some of the reserved mojo marinade on the pork and serve.
Garbanzos with Cilantro Chutney
Ingredients
6 cups water, divided
10 ounces dried garbanzo beans
4 tbsp finely chopped cilantro
1/2 cup finely chopped Spanish onion
2 tbsp lime juice
1 1/2 tsp kosher salt
1/8 tsp ground cumin
1/4 tsp dried oregano
1/4 tsp garlic powder
Instructions
Bring large pot of water to a boil, then remove from heat. Add garbanzo beans to the water and let them soak for 1 hour.
Drain garbanzo beans and add to a pot with 4 cups water. Cook over low heat for 4 hours, until tender. One hour into cooking add remaining 2 cups water.
With 30 minutes cooking time remaining, add cilantro, onion, lime juice, salt, pepper, cumin, oregano, and garlic powder, and stir into the garbanzo beans.
When garbanzo beans are tender, remove from heat and serve.
Recipes from Sabores de Cuba by Chef Ronaldo Linares