One of the keys to success is meal planning, but succeeding doesn't have to be elaborate, fancy or complicated. A top recommendation that I share with all my clients for successful meal planning is to be a cook on the weekends and a meal assembler on the weekdays. What do I mean by that? This means following a simple process: first, schedule a time during the weekend to purchase your groceries, then cook batches of protein and carbohydrate for the week, and lastly during the week, assemble your food into meals on-the-go. This will not only ensure that you will have a healthy meal handy during your busy day at work, but it will also save you time and energy for the end of your workday when you would rather spend more time kicking back.
I have partnered with the National Pork Board's "Pork Es Sabor" initiative to help bring you great ideas for meal planning meals using pork as your protein of choice. Meal planning is effective not only for losing weight but also for your overall health. Taking control over your meals instead of eating out helps you control your portions (as restaurant-level entrees are often oversized). You can control your calories by knowing exactly what's going into your meal, namely the amount of sugar and fat. However, and probably most important, you can spare your wallet from daily trips to your nearest food joint which can add up fast.
My protein of choice for meal prep is lean pork because it's a healthy, high-quality protein that is full of flavor and a safe product. It is also convenient to cook and can be easily prepared and reheated for future days while still maintaining its flavor. So, do your grocery shopping on Saturday then cook your protein (such as pork loin, which is a lean cut of pork) and your carbohydrate of choice in large batches on Sunday this can be quinoa, brown rice, barley or any other whole grain.
Need something to get you started? This weekend try cooking my Roasted Pork Loin with Cilantro Sauce and some brown rice. Then during the week, steam some veggies and viola, you have a meal in less than 20 minutes for the week!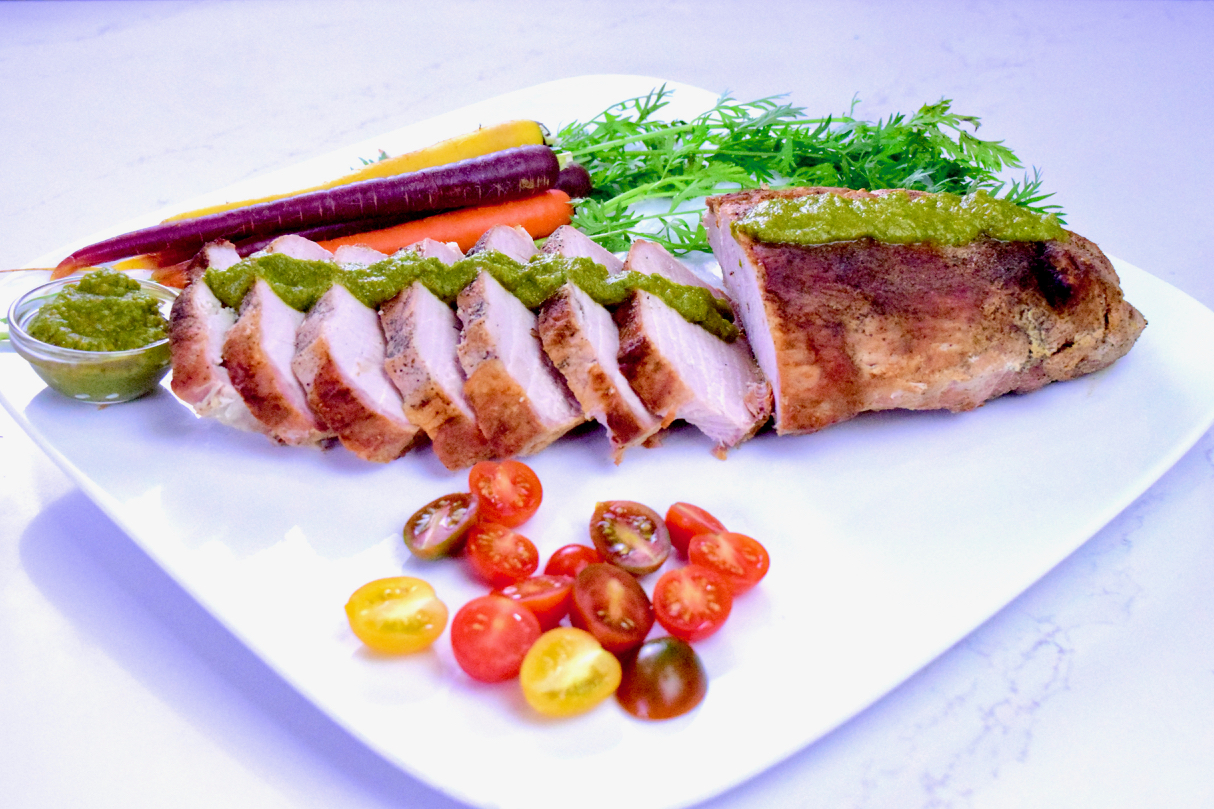 Roasted Pork Loin with Cilantro Sauce
Serves: 15
Serving size: 4 ounces pork loin
For the roasted pork loin
Ingredients:
4 pounds of pork loin
Sea salt to taste
Black pepper to taste
Cumin to taste
Garlic powder to taste
For the cilantro sauce
Ingredients:
1 tablespoon olive oil
2 teaspoons garlic, crushed
1 medium onion, quartered
2 tablespoons aji paste
(or
any chili paste)
1 bunch of cilantro
¼ cup water
Directions:
For the roasted pork loin
Place pork loin in a cutting board
Coat each side of the loin with the spice rub, making sure to cover the entire surface
Roast pork in a preheated oven for approximately 20 minutes per pound at 375 degrees. Cook until the internal temperature reads 145 degrees, and let it rest 5 minutes
For the cilantro sauce
Heat up a frying pan on a medium-high heat for 2 minutes. Place the oil, onion, garlic and aji in the pan. Sauté for about 3 minutes.
Place the sauté mix in a blender, cilantro and water. Blend until it is a smooth consistency.
Serve cilantro sauce on top of the sliced serving of roasted pork loin.