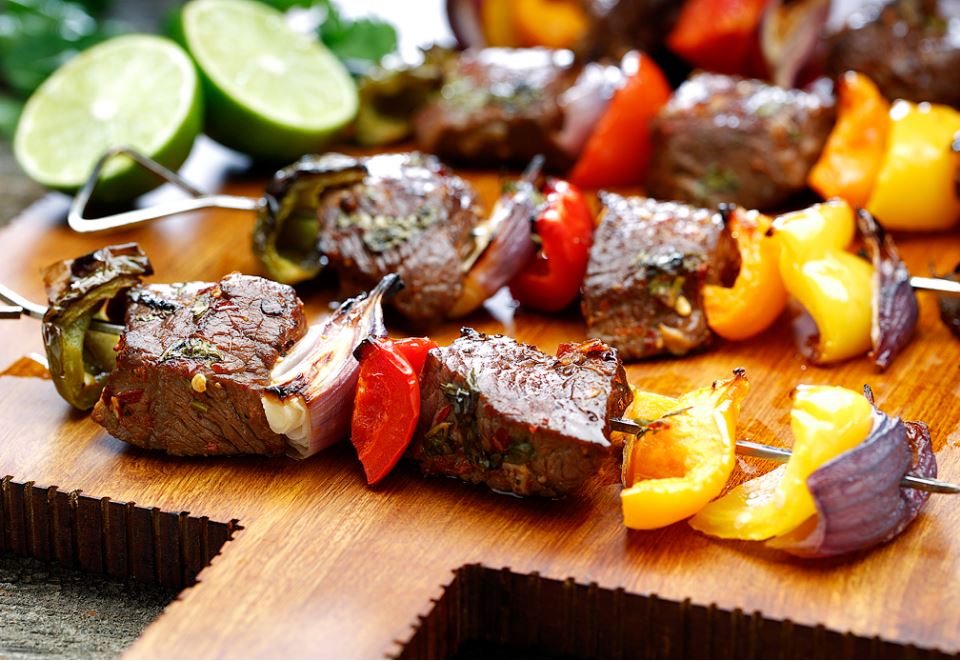 The summer season is here! Time to light up the flames under some mean, tasty food. Of course, no summer get-together is complete without some skewers thrown on to a grill. For this dish, I recommend using lean, top sirloin steak cuts for a healthier red meat option, mixed up with some colorful vegetables. The marinade fuses the Latin flavors of aji, cilantro and lime with the Asian flavors of the soy sauce. The low saturated fat content of canola oil allows the marinade to stay free-flowing in the refrigerator.
Serves: 4   Serving Size: 2 skewers
Ingredients
For the marinade:
1 cup lime juice 250 mL
1/4 cup soy sauce 60 mL
2 Tbsp canola oil 30 mL
1/4 tsp ground black pepper 1 mL
2 Tbsp garlic, minced 30 mL
2 Tbsp aji chili paste, or other chili paste 30 mL
1/2 cup cilantro, finely chopped 125 mL
For steak:
2 lbs top sirloin steak, cut into 2-inch (5 cm) cubes 1 kg
1 medium red onion, rough chop
1 green bell pepper, rough chop
1 red bell pepper, rough chop
1 yellow bell pepper, rough chop
1 orange bell pepper, rough chop
Canola oil spray
Skewers, wooden or metal
Instructions
1. Whisk together lime juice, soy sauce, canola oil, pepper, garlic, chili paste and cilantro to make marinade.
2. After cutting steak into cubes, pour marinade on top of steak. Marinate for 1 hour.
3. If you are using wooden skewers, place them in water to soak.
4. While you are marinating the steak and soaking the skewers, begin chopping up the vegetables. Place the vegetables in a bowl and set aside.
5. After steak is done marinating, drain skewers and prepare an assembly line for making skewers. Grab one skewer and alternate between steak and vegetables, in no particular order. Limit 6 pieces of steak per skewer.
6. Heat up grill to medium high heat. If you are using an indoor griddle, heat up griddle to medium high heat. Spray with canola oil spray.
7. Cook skewers for 5 minutes. Flip them over and cook for another 5 minutes. This will give you a meat temperature of medium.